This is just one of our COVID-19 updates for the fall 2022 semester.
To view a comprehensive summary of our policies, please visit this link.
---
The College has expanded the COVID-19 Profile at my.newpaltz.edu to allow students, faculty and staff who have received multiple COVID-19 boosters to submit that information and maintain their status as "up to date" on their vaccination.
So what does it mean to be up to date? According to SUNY COVID-19 policies, members of the community are considered up to date on their vaccination only if they have all boosters for which they are eligible.
While many in our campus community will be up to date with just one booster dose, many others are eligible for a second booster dose. This includes people over the age of 50 and those with moderately to severely compromised immune systems.
Please consult this New York State resource page to learn more about COVID-19 booster eligibility.
If you have received multiple boosters, please be sure to upload information about them to your COVID-19 Profile following the steps below, to maintain your status as up to date on vaccination.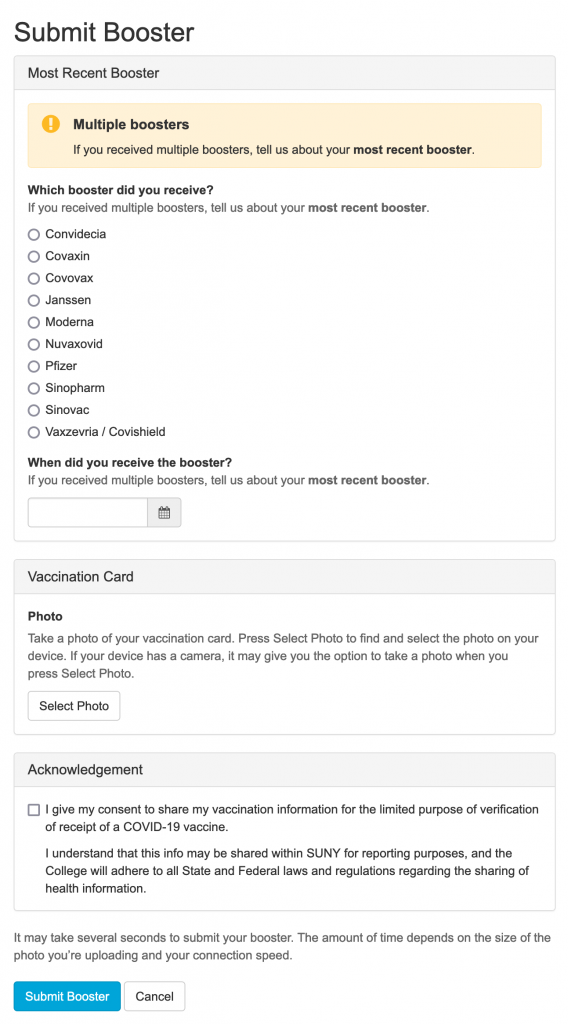 How do I upload booster shot info to the COVID-19 Profile?
To begin, log into your COVID-19 Profile at my.newpaltz.edu and click the "Submit Booster" button.
You'll be prompted to enter information about your most recent booster. Select the kind of vaccine dose you received and enter the date of administration.
You'll also need to upload a photo of your vaccination card as proof.
Once you submit these materials, your booster info will be reviewed and, if approved, your COVID-19 Profile will be updated to reflect your status as up to date on vaccination.