Documentation, objectivity and the photographer's role in representation are key to Nadia Sablin's work with undergraduate and graduate students
"In order to preserve the strengths of this democracy, you have to participate in it"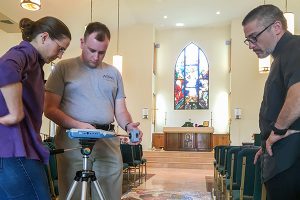 Accoustic measurements inform purchase of sound-dampening panels
Alumna is founder of Opus Architectural Arts, a full-service restoration and decor company
11/09/18, U.S. Green Building Council
SUNY New Paltz is the People's Choice in 2018;
Distinction honors work in partnership with the community's green building sector
11/11/18, Colorado Politics
New Paltz alumna secures historic win
11/12/18, Poughkeepsie Journal
Program guides healthcare workers to work with young vets, understanding their expectations, needs, and worldviews
NOV
13

"Ex Machina" Film Screening and Discussion
5:00 p.m.
This 2015 film kicks off the College of Liberal Arts & Sciences' "Without Limits" series, which this year focuses on the theme of "March of the Machines"
NOV
13

Peter Saulson: "Listening to the Universe with Gravitational Waves"
5:00 p.m.
The Harrington STEM Lecture Series presents Saulson, Professor of Physics at Syracuse University, discussing the basics of gravitational waves, how we detect them, and the highlights of what we are beginning to learn about the universe by observing it in this new way
NOV
15

A conversation with Ed Carroll '85
9:30 a.m.
Meet the media powerhouse and New Paltz graduate who helped bring The Walking Dead, Mad Men, Breaking Bad, Portlandia, Rectify, Killing Eve, and other great programs to air