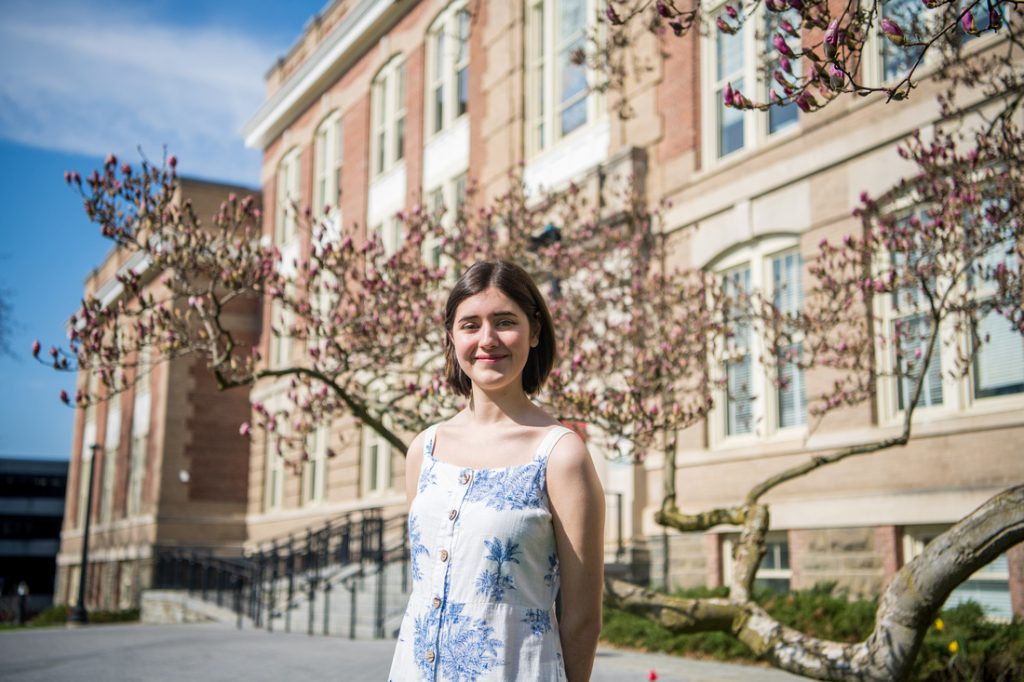 Sophia Acquisto '22 (Childhood Education) accomplished a lot during her time at New Paltz: Honors Program membership, SUNY Chancellor's Award winner, a Library of Congress internship, study abroad in Ireland, high marks in the classroom and good friendships out of it.
But her most lasting contribution may be her "My Hudson History" digital map, which channels her fascination with local history. The free digital map provides information on the Hudson Valley's most historic sites, from Albany to Westchester and everywhere in between.
Acquisto, a Beacon, New York, native, used the project as her Honors Program senior thesis, marrying her passion for teaching with her longstanding love of local history.
"My dad was a Metro North conductor, so he would give me free train rides on weekends to the city," she said. "He took me to the Museum of Natural History, MoMA, all the different museums throughout the city. My parents would also expose me to all the different museums around the Hudson Valley."
"There's so much to learn from this"
More than a passion project, Acquisto sees the map as a way to harness new technologies to provide access to learning to those who have been historically underserved by traditional educational structures.
Her map guides users through New York histories old and new, with subcategories detailing traditional historical sites like those related to the American Revolution, as well as locations and topics that have often been excluded from those narratives, including women's and LGBTQ+ history.
"A big fault in current education systems is that textbooks, for the most part, present very whitewashed versions of history. They mostly tend to favor the white, male, heterosexual leaders," she said. "I wanted to highlight underrepresented groups for students, because students from those communities are among the ones who are learning and the ones who are outside of those communities can benefit as well."
Acquisto started developing the map in 2020 after receiving an Academic Year Undergraduate Research Experience grant. She worked closely with her advisor, Research & Education Librarian Chrissy O'Grady of the Sojourner Truth Library, to bring the project to life, even as the COVID-19 pandemic disrupted normal classes and campus activities.
Acquisto says the experience gave her a new perspective on the changing landscape of teaching and learning, and how digital tools like "My Hudson History" could be part of that future.
"Online learning definitely was highlighted in the pandemic," she said. "I can see the bright side of this new technology because most young students enjoy using technology and exploring digital content. Online learning can also make learning more accessible to students who cannot reach a physical classroom."
Acquisto's next stop is graduate school in the fall, where she will continue to focus on making online learning more accessible as a student in the Teacher's College at Columbia University.
"There's so much to learn from this," she said. "I want to know how to help students best with this new technology."
The Honors Program at SUNY New Paltz supports hundreds of students with interdisciplinary courses that lead to capstone thesis experiences like this one. Learn more about the Honors Program here.