Four SUNY New Paltz students will receive SUNY Chancellor's Awards for Student Excellence this spring, based on their distinctive academic, athletic, leadership, service, and other achievements and contributions.
The awards will be conferred in a ceremony in Saratoga Springs on April 26.
Please join us in congratulating these outstanding members of our campus community:
Sophia Acquisto '22 (Early Childhood & Childhood Education) of Beacon, New York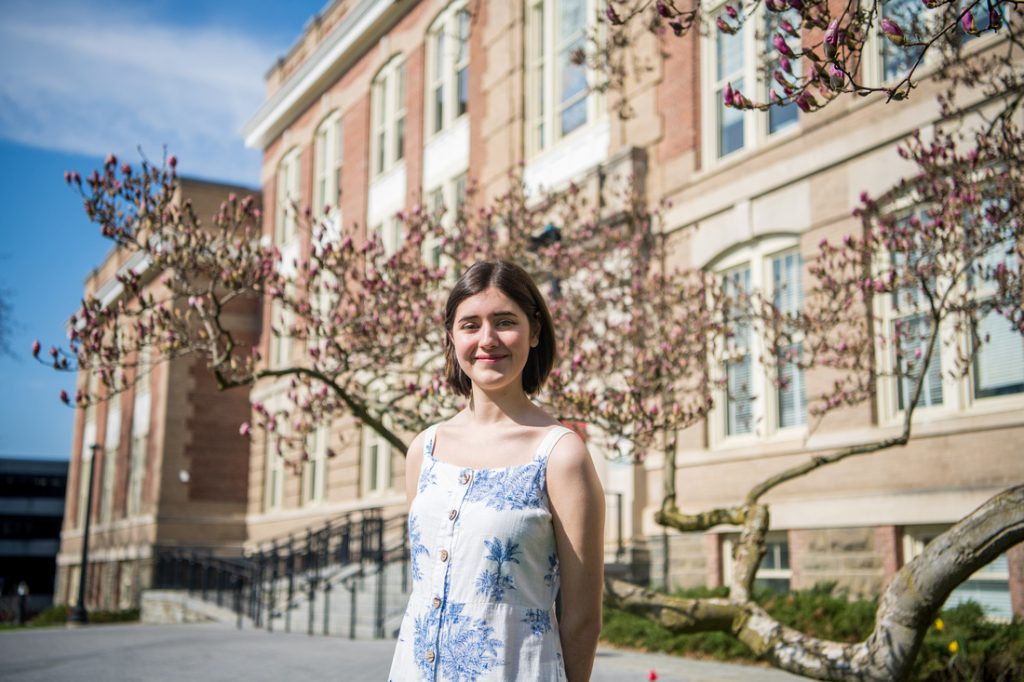 An avid history buff, Sophia's capstone Honors Program project was her development of a mobile app that details historical sites in the Hudson Valley to facilitate historical research and education and support local tourism, for which she was awarded three internal grants and a scholarship for her tuition. Sophia has also served as co-president of the campus United Nations Association and studied abroad at Limerick University in Ireland.
Hanaa Ahmed '22 (Biology) of Queens, New York
Hanaa is a leader in multiple student organizations on campus, a peer mentor within the AC2 community, and an organizer who has supported multiple American Red Cross blood drives on campus. She has distinguished herself as an Honors Program student and an undergraduate scholar, conducting research in each of her semesters at New Paltz and earning a publication with the American Society of Microbiology.
Alyssa Dudinyak '22 (Visual Arts) of Apalachin, New York
Alyssa, an Honors Program student, has shown a commitment to using her talents as an artist to build community both on and off campus. This approach may be best exemplified by her work on the SUNY Stands with Puerto Rico initiative, which included a commission for Alyssa to paint a mural on a large public wall on the island. Her impact has been substantial at SUNY New Paltz as well, with Alyssa serving as a Student Resilience Advocate, a student ambassador, Orientation leader and as student speaker at our 2021 Convocation ceremony.
Mackenzy McMorris '22 (Black Studies; Finance) of Clintondale, New York
A Scholars Mentorship Program member and aspiring lawyer, Mackenzy is a student leader who has worked with groups including the Business Association for Students of Color, the Student Association, the School of Business Dean's Student Advisory Board, and Multicultural United Students Empowered. He also represented the College as our sole delegate to the SUNY Student Voices Action Committee. Off campus, Mackenzy has devoted limited free time to serving as a math buddy with elementary school students and coaching youth sports in the Wallkill Central School district. His efforts have earned him induction to two international honor societies: Beta Gamma Sigma (Business) and Ankh Maat Wedjau (Black Studies).
---
About the Chancellor's Awards for Student Excellence
The Chancellor's Award for Student Excellence was created in 1997 to recognize students who have best demonstrated, and have been recognized for, the integration of academic excellence with accomplishments in the areas of leadership, athletics, community service, creative and performing arts, campus involvement, or career achievement.
Each year, SUNY campus presidents establish selection committees to review the accomplishments of exemplary students. Nominees are then forwarded to the Chancellor's Office for a second round of review. Finalists are then recommended to the Chancellor to become recipients of the award. Each recipient receives a framed certificate and medallion, which is traditionally worn at commencement.