SUNY New Paltz's Department of Theatre Arts is inviting students, faculty and alumni to celebrate the legacy of Professor Emeritus Frank Kraat and the memory of the late Professor Emeritus Joe Paparone, to mark the department's 50th anniversary.
The event will be held on Saturday, April 9, beginning at 2 p.m. in Parker Theatre, and will include a reception after the tributes to these two New Paltz theatre legends. Following the reception, guests will be encouraged to attend the 8 p.m. performance of Songs for a New World, the Department's first live musical since the COVID-19 pandemic began.
"We plan to celebrate nearly half a century of accomplishments and inspiration with our welcoming community of alumni, students, faculty and friends," said Department Chair Ken Goldstein. "It's the perfect time to acknowledge our community of mentors, artists, and scholars who provide students with models of excellence in our classrooms, on our stages, in major theatre centers in the United States."
Frank Kraat came to New Paltz in 1969 and served with the Department of Theatre Arts for more than three decades. He was committed to building a program that presented students with unique opportunities on campus and beyond, and was central to the founding and operation of programs like the Summer Repertory Theatre, the London Theatre Seminar and the Hudson Valley Theatre Festival. As a member of the McKenna Productions board of directors, Kraat helped advance a 2016 effort to establish six endowed scholarship funds for students, including one named in his honor.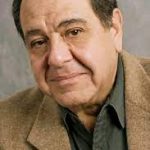 Joe Paparone (1940 – 2021) was a 43-year veteran of the Department of Theatre Arts who enjoyed a wonderful career as a professor, performer, producer and director. Some of Paparone's acting credits include Law & Order, Men in Black, Nobody's Fool and Perfect Stranger. He poured his love for theatre, his energy, his wisdom and his humor into mentoring and educating thousands of students who now carry his legacy while performing at arts institutions throughout the world. Paparone was also a member of the McKenna Productions board and worked alongside Kraat to establish those scholarships for future generations of New Paltz students.
The Department of Theatre Arts began is dedicated to nurturing New Paltz students' creative identity, artistic compasses, and inner artists/scholars through a dynamic, experiential, and diverse educational environment. The program aims to foster a deeper understanding of the human condition, cultivate empathy, and explore ensemble building through the department's curriculum, creative programming, and local/regional engagement.
Alumni of the program include Emmy Award-winning actors, lighting directors, Broadway designers and stage managers, costume technicians and wardrobe managers, technical directors, and lighting programmers and technicians. Notable performance alumni include John Turturro, Aida Turturro, Michael Badalucco, and Joan Chen, among others.
Learn more about the Department of Theatre Arts online and become a Friend of Theatre in its 50+ Years.