Read President Donald P. Christian's April 2016 Report to Academic and Professional Faculty.
I hope that everyone had a spring break that fulfilled your goals – whether they were rest and rejuvenation, finishing a manuscript, catching up on the semester's work, or more likely a combination of these. Ideally, it readied you for the final push to commencement, now less than seven weeks away!  In the meantime, I have much news and several updates to share with you.
TABLE OF CONTENTS:
Accepted Students Open Houses are scheduled for April 2 and April 16. Many studies show that the campus visit is the single most important factor in college choice by students and their families. The Office of Undergraduate Admission has put together an outstanding program for the day: an introductory "convocation" in the AWC, with a welcome, encouragement, and congratulations from me, Interim Provost Deen and senior student Sabrina Sarro '16 (English – Creative Writing), who is a Chancellor's Award recipient this year. Our award-winning Absolut A Cappella group will also perform. Most importantly, we strive to create opportunity for conversation and interaction with faculty, staff, and the students who join you to showcase our majors, programs, and opportunities to nurture minds and enhance the experiences of our students. Past surveys of attendees show clearly that prospective students and their parents find these conversations with professors and staff pivotal in their college choice. Your work makes a very real difference in recruiting bright and capable students.
I look forward to seeing you at these events, exemplifying the best of New Paltz – where "A Degree … and an Education" becomes a reality for students. Thank you in advance to deans, chairs, faculty, and departmental staff for your contributions to Accepted Students Day programs and for your other outreach to accepted students who have expressed interest in a particular major. As I have written before, the university and our prospective students are best served if this work (data extraction from Argos; scheduled meetings and events; development of materials) is coordinated with the Office of Admission and the Office of Communication and Marketing.
We are tracking our application and fall enrollment numbers closely. Applications (and, to date, paid deposits) are strong. Convincing those students who we accept to choose New Paltz over other schools where they've been accepted is our challenge between now and the first day of classes. Our reputation, growing recognition and welcoming campus environment are true assets in recruiting the right numbers of well-qualified students, but we rely on your collective action to ensure that prospective students and their parents learn about the tremendous faculty and learning opportunities at New Paltz.
The Good We Can Do. This wonderful Chronicle of Higher Education article (link) especially resonated with me because it mirrored comments from students just a few days earlier in my "Hot Chocolate with the President" session in Bevier Hall. In these sessions, I outline for students recent news, events, and directions, respond to their questions, and ask what they like best about being a student at New Paltz. A recurring theme is how much students value the professors and the staff who work with them – how much they learn from professors in the classroom, the care that faculty give in guiding and mentoring them outside the classroom, and the great support that faculty and staff provide in navigating the complexities of their lives and their education. I encourage you to read this article if you have not. While it highlights the regular trials and tribulations that virtually everyone in higher education across the nation deals with, it's a great reminder of why we do what we do.
Chancellor's Awards for Student Excellence. Four New Paltz students have been selected for this SUNY-wide recognition, based on distinctive academic, athletic, leadership, service, and other achievements and contributions. The awards will be conferred in a ceremony in Albany on April 5. Vice President for Student Affairs L. David Rooney, several faculty and staff, and I will attend. The names of the award recipients, their major, and selected accomplishments are:
Dani Ackerman '16 (Communication Disoders), All-American and All-Conference field hockey student-athlete, two-year president of Student Athlete Advisory Committee.
Jenisse Bouret '16 (Journalism / Spanish), Chi Alpha Epsilon National Honor Society, WNPC-TV station manager, producer, and reporter, Resident Assistant, Student Ambassador, Cultural Diversity Advocate.
Dylan Rose '16 (Mathematics), Resident Assistant, Campus Event Recruitment Worker, mathematics tutor, founder/coordinator of peer mentoring initiative in the Honors Program.
Sabrina Sarro '16 (English – Creative Writing), Honors Program, senior staff member at Oasis/Haven, Resident Assistant, New Paltz Blogger, Transfer Liaison, 2015 participant in Santa Barbara Writers' Conference, Scholars Mentorship Program.
I hope you will take the opportunity to congratulate these students when you see them on campus in the coming weeks.
Budget Process, Tuition, and State Support. I want members of the community to understand why I have 1) joined with students and others in advocating for increased state taxpayer support for their education, while 2) advocating for a rational tuition policy that allows for (but does not require) regular, incremental tuition increases (i.e., no tuition "freeze"). I ask your forbearance in reading this section; its length and detail reflect the complexity of our budget and finances.
As shown in Figure 1, 15 years ago tuition provided about 55 percent of our core instructional budget, taxpayer support about 45 percent. Now, for every dollar that we have to spend on educating students, 77 cents comes from tuition, only 23 cents from state taxpayer support.
Taxpayer support for our core budget declined from $24.7 million in 2007-08 to $15.8 million in 2011-12, and has since increased by only $0.3 million (more than half of this increase is one-time-only funding, not recurring). During that same period, tuition increased from $33.1 million to $53.5 million. SUNY New Paltz has fulfilled expectations of the Legislature, the Governor and SUNY leadership that increased tuition revenue be used to advance our students' educational success. We've filled more new full-time faculty positions (47, a disproportionate share of the 941 new faculty hired across SUNY) along with replacing vacant faculty positions, created and filled key staff positions (a veterans services coordinator, a transfer student coordinator, psychological counselor, Title IX officer), reduced average class sizes, increased tuition scholarships and developed new initiatives like digital arts and humanities, digital design and fabrication, and mechanical engineering. As tuition has risen, we have increased financial support for the greater gap between the maximum TAP award ($5,000) and tuition cost – protecting our neediest students from these tuition increases.
Even with those tuition increases, 2015-16 tuition and fees in New York (<$8,000), one of the most expensive states to live in, are below the national average for public four-year universities ($9,410) and those of neighboring states such as Connecticut and Massachusetts (>$11,000) or New Jersey, Pennsylvania and Vermont (>$13,000). Nonetheless, I strongly agree with our students that the state has unduly shifted the burden of educational costs to students and their families, at a time that typical earnings for most families have declined. Many families still feel lingering effects of the recession.
It is time for the Legislature and the Governor to increase the allocation of state taxpayer resources to pick up a greater (fairer) share of the costs of the high-quality education provided by public universities like New Paltz. We expect to hear in the coming days about the final enacted budget that represents the compromises between the Governor and the New York State Assembly and Senate. The two legislative branches have not included SUNY 2020 and its tuition-setting authority in their separate budgets, while the Governor did. Both legislative branches included increased taxpayer support in their budgets. The Governor did not, although at the end of last year's session he called for inclusion of "maintenance of effort" in this year's legislative budget proposals.
I have been clear in my statements to students and the media that I worry that tuition will be frozen, and we will receive no (or insufficient) increase in taxpayer support to cover incremental increases in inflationary, contractual and other expenses. Last week, SUNY Board of Trustees Chair H. Carl McCall stated that an increase of $73 million in taxpayer support would offset a one-year tuition freeze. If the increase in taxpayer support is less than that, SUNY and its campuses will face budget shortfalls and will need to make difficult decisions that will inevitably affect the quality of the education we provide.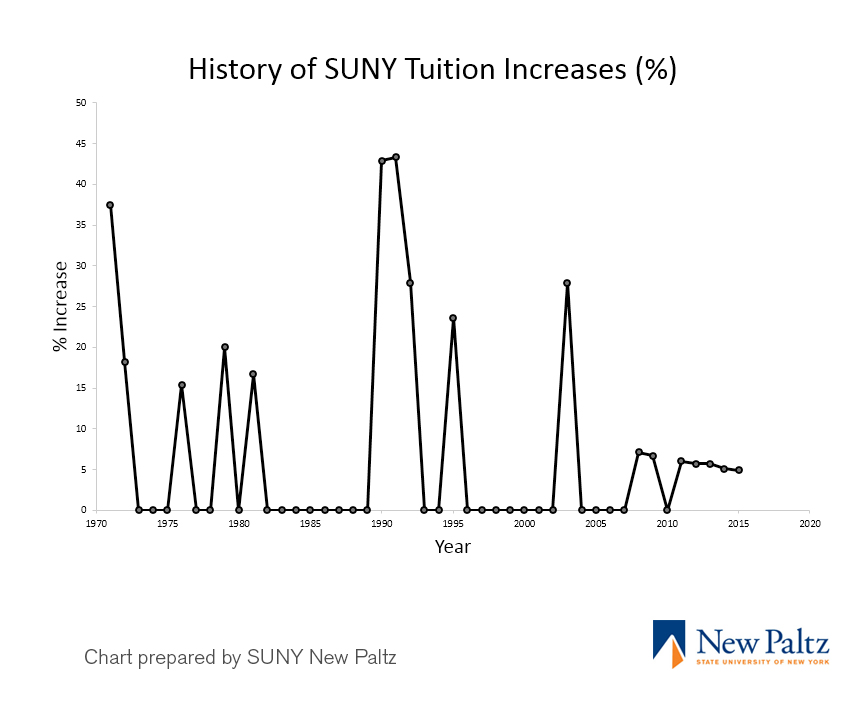 Figure 2 captures the primary basis for my advocacy for regular, modest increases in tuition. I shared this graph with our legislators as part of my budget advocacy, and it drew audible gasps and murmurs when I shared it in a recent public presentation about funding for higher education in New York. SUNY System officials found it so compelling they used this graph in last week's press conference about funding for SUNY. In this 45-year history of SUNY tuition increases, the most dramatic jumps have followed tuition "freezes." Those large increases no doubt reflect a need to create revenue to cover costs that have accrued over a several-year period, but that were not addressed by regular increases in either tuition revenue or taxpayer support.
Perhaps history will not be repeated, and the state will begin to cover such cost increases more fully; that has not been the case for some time. I think most of us would agree that in the absence of such increased taxpayer support, it is patently unfair that subsequent cohorts of students bear the full brunt of increased costs that preceding cohorts have escaped – some students never experiencing a tuition increase during their entire education, others dealing with enormous increases. And, I believe most would agree that no one, especially our students, is well served if we are forced to cut budgets because we have received neither taxpayer support nor increased tuition revenue to cover increasing costs.
These arguments outline the rationale for my advocacy for continuing a policy of rational tuition – to avoid the unpredictable jumps in tuition that characterize SUNY history – along with strongly advocating for ongoing, regular increases in taxpayer support that are robust enough to keep any necessary increases in tuition low. I take these stances to balance needs and interests of the institution and of current students, and the educational opportunity their younger brothers, sisters, cousins, and neighbors will have.
We will certainly update you on the outcome of the state budget process as it becomes known, even if the eventual allocation of funds to campuses will take more time to be clarified.
Men's Volleyball. Congratulations to the men's volleyball coaches and players for a great season to date, and best wishes for continuing these successes. The team was voted the top-ranked national Division III team this month – for the second time in the program's history! New Paltz will host the conference championship tournament on April 9 and 10.
Upcoming Events. I call your attention to the following upcoming college-wide events; more detail is available on the College's homepage:
Women's Leadership Summit, April 6: Alumni and other leaders speak with students about their lives and careers in this second annual event.
James H. Ottaway Sr. Visiting Professor Lecture, April 12: Author and Journalist Eyal Press, speaks about "Telling the Story of What Divides Us."
Distinguished Speaker Series Presentation, April 28: Robert Kyncl '95, New Paltz alumnus and Chief Business Officer at YouTube, speaking on "The Next Revolution Will Not be Televised."
I look forward to seeing you at this week's meeting of the Academic and Professional Faculty, where I will be available to respond to your questions.
Sincerely,
Donald P. Christian
President