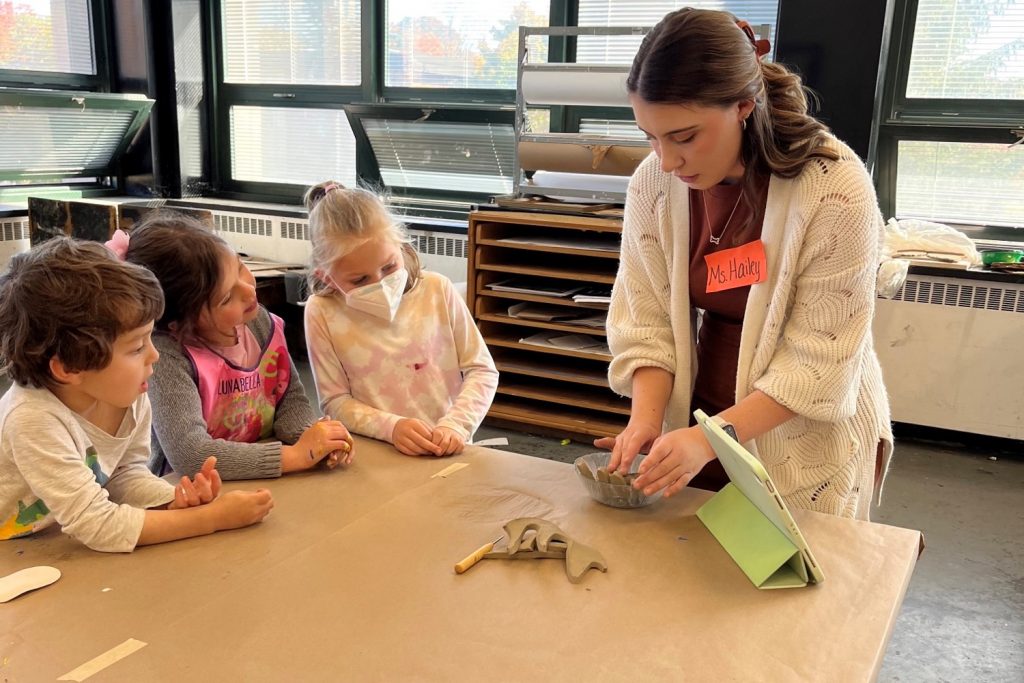 For her senior Honors Program thesis, SUNY New Paltz alumna Hailey Meyer '23 (Visual Arts Education) sought to make art education accessible for deaf and hard-of-hearing students. In doing so, she created a new curriculum with the potential to unite young learners and teachers through the power of art.   
Meyer–who minored in Deaf Studies–wanted to address the communication barriers deaf students can experience in the classroom. Through her studies, the future teacher found an effective way to address these barriers in an inclusive classroom setting.  
"I have learned from working with deaf or hard-of-hearing students that I must focus on showing them what to do rather than telling them," she said. 
Meyer designed her curriculum, documented in "The Artistic Influence of American Deaf Culture and Heritage, Explored Through Visual Arts Education," as a tool to build empathy among students for the Deaf community, as they see how hard-of-hearing individuals can thrive in classrooms with the right accommodations. 
Using a roster of Deaf artists as inspiration, Meyer took her own artistic background to create accessible sculptures, drawings and paintings for students to engage with and create similar works for themselves. 
Once her art pieces and lessons plans were finished, it was time to put her curriculum to the test. Through fieldwork experiences offered by the School of Education, Meyer found her curriculum appealed to K-12 and college students of different abilities.  
"This thesis gave me a chance to see how my lessons would actually work in a classroom setting," she said. "Seeing students engage with the art pieces I created helped me arrive at conclusions of how to teach every age group." 
In addition to providing a thoroughly researched framework for teaching Deaf art, Meyer's honors thesis project solidified her own teaching philosophy. 
"I came to a conclusion on my teaching philosophy and how I want a future classroom to be, which was special," she said. "I realized that I want my classroom to be a break in the day for my students to relax and express their creativity." 
While Meyer arrived at her teaching philosophy on her own, she received guidance from faculty mentors Tara Beers, adjunct in the Department of Communication Disorders and Victoria St. George, Deaf Studies Program coordinator.
"Hailey's thesis presentation came together beautifully as she merged her passions to create thoughtful art lessons in which she can share with her future students," said Beers. "Her lessons spread knowledge of inspirational Deaf artists who have integrated their lives and experiences as Deaf individuals into their art." 
Since presenting her thesis, Meyer completed student teaching at various local PreK-8 schools, which set the course of the pathway she wants to pursue as an educator. 
"I like getting to shape young minds and being an influence for them," she said. "Working with children is a lot of work but I laugh all day and have fun while doing it." 
Click here to learn about how the Deaf Studies minor complements a variety of academic majors and prepares New Paltz students for rewarding careers.