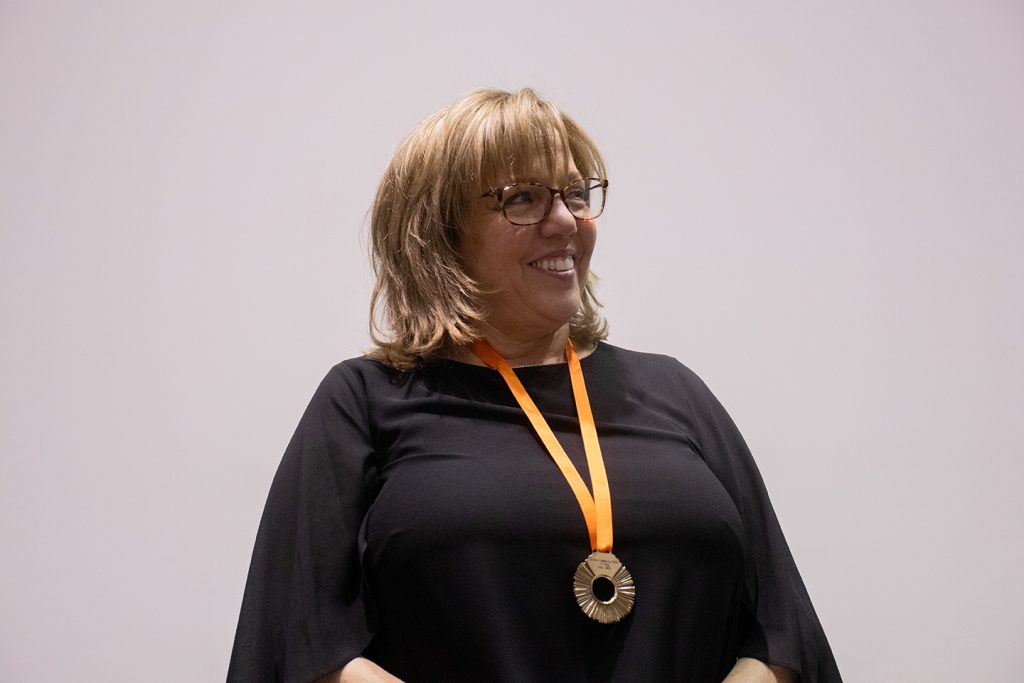 SUNY New Paltz recognized the career of Robin Cohen-La Valle '77 '82g (Psychology), assistant vice president for student affairs and dean of students, with the President's Medal at a retirement reception in her honor on Friday, June 16.
The President's Medal is the highest award the campus can bestow on an individual. It recognizes significant and longstanding contributions to the University and the caliber of our academic, enrollment and student life achievements.
A two-time New Paltz alum who has enjoyed a career at the institution of more than 40 years, Cohen-La Valle is a deserving new inductee to the small cadre of President's Medal recipients. Her contributions to student life at the University are almost too many to list. They include her support of student success through the upholding of community standards on the Judicial Hearing Committee; her work on touchstone programs like First-Year Orientation, living-learning communities and events for parents and families; and her efforts to engender a safe environment for students through drug and alcohol abuse and sexual assault prevention programs, mental health and disability services, among many others.
A licensed mental health counselor, Cohen-La Valle began her professional career in 1980 in the Career Resource Center, became assistant dean of students in 1995, was named dean of students in 2015, and was appointed assistant vice president in July 2020. She also taught for many semesters as an adjunct in the Department of Psychology.
Cohen-La Valle has been consistently engaged as a campus citizen, offering time and expertise in a variety of service contexts including the Middle States Steering Committee, the Title IX Working Group and the Diversity & Inclusion Council. She has also served on the Executive Board of the Alumni Council and as alumni representative on the College Council, and was awarded the Alumni Heritage Award in 2017. She is also a recipient of the SUNY Chancellor's Award for Excellence in Professional Service.
In fall 2022, SUNY recognized Cohen-La Valle with the new John Graham Award for Mentorship, honoring faculty and staff who act as mentors for young colleagues entering the student affairs profession. One colleague who submitted a letter in support of her nomination wrote, "Throughout her 30-plus years of work in higher education at SUNY New Paltz, everyone who has ever met Robin would attest that she embodies the tenants that Dr. Graham espoused: mentorship, scholarship and impact."
Cohen-La Valle has announced plans to retire on July 28.