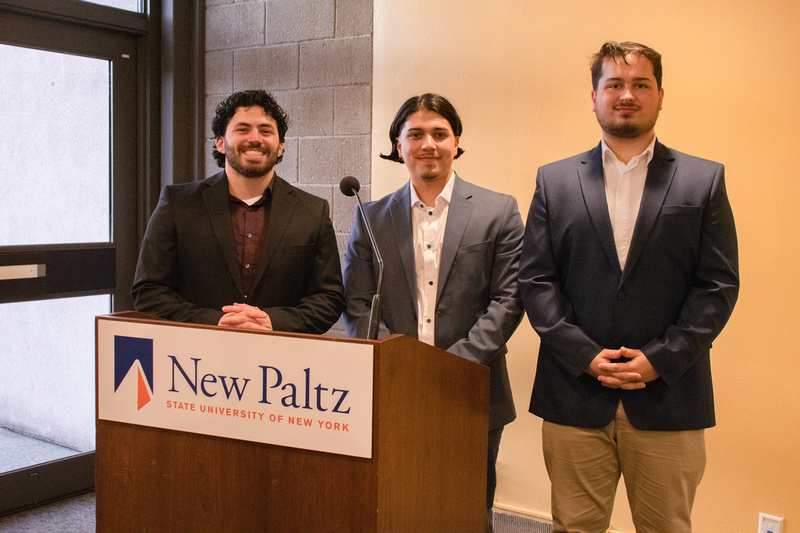 Don't know where to store excess oil after cooking a meal? A new, sustainable solution may be coming soon, thanks to two recent graduates and one current student in the School of Business. 
William Gonzalez '23 (Finance) and Alexander Cabrera '23 (General Business), along with Alexander Knobloch '24 (Digital Media Management), conceived Dispose O Oil–a disposable bag designed to be secured in a closed container to store excess cooking oil and to be composted once the bag is full–while taking Professor Chris Napolitano's fall 2022 Entrepreneurship and Business Planning course.  
Gonzalez and his roommates often made their own fried chicken and had trouble figuring out how to dispose of the excess oil, which often led to a clogged sink drain. They devised an innovative storage solution that was practical and sustainable. "Professor Napolitano always talked about how we should approach product ideas by first answering what the problem is we're trying to address," said Gonzalez. "I realized then and there I had the perfect idea."  
The trio pitched their startup concept at November's Business Plan Contest, the culmination of the Entrepreneurship and Business Planning course.
Though they didn't win that competition, Napolitano invited them to continue working on the innovation the following semester.
"Dispose O Oil had an 'it' factor that made it stand out," he said. "I gave them this challenge and they more than rose to the occasion." 
They reworked their pitch for the March 2023 Mid-Hudson Regional Business Plan Competition. This competition marked a turning point for the Dispose O Oil team. They took a first place award in the March competition, earning $500 and qualifying them to compete at the New York State Business Plan Competition, where they took top prize in their category, earning them $10,000 and attention from investors.  
The trio's winning streak came to a satisfying end with a top-prize win at New Paltz's own Business Incubator Competition in May, the culmination of Napolitano's elective Student Incubator (BUS593) course, where they won an additional $4,000. 
"When we were practicing for these competitions all year, we knew the path that we had to take in order for things to go as planned," said Cabrera, "and they went as planned." 
"Meeting with real investors and pitching our product to them allowed us to apply what we learned in classes to the business world," said Gonzalez. "We delivered a script that we practiced almost like a surgery, because we knew we were facing people who would either like our idea or not."  
Using their multiple top prize wins, the trio have started Cabrera, Gonzalez and Knobloch (CKG) LLC, which they are hoping to launch soon as an e-commerce site for sustainable products like Dispose O Oil, having now connected with a manufacturer to bring Dispose O Oil to the masses.  
"It's been a lot of work for us, so having this payoff is nice," said Cabrera. "We're at the end of a process and the beginning of a product."  "We've already gotten a head start with funding, and now we're looking to generate more funds and get the ground running," said Knobloch.  
CKG LLC and its signature product Dispose O Oil exemplify the entrepreneurial climate New Paltz's School of Business fosters. 
"We are a business-focused and community-focused school," said Napolitano. "We have the tools, the knowledge and the context to take your idea into the real world."  
Click here to learn more about the School of Business at SUNY New Paltz, including the Entrepreneurship program.