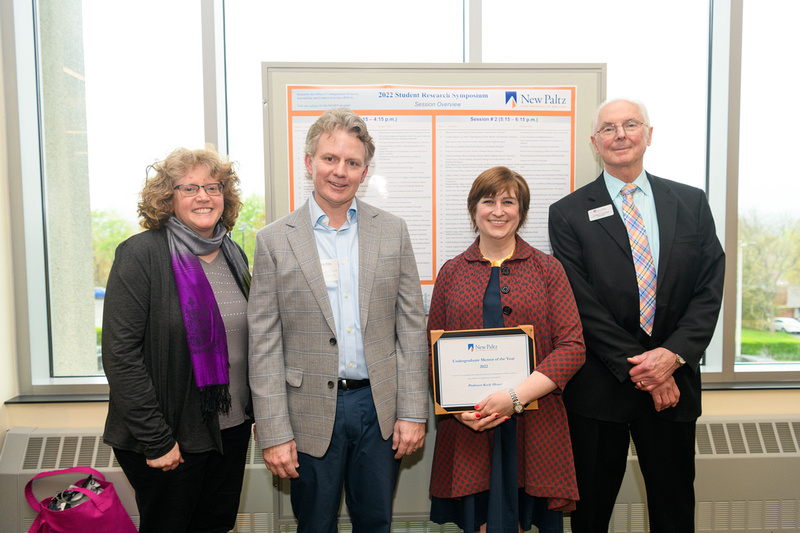 In a time-honored tradition, Associate Professor of Art History Keely Heuer was awarded this year's Undergraduate Research Mentor of the Year. 
Throughout her tenure, Heuer has worked to make the Art History Department into a supportive home for scholars. She helped create and expand the annual Undergraduate Art History Symposium, which has grown from humble origins to become a major international showcase. It is the only undergraduate symposium of its kind based in the United States. 
"I feel so fortunate to be in a place with such fabulous students," said Heuer. "They make my life so interesting and well-rounded. It's a joy to have these opportunities to do things with them beyond the standard classroom." 
Beyond making New Paltz a draw for scholars, Heuer has also helped bring the study of art history to our students' direct experience. She has led summer study abroad programs to Greece and Italy built around viewing and handling ancient artifacts and has facilitated students' ability to access rare library resources; meet renowned scholars, curators, and conservators; and assisted in their placement in prestigious internships and archaeological excavations.
"This kind of devoted mentoring to students is rare and should be commended," said Kerry Carso, chair of the Art History Department. 
Her students note that she mentors with a compassionate touch. Teresa "Tess" Ferguson '20 (Art History), who was in the midst of an honors thesis in spring 2020 when the COVID-19 pandemic utterly disrupted life at the College, offered that perspective in a nomination letter supporting Heuer.
"She cared for me as a student and more importantly as a person, and no time was that as important or more apparent as the start of the pandemic, with my senior year cut short and the future uncertain,"  said Ferguson. "The thought of completing a thesis seemed unfathomable. Fortunately, I had someone in my corner. I truly believe that Professor Heuer's constant encouragement is what allowed me to finish my thesis and end my senior year on a high note." 
Click here to learn more about the Mentor of the Year award.