SUNY New Paltz President Donald P. Christian announced today his intention to retire at the end of June 2022, after a 45-year career in higher education and 12 years as president. Christian was appointed as the College's eighth president in 2011 after serving as interim president in 2010-11, and provost and vice president for academic affairs at New Paltz in 2009-2010.
During the remainder of his tenure, Christian's focus will be to position SUNY New Paltz for continuing success in a dramatically changing higher education world and to set the stage for the next president's entry and success. Work will include ongoing planning for a post-pandemic future, additional progress on diversity and inclusion and anti-racist initiatives, and guiding campus leaders through the presidential transition.
During the 2021-22 academic year, a search will be conducted for Christian's replacement consistent with the SUNY-wide Presidential Search Guidelines.
Christian's 12-year presidency is marked by many collective accomplishments. Through his leadership, the College's reputation as a top-tier public institution has grown both statewide and nationally. The College competes successfully for strong students with excellent public and private colleges and universities across the Northeast. The College has been recognized for high retention and graduation of students from historically underrepresented groups as well as first-generation and low-income students, with rates well above state and national averages for both public and private institutions. Additionally, the College continues to rank in the top 3% of colleges and universities in a nationwide index of upward socioeconomic mobility of our graduates and is nationally recognized for its support of veteran and military-affiliated students.
Christian has been a strong advocate for the value of a liberal education tailored to 21st century needs, for study abroad and student research experiences, and for the great breadth of disciplines and majors at New Paltz. Christian has supported the rapid growth of STEM enrollments and the development of additive manufacturing and 3D printing at the College, including securing millions in state and private funding to provide equipment and build a new Engineering Innovation Hub on campus. He has worked to expand and strengthen programs and opportunities for students from underrepresented groups, and to increase the College's focus on equity, diversity, and inclusion.
"It has been an honor and a privilege to serve as President of SUNY New Paltz and to have had such a long and rewarding tenure in this role," said President Donald P. Christian. "I am pleased and proud of the collective accomplishments of this community during the last 11 years and look forward to what we can achieve in the coming year. Amid budget challenges and more recently a worldwide pandemic that tested all our abilities and stamina, this community and each individual student and employee, has persevered and excelled through it all. The quintessential SUNY New Paltz community spirit I have come to respect and cherish has been especially apparent this past year. I wish for my successor the same warmth and acceptance that Sandy and I received from faculty, staff, students, alumni, and supporters of this top-tier public university."
SUNY Chancellor Jim Malatras said, "One of my first campus visits after being appointed as chancellor was to see President Don Christian. I have always admired his thoughtful, inclusive, and calm leadership no matter the situation. It is his collaborative nature that may be most valued over the years. Don does not work in a silo—he is present, always listening, and always questioning if the best laid out plans hold up in practice. His coming retirement will leave a giant hole in the SUNY family."
Interim College Council Chair Eli Basch of Kingston, New York, said: "Over many years of working with President Christian, I have observed first-hand his extraordinary dedication to SUNY New Paltz and its students, faculty and staff. He always ensures the needs of this community foremost, and takes time to listen to diverse perspectives before making difficult decisions, as he did consistently in helping the College adroitly navigate the COVID-19 pandemic. President Christian's leadership over more than a decade has also helped forge many new partnerships with community organizations and businesses, which have expanded and solidified SUNY New Paltz's vital role as an engine of the Hudson Valley economy. It's been a great pleasure to work with him and his leadership team, and I wish him all the best in his well-deserved retirement."
---
Accomplishments under Christian's leadership include the following, many reflecting priorities he identified in his April 2012 Inaugural Address:
Planning for future success
Managed budget challenges through strategic decision making to sustain campus strengths and position the College for future growth
Implemented a strategic planning and assessment process to measure the degree to which the College is achieving its mission and goals
In collaboration with College academic and administrative leadership managed the campus during the COVID pandemic
Growing academic programs and initiatives
Supported the establishment of Mechanical Engineering, online MBA, Digital Design & Fabrication, Astronomy, Biochemistry, Creative Writing, Autism, and the online bachelor's degree completion program
Supported honors program revision and expansion, liberal education discussion and revision of general education, two successful institutional reaccreditations, and several program accreditations
Expanded the Educational Opportunity Program by 100 students (20% growth), serving students who show promise and potential for college success with additional academic and financial assistance
Advanced the 3-D printing initiative at SUNY New Paltz, including engagement with business, industry, government agencies, other higher-education entities, securing private and public funding to establish the Hudson Valley Additive Manufacturing Center and the Engineering Innovation Hub
Institutional focus on diversity, equity, and inclusion
Established Office of Compliance and Campus Climate, hired Executive Director (Title IX and other compliance, affirmative action, educational programming); ongoing engagement with the Office and Director on diverse elements of campus climate
Restructured Human Resources and Diversity and Inclusion into an integrated unit focused on human development and institutional learning, reporting to the President; appointed College's first Chief Diversity Officer, reporting to the President and serving as a member of the President's Cabinet
Initiated a review, led by Diversity and Inclusion Council with broad community involvement and exemplary shared governance, of campus buildings named after founding families of the New Paltz community who enslaved Africans, leading to renaming the Hasbrouck Building Complex; creating a contemplative space to honor the contributions of the indigenous people, the Africans and the Huguenot settlers who lived here; and expanding educational programming
In collaboration with Human Resources, Diversity & Inclusion, initiated mandatory employee training on cultural competence. This program grew into a more regular professional development series with trainings on implicit bias in search processes and a broad mix of voluntary programs
Initiated and, in collaboration with Provost, Title IX Coordinator, and faculty governance, established policy prohibiting romantic/sexual relationships between employees and students where a power differential exists
Established task forces to develop strategic plan for alignment of campus and SUNY system goals; improvement of campus climate for LGBTQ community members, including hiring the first LGBTQ coordinator; improved course scheduling and course availability; Title IX programming; transfer student support and engagement
Transformational campus improvement and expansion
Oversaw the most significant capital investment, renovations and building expansion in the College since the 1960s-70s, including seven major renovations and three new buildings
Directed completion of Facilities Master Plan (2011) and update (2017-18)
Engagement and investment in the College and its students
Supported the College's successful, first-ever fund-raising campaign Soaring Higher: The Campaign for SUNY New Paltz
With Sandra Christian, established President Donald P. and Sandra K. Christian Research Scholarship Endowment Fund to support student research
Supported and guided a task force and made key decisions to expand outreach and better engage alumni across the country and around the world. Actions included forming a new Alumni Association and Alumni Council and heightened protection of university trademarks and branding identity
Established "President's Roundtable" series in which successful alumni or other leaders meet with students to discuss career and life choices
Established "Hot Chocolate with the President" conversation series in residence halls
Sustainable mindset and practice
Approved and submitted sustainability plan to the American College and University President's Climate Commitment, 2012; continued support of sustainability initiatives, including being named Tree Campus USA and Bee Campus USA
Supported the SUNY New Paltz Foundation Board Finance and Investment Committee in divesting from fossil fuel investments in its endowment portfolio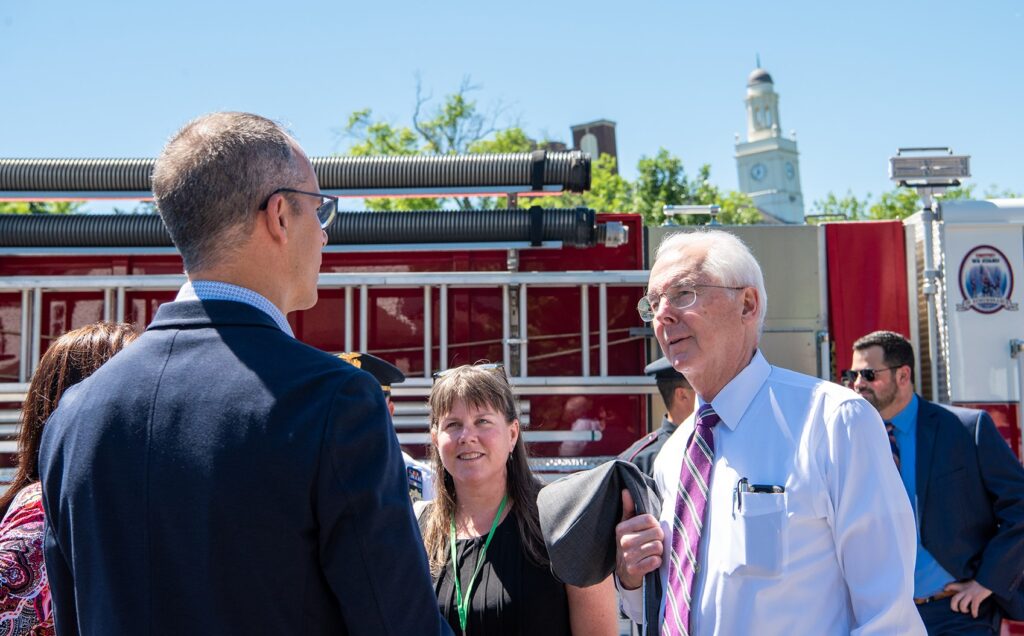 Regional engagement
During his tenure, Christian has been actively engaged in the Hudson Valley. He is a member of the board of directors of the Mohonk Preserve, the Advisory Council of Historic Huguenot Street, and the President's Trust of the Association of American Colleges and Universities, and he has also been a consultant with Mohonk Consultations. Christian previously served on the boards of Hudson Valley Pattern for Progress (2013-2018) and Central Hudson Gas and Electric (2014-2019).
He was appointed by Lieutenant Governor Kathy Hochul in 2016 to serve on the Mid-Hudson Regional Economic Development Council and was named co-chair of the Council in 2018. He is a proud recipient of the Eleanor Roosevelt Val Kill Medal (2016), recognizing his and the College's contributions to education and the Hudson Valley.
Officials from the Village, the Town and the College built a collaborative approach during President Christian's tenure to ensure that all members – year-round village residents, students residing on and off campus, and others who live and work in New Paltz – work together to ensure the safety and well-being of our community. This included working collectively to provide crisis management of Hurricane Irene, the mumps outbreak on campus, the village and town water contamination, and more recently the COVID-19 pandemic.
SUNY engagement
Christian's support for SUNY initiatives includes serving as the Chancellor's representative on the Farmingdale State presidential search committee (2015-16); panelist and mentor in the Hispanic Leadership Institute (2018-20): membership on the "Campus Climate" working group of the SUNY Racial Equity Action Plan (2020-21); invited presentations to Board of Trustees, SUNY presidents, and SUNY conferences.
---
Before New Paltz
Prior to his arrival at New Paltz, Christian was dean of the College of Arts and Sciences and a professor of biology at the University of Wisconsin-Eau Claire (2004-2009); associate dean for the Biological Sciences and professor at the University of Montana (1997-2004); and professor of biology at the University of Minnesota-Duluth (1978-1997), including terms as department chair and director of graduate studies. After completing his Ph.D. at Michigan State University in 1977, he worked there for one year as an instructor in the Department of Zoology and curator of mammals at the University's museum.
Christian is the recipient of numerous research grants and contracts, and has published widely on problems in ecology, population biology, and physiological ecology. He received the Outstanding Academic Administrator Award from the University of Montana in 2000; and the Service to Chapter Award from the Minnesota Chapter of the Wildlife Society in 1995.