Yohely Espiritusanto '20 (Biochemistry) used to believe that in order to achieve her educational and professional goals, she needed to rely on herself and herself alone.
"I didn't get much support in high school," said Espiritusanto, a first generation student born in the Dominican Republic and raised in Queens, New York. "No one pushed me, no one said, 'you have good grades; you should aspire to do great things.' I had to find my own way."
But shortly after enrolling at SUNY New Paltz, she found a supportive community specifically designed to help students like her succeed in all aspects of their lives.
The AC2 program, which combines the SUNY-wide Louis Stokes Alliance for Minority Participation (AMP) and the New York State Department of Education-funded Collegiate Science and Technology Entry Program (C-STEP), is dedicated to supporting and preparing historically underrepresented and income-eligible students for careers in STEM fields.
"The AC2 Program works to empower students by providing them with a community of like-minded individuals with shared experiences," said program Director Nancy Campos. "Half of the battle is getting our students to feel confident as future scientists and engineers. Through our various services, resources and events, our students build a greater sense of belonging within the STEM fields."
AC2 provided Espiritusanto with a mix of academic guidance and genuine friendship that helped her start feeling more at home at New Paltz. She began flexing her natural aptitude for science and got much more involved in research, especially in collaboration with Biology Department Chair Jennifer Waldo.
"I realized I could be a scientist and contribute to the scientific community, even as an undergraduate," she said. "That's when I discovered that I love being in the lab, doing the groundwork of actual medicine."
Part of the mission of AC2 is to help students find their passions, but it also works to create opportunities to apply those passions in the real world.
In Espiritusanto's case, that meant working with the Center for International Programs to find sources of funding, including a Gilman Scholarship and a Kyncl STEM Experiential Learning Fund award, for an international research experience at the Universidad del Valle in Cali, Colombia, in summer 2019.
"Every person in that lab was a woman of color," she said. "They were in charge, leading the way for me and providing support all the time. It made me see that I can step into those shoes and feel like I belong, not just as a student, but as a scientist. When I came back to New Paltz, that's what I wanted to bring back with me."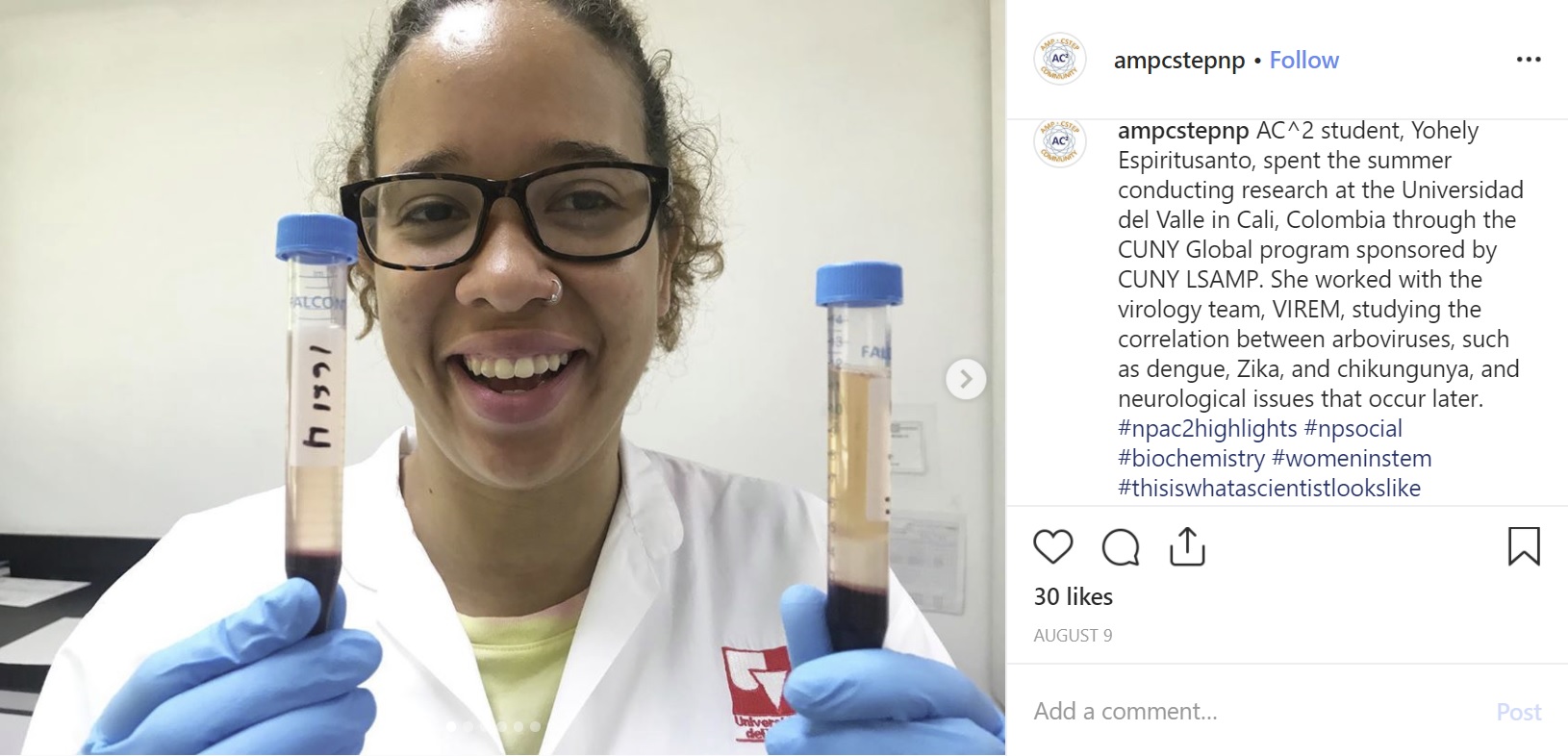 Now approaching graduation, Espiritusanto has moved on from needing a support network for herself, to providing one for other New Paltz students. She is an active member of both AC2 and the Scholar's Mentorship Program, and serves as an advisor and tutor for numerous peers.
"I got this boost of confidence from this community and these role models, and I want to make sure other freshmen have that," she said. "You can't do everything on your own – but once you have that help, you can do anything. AC2 is what helped me understand that."
Visit the AC2 program at SUNY New Paltz online to learn more, and follow on Instagram @ampcstepnp.