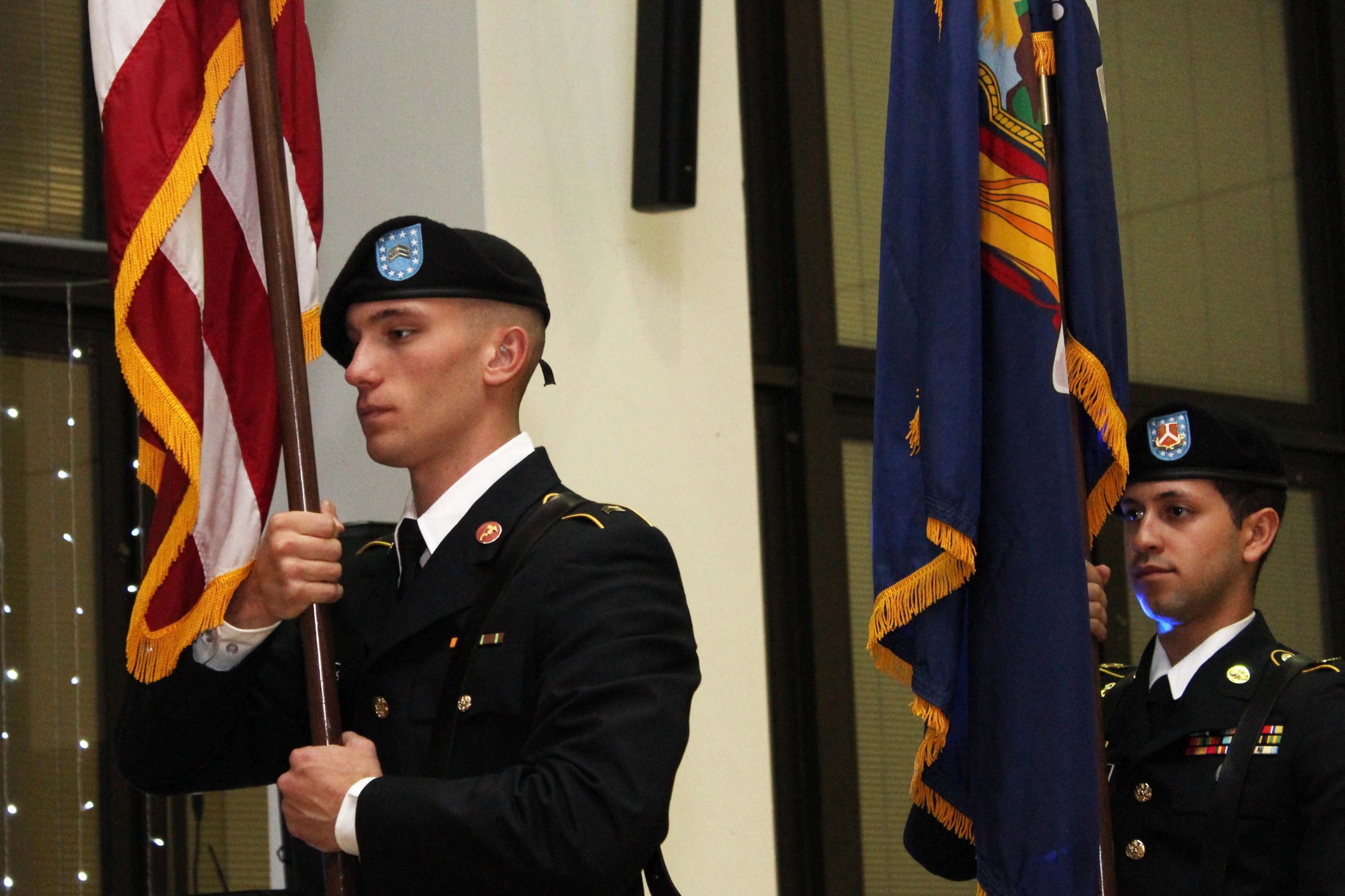 A large and growing community of SUNY New Paltz students, alumni, current and former faculty and staff, and regional military and veteran leaders came together on Friday, Nov. 15, to share a meal and a moment of gratitude at the sixth annual Veterans Day Dining In Ceremony.
"Tonight we gather once again to honor the veterans and service members on campus and within our community, both past and present, for their service to our great country," said Jason Gilliland, coordinator of veteran and military services and a service member and veteran of more than 20 years. "It is humbling to be in the presence of so many individuals who participated in such history-shaping events, for they are the fabric from which our flag is woven."
Nearly 200 guests were in attendance for an evening that included keynote remarks from distinguished professors emeriti Howard Cohen, a Navy veteran who served in World War II, and Martin Rutstein, who served in the U.S. Army in the early 1960s.
Both took advantage of the opportunity to reflect on how the College's veteran and military community has grown since the creation of the Office of Veteran & Military Services in 2014.
"It's a special joy to me, especially on this most solemn of remembrance days, that we can rejoice at how much New Paltz, and for that matter, the rest of U.S. society, has evolved," Rutstein said. "Jason told me that New Paltz has been designated as a Military Friendly campus, which is a well-deserved honor to recognize the strides that have been made."
Attendees also were treated to performances by Master Sergeant Marykay Messenger, a Newburgh, New York, native and premier vocalist for the United States Military Academy Band at West Point.
These heartfelt addresses and songs served as the emotional lynchpins of the evening, but there was plenty of time left for fun as well. This year's Dining In was organized with a "Masquerade Ball" theme, and guests lined up during the cocktail hour to snap photo booth pictures in the Atrium. A scavenger hunt kept things lively while dinner was served, and the dance floor opened up after the tables were cleared.
The success of the event owed in large part to the work of the Office of Veteran & Military Services, the central support hub for the nearly 400 veteran, active service and dependent students at SUNY New Paltz. This year a number of student workers in the office played key roles in organizing and preparing for a successful Dining In:
Leandro Adoptante '21 (Management), Petty Officer Third Class, U.S. Navy Veteran
Benjamin Comstock '20 (Mechanical Engineering), Corporal, U.S. Army National Guard
Tiana Concepcion '20 (Communication Disorders), Student Association Senator and OVMS Student Program Coordinator
Richard Creecy '19 (International Relations), Staff Sergeant, U.S. Army National Guard
Amanda Gordon '20 (Journalism), Senior Airman, U.S. Air Force Veteran
Jade Isaacs '21 (Biology), daughter to U.S. Army Veteran, Sergeant Everald Isaacs
Leif Mangan '22 (Biology), son to U.S. Marine Corps Veteran, Sergeant Edward Mangan
Alyia Perez '20 (Psychology), daughter to U.S. Marine Corps Veteran, Sergeant Christopher S. Perez
Tristan Serrano '22 (Sociology), Sergeant, Army National Guard
Natalie Stewart '19 (Political Science), Sergeant, U.S. Army Reserve
Brian Zekus '20 (Adolescence Education), Lieutenant, U.S. Coast Guard Veteran
"Our student workers put in a tremendous amount of time and energy to put this evening together," Gilliland said. "Managing that on top of their academic coursework is truly impressive. We couldn't have done this without them."
Visit us online to learn more about SUNY New Paltz's military and veteran community.