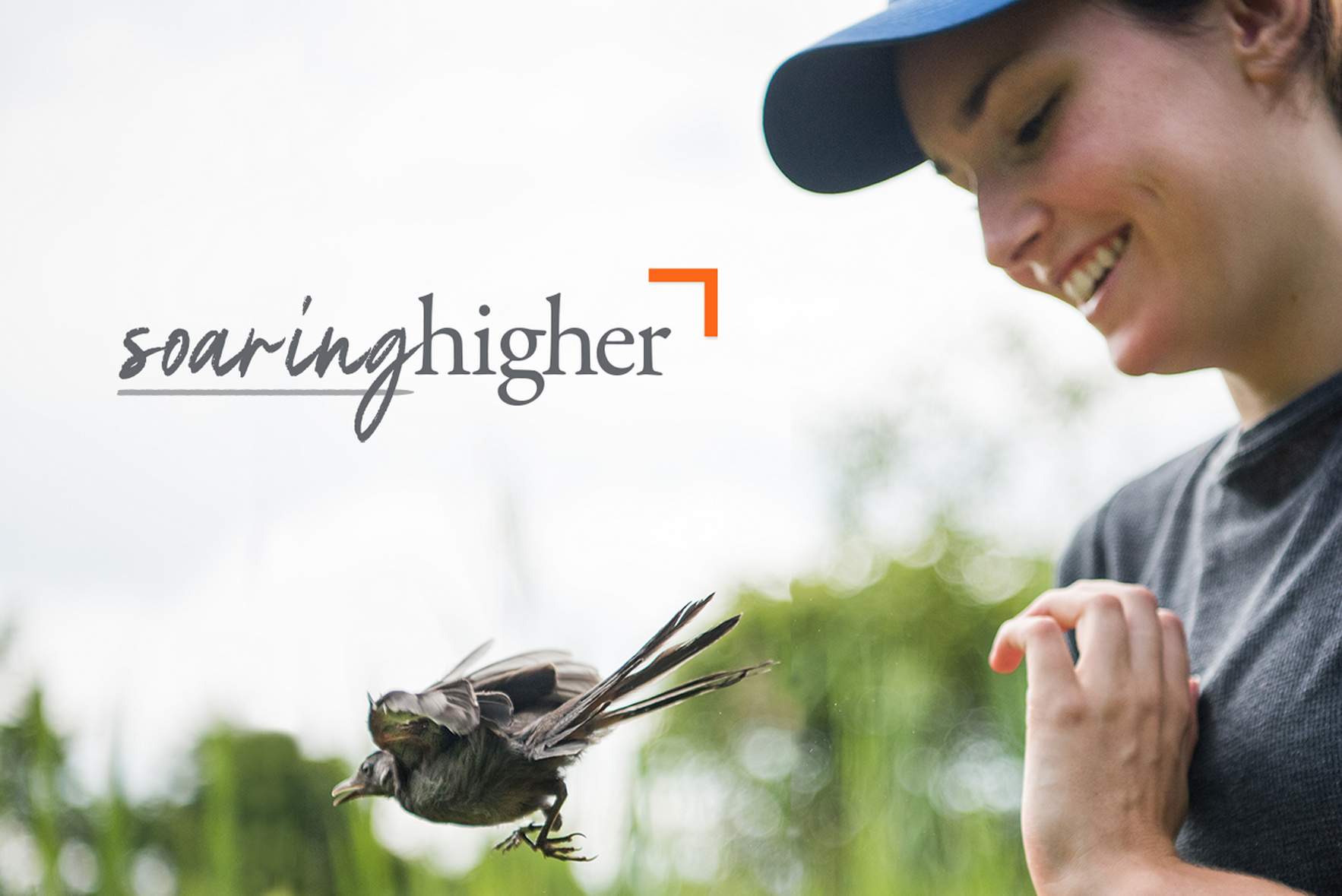 SUNY New Paltz launched the first-ever comprehensive campaign in the College's history on Oct. 3, 2019, inviting the greater campus community to support the spirit of excellence at New Paltz and sustain its distinctive collegiate experience in a way that is affordable and accessible to all.
Soaring Higher – The Campaign for SUNY New Paltz is a multi-year initiative that seeks $23 million in philanthropic support for strategic priorities across campus. It will build on the approximately $18.5 million the College has raised during the past five years.
"Many of our campus community members have given freely of their own hard-earned money—everything from a few dollars a week out of a paycheck, to $20 for a Senior Class Gift, to thousands and even hundreds-of-thousands of dollars," said President Donald P. Christian. "Every single gift—big and small—has gotten us to this point in our progress. We should be proud of each other, of what we have already achieved and of what more we can achieve together, in the years to come."
[Click here to view photos from the Campaign launch celebration on Oct. 3, 2019]
Philanthropic contributions will support three specific, strategic priorities across campus:
Provide Opportunity: Scholarships & Experiential Learning

Provide students with access to higher education and opportunities to expand their learning in real-world situations, including emergency funds to help students stay in school after family or financial circumstances change. Goal: $11.5 million.

Build Capacity: Program Support

Expand new and existing programs that provide compelling and distinctive opportunities for our students. Goal: $8 million.

Expand Possibilities: The Fund for New Paltz

Create learning opportunities that awaken the potential in every student and enrich the experiences of our students and our community. Goal $3.5 million.
Private donations provide funds that make a SUNY New Paltz education more accessible and support the distinctive programs that create the College's margin of excellence.
SUNY New Paltz's operating budget is funded through a combination of state support (22%) and tuition (78%). The College operating budget includes salaries for faculty, administration, and support staff; modest scholarship recruitment funding for top performers; underwriting of student-centered programs such as the Center for Student Success, Scholars Mentorship Program, and the Sojourner Truth Library, to name a few.
Major non-residential construction and renovation initiatives are funded by state-issued bonds via a separate budget. New York taxpayers pay the debt service on these bonds. Major dormitory construction and renovations are also funded by bonded monies, which are repaid not by taxpayers, but by the students who live on campus via housing fees. The need for physical plant upgrades and additional space, both academic and residential, far exceed the available funds.
These funds are not interchangeable. Tuition cannot be used to build dorms, and bonds cannot be used to fund the operating budget. State funding for the operating budget is not expected to increase in the coming years.
"Through philanthropy we open up our collective future, we help to make sure that the SUNY New Paltz of tomorrow continues to be strong and solvent, innovative and inspirational, energized and engaged," said Campaign Chair and Senior Vice President M&T Corporation Michael T. Keegan. "I'm involved now because I know first-hand how philanthropy can be transformative and I believe that an ambitious campaign today has the power to truly change the SUNY New Paltz of tomorrow."
The campaign launch was celebrated at a reception on campus in the Student Union Building Multipurpose Room. Remarks were given by SUNY New Paltz President Donald P. Christian; Campaign Cabinet Chair Michael T. Keegan; Campaign Honorary Chair and retired Director and Senior Vice President of Dow Jones and Chairman of Ottaway Newspapers James H. Ottaway Jr. '18 HON; Associate Provost Laurel Garrick Duhaney; and alumna Camille Chavez '17 (Biology). All faculty, staff, donors, alumni, and students were invited to celebrate.
Learn more about Soaring Higher – The Campaign for SUNY New Paltz.