PianoSummer at SUNY New Paltz will return for its 2018 season from July 9 – 27, with a series of marquee classical music performances given by some of the most adored and prestigious musicians working in the world today.
PianoSummer is an annual, international music program integrating learning and performance under the artistic direction of Vladimir Feltsman, which brings the very best emerging young pianists from around the world to come study and perform in the Hudson Valley.
It is highlighted by the Jacob Flier Piano Competition, a yearly performance contest for pianists under the age of 35. Named after Feltsman's teacher and mentor, the first Jacob Flier Piano Competition was established in 1998.
PianoSummer will celebrate 20 years of Flier Competitions with the return of the competition's first-ever winner, Daria Rabotkina, to campus. Rabotkina, currently an assistant professor of piano at Texas State University, will provide a special master class for this year's participants.
This year's Jacob Flier Piano Competition will consist of two rounds of performance, both open to the public with a $10 suggested donation. The Competition will take place on Monday, July 16, and Wednesday, July 18, at 3 p.m. on both days. The winner will earn a solo debut recital at Carnegie Hall in New York City.
The 2017 Flier Competition winner, Polina Kulikova, earned the distinction of being the first winner to represent PianoSummer at Carnegie Hall in February of this year.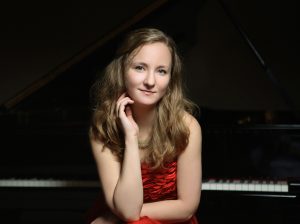 She previewed her performance on the SUNY New Paltz campus as part of the spring Department of Music Concert Series, and will return this summer to headline the Flier Competition Gala on July 27.
Other highlights from the public schedule of events during this year's PianoSummer program include:
Faculty Gala: Saturday, July 14, at 7 p.m., Vladimir Feltsman, Pavlina Dokovska and PianoSummer faculty will perform pieces by Franz Schubert, Béla Bartók and Frédéric Chopin.
Marc-André Hamelin Guest Artist Recital: Saturday, July 21, at 7 p.m., the world-renowned Canadian virtuoso will perform Robert Schumann's "Fantasie in C Major, Op. 17" and Schubert's "Sonata in B-Flat Major, D. 960."
Flier Competition Gala: Friday, July 27, at 7 p.m., the winners of last year's Jacob Flier Piano Competition – Polina Kulikova, Mackenzie Melemed, and Hao Tian – will return to campus for an evening of solo performance.
All events will take place at Studley Theatre on the SUNY New Paltz campus. Tickets range from $25 to $30, and can be purchased online via this link.
For a complete schedule of events and tickets, visit http://www.newpaltz.edu/piano.