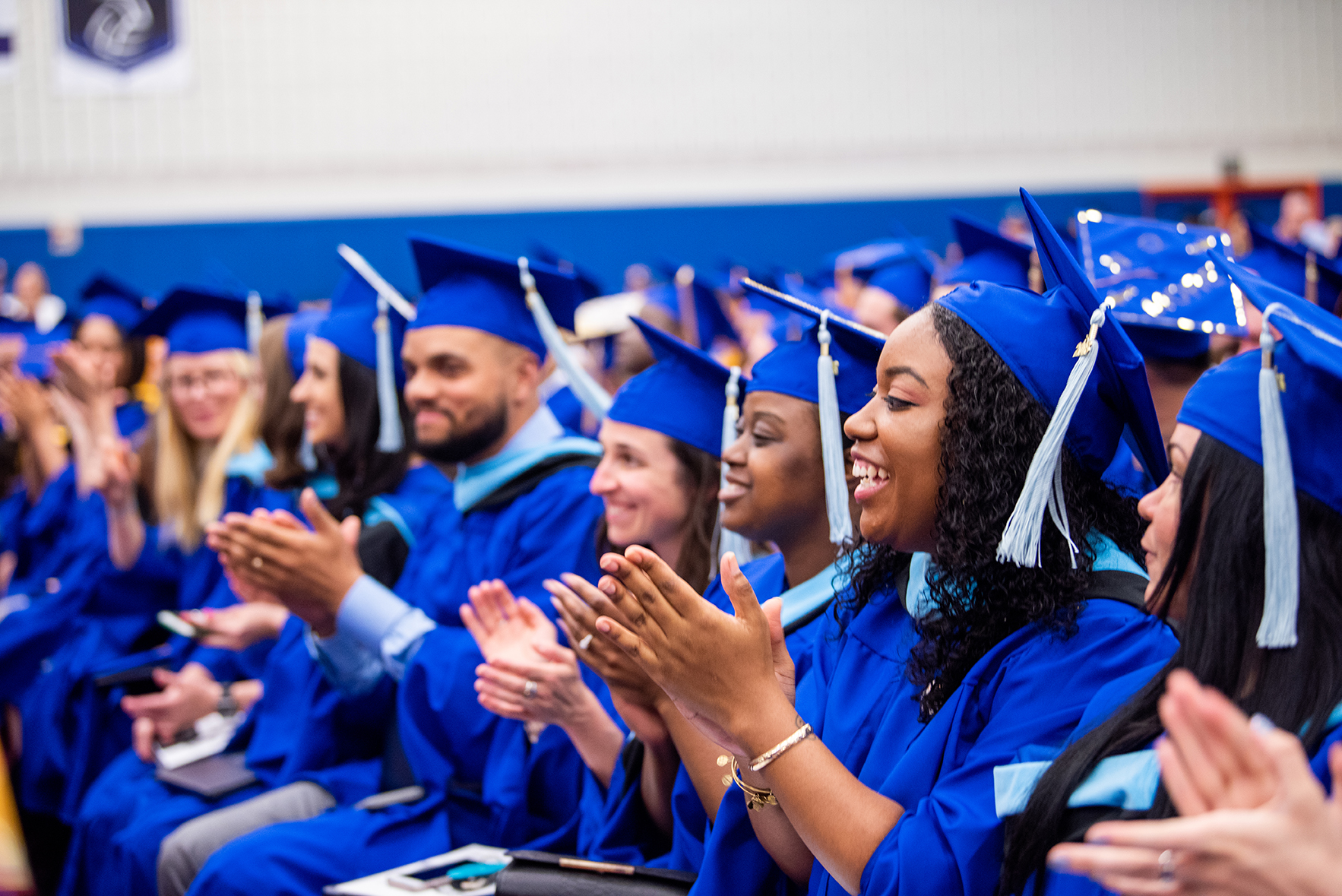 Hundreds of SUNY New Paltz's newest graduate alumni celebrated with friends, family and faculty mentors as the College opened Commencement weekend with the Graduate Commencement Ceremony on May 18, 2018.
[Click here to view full photo gallery from the Graduate Commencement Ceremony]
"Commencement is a centuries-old tradition to formally and joyfully acknowledge the close of one chapter in our students' lives and the beginning of the next," said President Donald P. Christian. "This ceremony is designed to celebrate the special accomplishment of attaining an advanced degree, and we salute our graduates for their success in meeting, and mastering, all of the challenges they have encountered on their way to this proud and happy day."
New Paltz offers more than 50 graduate degree and certificate programs in the arts, sciences, humanities, education, engineering and business, all designed to push students to their highest levels of scholarship and professionalism.
---
"I did the program part time and got a really good output. I actually have patents pending with my professor and advisor, Dr. Reena Dahle. I was already working when I started at New Paltz, but in a few weeks I'm moving to Boise, Idaho, to begin a new position." – Mohamed Ramadan '18g (Electrical Engineering)

---
"Completing a graduate degree is more important now than ever before," said Provost Lorin Basden Arnold. "The pace of technological change, globalization and the emergence of a knowledge-based economy necessitate an unprecedented level of expertise in the 21st century.
"Of course, the importance of graduate education goes beyond the need to maintain a competitive economy," Arnold said. "We must have well-educated citizens, like you, to expand knowledge and discovery, foster creative thinking, sustain dialogues about difficult issues, and become ethical entrepreneurs, educators and innovators. You leave New Paltz with a graduate education that arms you to make a difference in the world, and contribute to those cornerstones of our present moment and our future."
---
"I loved the program here. The first year we're in the on-site clinic, working with one client and also doing diagnostics for speech and language for people who come in. In the second year we're off-site, working at an adult placement and in a school. I learned a lot. You're just immersed in it – you're at your off-site during the day, then here at night, it's like you're thinking about it 24/7." – Sean McKenna '16, '18g (Communication Disorders)
---
A stage party including academic deans, faculty members, administrators, and College Council members presided over the 2018 Graduate Commencement Ceremony.
The processional was led by Faculty Grand Marshal Surinder Tikoo, professor in the School of Business, who teaches undergraduate and graduate courses in marketing and international business and was instrumental in designing the College's new Accelerated MBA curriculum.
---
"I was looking for an MBA program about an hour or hour and a half away, and I found New Paltz. I liked that I could take some classes online to get through a little faster. I graduated in December and jumped into a job right away, so I feel like it prepared me well." – Jonathan Yarger '17g (Business Administration)
---
Approximately 280 students participated in the Graduate Ceremony. Each student who walks the stage is hooded by the dean of their respective school, in accordance with SUNY New Paltz tradition for advanced degree recipients.
---
"I'll remember the close-knit community of the graduate program. The classes are all really small, all seminar style. The professors are incredible; but I felt like I was learning a lot more from the other people in class, too, just through the conversations we were having. We all became really good friends that way." – Tara Secilmis '17, '18g (English)
---
The ceremony honored those who have completed or will complete programs in August 2017, December 2017, January 2018, May 2018 and August 2018. A few students took a moment before walking the stage to share their thoughts about the experiences behind them, and those ahead.
"It's a surreal moment, and I wouldn't have been able to get through it without my friends. We got to know each other really well, because it was such a small community of us. You have the option of completing it in one year, summer to summer, which we all did. I'm happy to be done, even though we have a couple more classes to do over the summer, and I'm ready to start looking for jobs. There's starting to be more STEM education at the elementary level, and they're starting to hire more specialists for it. It's becoming really popular." – Farah Taha '17, '18g, Nadine Segarra '17, '18g, Danielle Keeler '17, '18g, Jade-Marie Yarwood '16, '18g, Nicole DeRobertis '17, '18g (Childhood Education 1-6 – Science, Technology, Engineering & Math)
Commencement 2018 at SUNY New Paltz continues on May 19 and 20 with the Saturday and Sunday Undergraduate Commencement Ceremonies. Complete coverage is available at https://sites.newpaltz.edu/news/category/commencement/.