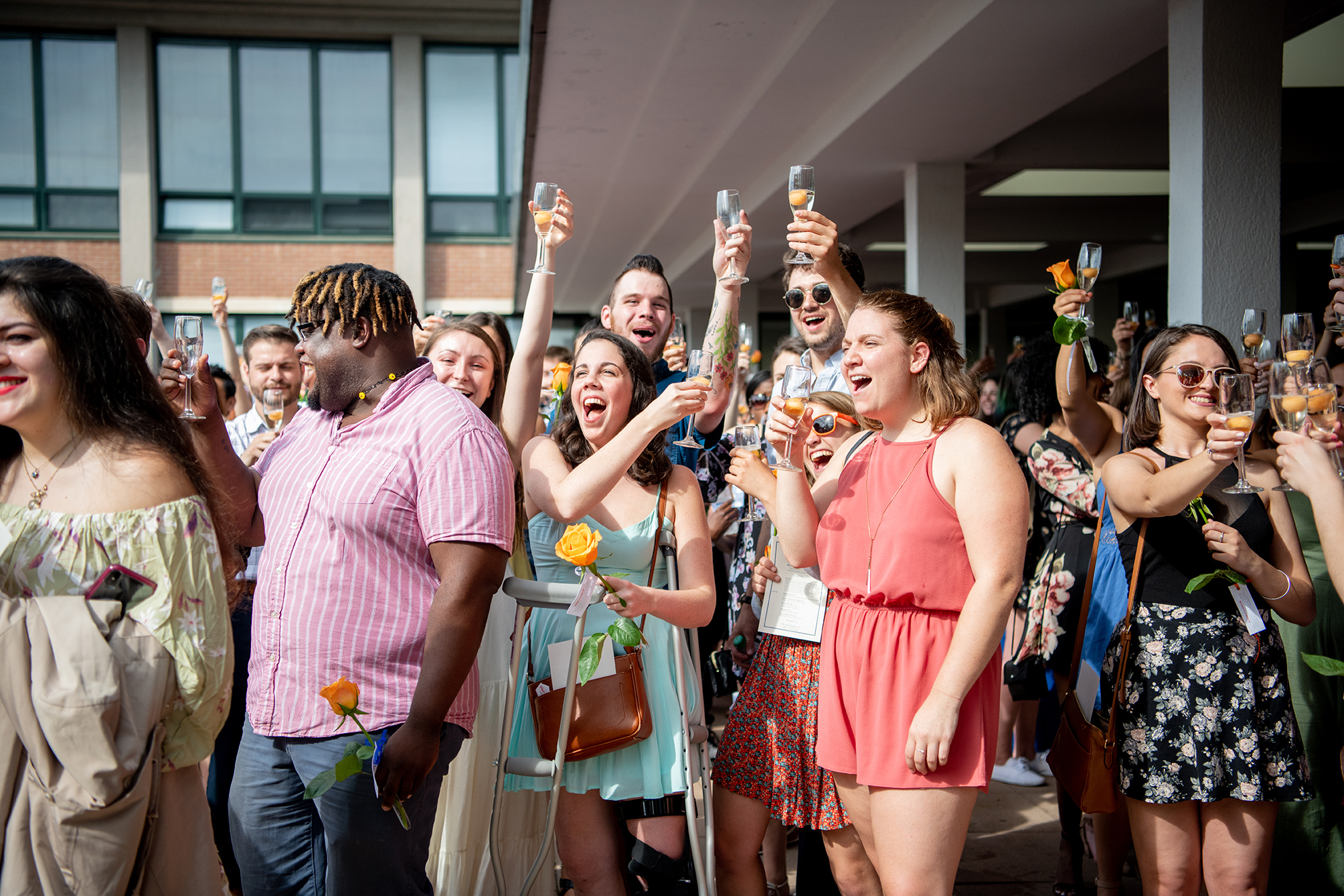 Members of the SUNY New Paltz Class of 2018 extended a cherished tradition at the College, passing a few final hours as undergraduate students to share memories and a champagne with friends at the annual Senior Toast.
The event saw hundreds of graduates-to-be smiling and reflecting on years of hard work and dedicated scholarship, as they prepare to move forward from an alma mater that they will forever share in common.
[Use this link to view the full gallery from the 2018 Senior Toast]
Guests received a commemorative glass flute and single orange rose – both symbols of happy achievement and optimism for the future – in a prelude to the celebration at the weekend's Commencement rites.
"Bright orange is a color of warmth, enthusiasm and unlimited energy," said Dean of Students Robin Cohen-La Valle. "The orange rose celebrates all new beginnings. The orange rose also indicates pride – when a person is honored to be associated with another, and believes that person deserves to be lauded, the orange rose says, 'I am so proud of you.'"
When the time came to raise glasses, President Donald P. Christian offered up the official toast to the Class of 2018.
---
"To all that you have brought to us during your time here, and all that you are taking with you; to the faculty and staff who have shown such commitment to your education; and to your futures, with every wish for success and happiness. May your contributions make the world a better place. Congratulations!" – President Christian
---
The Toast also includes the presentation of the Senior Class Gift, an effort by each graduating class to raise funds for the sake of future generations of New Paltz students.
The Class of 2018, represented by Senior Gift Committee members Tenzin Youdon '18 (Communication Studies) and Kirstin Price '18 (International Business; Management), presented a check totaling $7,760.70, making this year's gift the largest in SUNY New Paltz history.
A few members of the Class of 2018 offered up their own toasts to their classmates and their soon-to-be alma mater.
"To making a brighter future!" – John Beauzile '18 (Sociology)
"Do what inspires you!" – Leo Didkovski '18 (Sociology)
---
"It's been a long road, with ups and downs, joys and heartache, but the adventure is just beginning!" – Lori Sadow '17 (Adolescence Education)
---
"I think what gets us is when we look at a moment like this as an ending, with all the people around us graduating and moving on to great things. But it's not a race – take your time, take it easy on yourself, and don't let bitterness overwhelm your judgment." – Patrick Derilus '18 (English)
"It's a lot – I feel mixed emotions, sad and happy at the same time." – Marlee Migdale '18 (Psychology)
"To good health!" – Scott To '18 (Mechanical Engineering)
The Senior Toast is made possible by the sponsorship of Campus Auxiliary Services and the Division of Student Affairs.