SUNY New Paltz congratulates faculty and staff on their notable awards, honors and publications.
Do you have news to share with your friends and colleagues? Please use this form to tell us about your accomplishments and be included in a future faculty/staff news round-up!
---
MARYALICE CITERA (Psychology) and PHYLLIS FREEMAN (Psychology, Emerita), along with Richard Horowitz, MD, of Hudson Valley Healing Arts Center, are the authors of "Empirical validation of the Horowitz Multiple Systemic Infectious Disease Syndrome Questionnaire for suspected Lyme Disease," which was published in the International Journal of General Medicine.
The paper finds that this symptom questionnaire can serve as an efficient and low-cost screening tool for medical practitioners and patients. View a video abstract of this paper online.
---
JASON GILLILAND (Veteran & Military Services) has been appointed to the Board of Directors of the National Purple Heart Hall of Honor, which maintains a historical center in New Windsor, N.Y., as well as a database of Purple Heart recipients. It also offers educational programs and community events throughout the year.
Gilliland has also been appointed to serve on a new State University of New York Veteran & Military Affairs Advisory Council.
---
HOWARD GOOD (Digital Media & Journalism) is nominated for a 2017 Pushcart Prize for two poems: "Dark Tourism," which can be read at Poets Reading the News, and "Salvador Dali is Forever," accessible at the Slag Review.
The Pushcart Prize was founded in 1976 to honor writers of poems, essays and short stories published by small U.S. presses. Learn more here.
Good's poem "Homo Homini Lupus" is also nominated for Queen Mob's Teahouse "Best of the Net."
---
GIORDANA GROSSI (Psychology) has published the peer-reviewed article "Hardwiring: Innateness in the age of the brain" in the journal Biology and Philosophy. The article is an investigation of the meaning of "hardwiring" in psychology and neuroscience.
Read the article in its entirety via this link.
---
ROBIN JACOBOWITZ (Benjamin Center) has received a $10,000.00 grant from Wild Earth to conduct a program evaluation for Wild Earth's "Nature Connection & Experiential Education Program" at Kingston Middle School.
---
RON KNAPP (Geography / Asian Studies) presented a paper titled "China's Forgotten Covered Bridges" at the Sixth International Conference on Covered Bridges, Qianjiang, Chongqing, China on Aug. 28. On this trip he additionally conducted fieldwork in Hunan, Guizhou, and Guangxi for his book, "China's Covered Bridges: Architecture over Water."
---
AMY NITZA (IDMH) and the Institute of Disaster Health received a grant from the New York State Department of Health to provide psychological first aid "Train the Trainer" courses for healthcare professionals, and to provide articles for the quarterly New York Disaster Mental Health Responder newsletter.
---
JESSICA PABÓN and
CRIS LIVECCHI (Women's, Gender & Sexuality Studies) received a $9,000 grant for their proposal "Cultivating Inclusivity through an Intersectional LGBTQIA+ Living-Learning Community" from the SUNY Office of Diversity Equity and Inclusion.
The award is provided through the Explorations in Diversity & Academic Excellence initiative, which was created to support "innovative approaches that illuminate and strengthen the intersections between diversity and academic excellence."
---
AMY PAPAELIAS (Art) and her research partner Jessica Barness (Kent State University) received the 2017 Design Incubation Communication Design Educators Award in Scholarship: Published Research. This competitive honor was awarded to them for their 2015 special issue of the journal Visible Language, titled "Critical Making: Design and the Digital Humanities."
---
ALEX PEH (Music) performed Beethoven's last piano concerto with the Northern Dutchess Symphony Orchestra on Oct. 22 at Rhinebeck High School.
---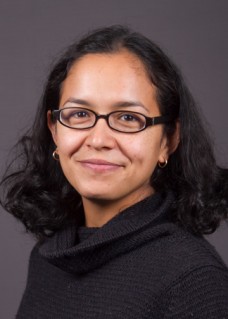 AIKO PLETCH (English as a Second Language) was named the New York State Teachers of English to Speakers of Other Languages (NYS TESOL) Member of the Month for October 2017.
NYS TESOL is a leading association of professionals concerned with the education of English language learners at all levels of public and private education in New York. Learn more online.
---
ANNE ROSCHELLE (Sociology and Women's, Gender & Sexuality Studies) authored "Our Lives Matter: The Radicalized Violence of Poverty among Homeless Mothers of Color," which was published in the September 2017 issue of Sociological Forum.
Roschelle was also elected the Executive Committee of the Eastern Sociological Society, and was appointed to the Mentorship Committee of the American Sociological Association's Race, Class, and Gender Section.
---
JOHN SHARP (Geography) was named a 2017 NCAA Division III Faculty Athletic Representative (FAR) Fellow, and attended the 2017 Division III FAR Fellows Institute in Indianapolis, Ind. from Oct. 13-15.
Sharp has served as SUNY New Paltz's Faculty Athletic Representative for nine years. In this role he liaises between academic and athletic programs, helping ensure that athlete scholars are able to fulfill their commitments to success in academics and in sport.
---
RUSSELL ZWANKA (Marketing) has published his ninth book, titled "Successfully Succinct Stage Speaking: 50 Tips, Tidbits, and Success Strategies," aimed at helping readers embrace public speaking.