The State University of New York today announced a statewide collaboration involving SUNY New Paltz, nine other SUNY campuses and five not-for-profit organizations to establish a sustainable village and learning community in Akayè, Haiti.
SUNY New Paltz students, faculty and staff from the College's Institute for Disaster Mental Health (IDMH) will travel to Haiti as a contributing partner to the social services sector of the project, which is now in its planning phase. IDMH Director Amy Nitza, along with three colleagues from SUNY Buffalo, traveled to Haiti on Sept. 23 for a week-long visit to conduct a needs assessment in the targeted community. They will go on to work with SUNY and local Haitian partners to develop a proposal for social service development in Akayè.
The program proposal will include direct service delivery for children and families, training for teachers, parents and community leaders in addressing the psychosocial needs of children, and service-learning and exchange opportunities for SUNY students and faculty through SUNY's Learning through Development model. IDMH will provide leadership in the areas of trauma-informed care and disaster mental health preparedness.
"We're extremely excited about this endeavor and delighted that New Paltz is going to play such a key role at SUNY village," said Nitza. "The work we will do there in close collaboration with our local Haitian partners has the potential to promote sustainable change for those in the community of Akayè, as well as create meaningful international experiences for our students. This opportunity helps prepare our students to work in places where there isn't a well-established mental health response infrastructure and shows the impact our campus can have in other areas of the world."
The project will develop educational, economic and social programs, resources and other needed services on 40 acres of Haitian land donated by Nassau Community College Professor Emeritus Dr. Carmelle Bellefleur. The W.K. Kellogg Foundation recently awarded SUNY a nearly $800,000 grant to support the project.
The College's Center for International Programs initiated the contact between IDMH and the SUNY Office of Global Affairs.
"IDMH has unique strengths that can help contribute to the effectiveness of this collaborative project," said Dean of the Center for International Programs Bruce Sillner. "It's really important that we are good neighbors to other countries in our hemisphere and that our students play a role in this endeavor."
Other SUNY campuses will bring specific expertise to the project as follows: University at Albany (international development for management), Binghamton University (public administration), University at Buffalo (social work), Buffalo State College (performing arts), SUNY Cobleskill (agriculture and fisheries), SUNY-ESF (landscape architecture), Nassau Community College (nursing), Stony Brook University (health sciences), and Upstate Medical University (public health).
SUNY Board Chairman H. Carl McCall, Kellogg Foundation President Montgomery Tabron and SUNY Chancellor Kristina M. Johnson recently traveled to Haiti to survey the land where the SUNY village would be developed. They heard firsthand from the people of Akayè about how colleges and organizations can support the health, well-being and successful development of their community.
"SUNY's capacity to serve communities throughout New York State and around the globe knows no bounds," said SUNY Chancellor Kristina M. Johnson. "Thank you to each of our campuses, which will each provide distinct expertise to the project, to our partnering organizations, and to the Kellogg Foundation. This project will provide immeasurable opportunity for those in Haiti as well as the students, faculty and staff participating from across SUNY."
The five not-for-profit organizations partnering on the project are: African Methodist Episcopal Church Service and Development Agency (AME-SADA), Effort Commun Pour Le Developpement de L'Arcahaie (ECODA), Haiti Development Institute, Hope on a String and YouthBuild International.
For more information about the program visit this link.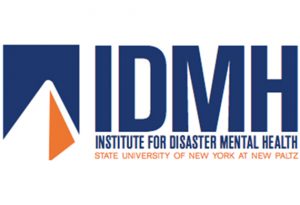 About the Institute for Disaster Mental Health
The IDMH was founded in 2004 to prepare students, community members, paraprofessionals, and professionals in the helping fields to care for others following a disaster via evidence-based disaster mental health interventions, content, and skills. IDMH has provided leadership in various national and international efforts including travel to Louisiana after Hurricane Katrina, and to Israel to work with Israeli and Palestinian professionals to address mental health needs and expand awareness of the effects of disasters and chronic violence.
IDMH programs include developing and presenting professional trainings in disaster mental health; research and dissemination on training needs to improve community preparedness, and an annual conference or training that brings experts in the field to the New Paltz campus.
The IDMH also supports a SUNY New Paltz interdisciplinary undergraduate minor in disaster studies and an advanced graduate certificate in trauma and disaster mental health.
The IDMH annual conference is the only one of its kind in New York State that brings together emergency managers with health and mental health personnel, who all must play a role in preparing for and responding to future disasters.
Complete program details and registration information is available at: http://www.newpaltz.edu/idmh/.