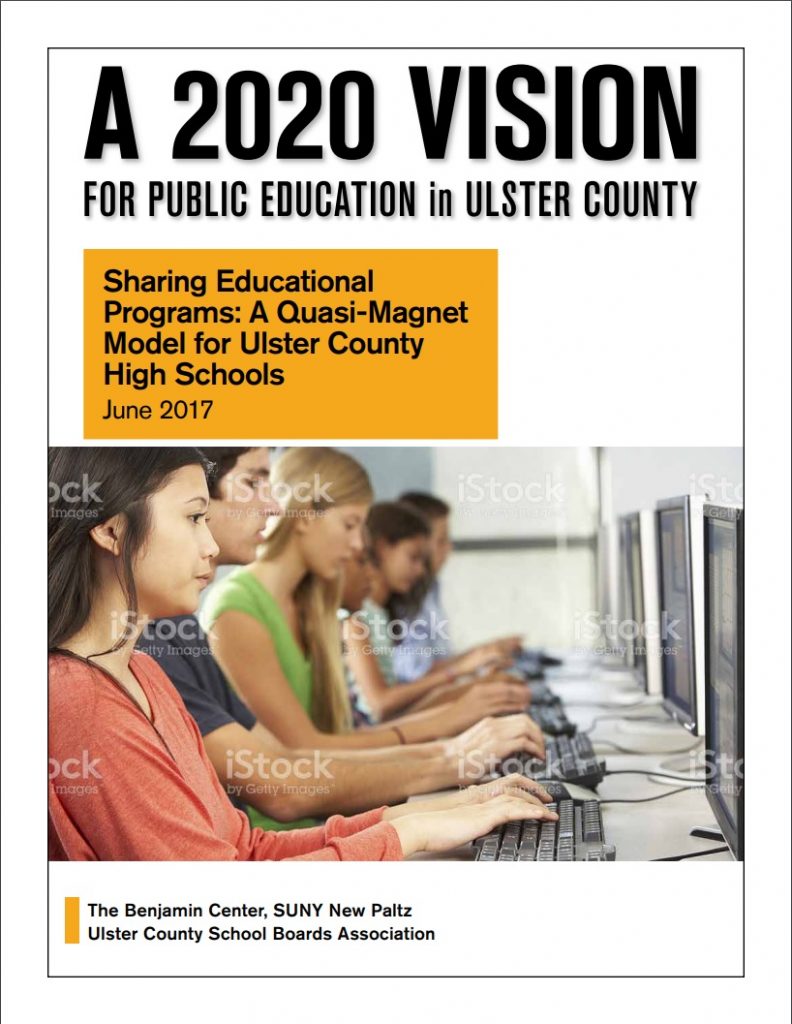 The Benjamin Center at SUNY New Paltz has released a new policy brief, "Sharing Educational Programs: A Quasi-Magnet Model for Ulster County High Schools," authored by Charles V. Khoury, District Superintendent of Ulster Board of Cooperative Education Services (Ulster BOCES).
This brief is the eighth in a series produced through "A 2020 Vision for Public Education in Ulster County," a collaborative effort between the Benjamin Center and the Ulster County School Boards Association that seeks to promote countywide, regional thinking in the service of enhancing educational delivery and outcomes.
Khoury's paper explores a potential model for sharing educational programming among the eight Ulster County districts, and argues that this model would expand educational opportunity for students in the final stages of their secondary education.
In this era of fiscal austerity, school leaders, elected board members and professional educators are regularly called upon to sustain educational quality by doing more with less.
As a solution to this issue, Khoury proposes what he describes as a "quasi-magnet school" approach, in which high school students would complete core academic requirements in their home district, and then be allowed to enroll in specialized courses at another high school in the county if they so choose.
Khoury argues that this model would enable school districts to develop and nurture deep expertise in specific content areas, leverage their collective resources in the development of that expertise, and allow for a broad range of courses and opportunities for Ulster County students.
Importantly, a quasi-magnet approach would also permit school districts to retain their local identities, while still expanding educational opportunity for students.
The full text of "Sharing Educational Programs: A Quasi-Magnet Model for Ulster County High Schools" can be accessed via this link: http://www.newpaltz.edu/media/the-benjamin-center/p.brief_2020_vision_sharing_education_final.pdf. Please contact the Benjamin Center at (845) 257-2901 to request a hard copy.
Click here to learn more about the "A 2020 Vision for Public Education in Ulster County" partnership.
About The Benjamin Center
The Benjamin Center (formerly CRREO) was established in 2007 to help SUNY New Paltz engage with communities, governments, not-for-profits and businesses across our region. The Benjamin Center conducts and publicizes research on important policies and topics; creates and directs select institutes focusing on specific areas of regional interest; connects and partners with local governments, not-for-profits and businesses to initiate reforms and advocate for best practices; contracts to assess the performance of public and not-for-profit agencies and programs; and works to foster intergovernmental collaboration and community engagement.
If you are interested in being on the mailing list for reports from The Benjamin Center, please send an email with your address to wilkinsc@newpaltz.edu. More information about the Benjamin Center is available online.