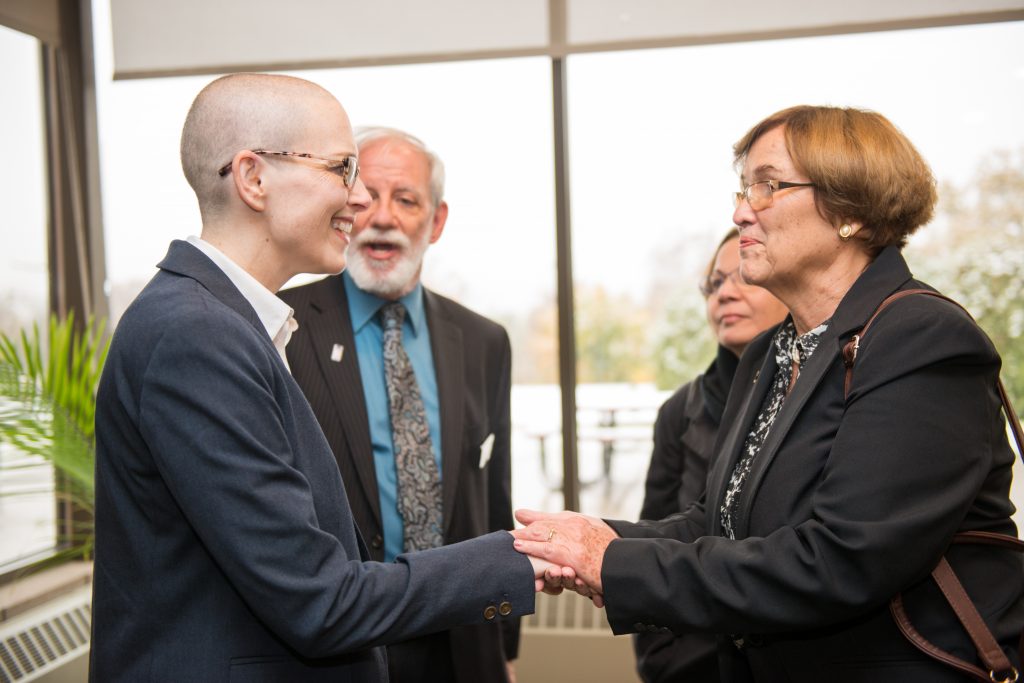 Representatives from the Cuban Ministry of Higher Education and from the Universidad Tecnológica de la Habana visited the College on Oct. 27 to continue discussing ways of building lasting partnerships between SUNY New Paltz and peer institutions in Cuba.
The Cuban education delegation was led by that nation's Vice Minister of Higher Education, Aurora Fernández González, who oversees the national network of Cuban universities for local development.
She was joined by Iliana Martínez González, also from the Ministry of Higher Education, who specializes in seeking avenues for collaboration with North American institutions; Alicia Alonso, rector of Cuba's premier technology university, based in Havana; and Luis Javier Baro, first secretary of the Permanent Mission of Cuba to the United Nations.
The delegates' visit extends a relationship that blossomed last fall, when officials from New Paltz represented the College as members of a U.S. delegation to Cuba organized by the Institute of International Education (IIE).
"It's a great honor for SUNY New Paltz to welcome this distinguished delegation of representatives from the Cuban Ministry of Higher Education," said Bruce Sillner, dean of the Center for International Programs (CIP) at New Paltz. "I'm delighted that we at New Paltz are able to reciprocate the hospitality shown to (Vice President of Enrollment Management) David Eaton and myself during our visit to Cuba one year ago."
One of the most internationally-focused colleges in the SUNY system, New Paltz is a natural partner for the Cuban Ministry of Higher Education and for Cuban colleges and universities. This begins with the College's students, hundreds of whom choose to study abroad each year. New Paltz is also home to more than 600 full-time international students, from 42 different countries.
"Our students are increasingly global, whether that means they're coming to New Paltz from other places or just that, because of the way that social media has changed the communication landscape, they're finding friends around the world through the internet," said Provost Lorin Basden Arnold.
Cuba has a chapter of its own in the history of the College, dating back to when it was known as the New Paltz Normal School.
"Our first international engagement, which took place more than 100 years ago, saw 50 Cuban teachers come here in 1902 to study American educational practices," Sillner said. "On this historic day, we've kind of come full circle."
The Cuban Ministry of Higher Education delegation began their trip through America in Washington, D.C., but have made it a point of emphasis to establish relations with the College and with the SUNY system as a whole.
During their day-long visit to New Paltz, they toured facilities at Wooster Hall, the Samuel Dorsky Museum of Art and the Hudson Valley Advanced Manufacturing Center (HVAMC), taking opportunities along the way to exchange ideas with faculty and staff.
"As you know, Cuba has given a high priority to education since the revolution," said Vice Minister Aurora Fernández González. "We are a country with no illiteracy and where the education is absolutely free, from kindergarten to Ph.D. We're very proud of our achievements in education, and we're happy to be here today to share our experiences and ideas with you."
From New Paltz, the delegates travelled to New York City, where they met with a number of SUNY presidents, including New Paltz's President Donald P. Christian, and SUNY trustees chair H. Carl McCall, to consider next steps for nurturing collaboration and creating opportunities for students in both the U.S. and in Cuba.
More information about the SUNY New Paltz Center for International Programs can be accessed online.