Women's history month was celebrated this March when the College welcomed 31 women scholars and thought leaders, the vast majority of whom are SUNY New Paltz alumnae, for a summit entitled "Successful Women: What Does It Take?"
Attendees had the opportunity to listen as women in various phases of their careers reflected on their academic, professional and personal successes, and offered advice for those about to enter the workforce.
The summit was broken into five panel discussions, each of which corresponded to one of the College's five schools: School of Business; School of Education; College of Liberal Arts & Sciences; School of Fine & Performing Arts; and School of Science & Engineering.
Panelist Hillary Lindeman '11 (Graphic Design) saw the summit as an opportunity to finally return to campus, something she had hoped to do since moving to California.
"I graduated 3 years ago and I've been dying to come back ever since," said Lindeman, who now works as a product and interaction designer at Google. "I really think that the openness of the professors here, the diversity of the students, and the campus culture allow a student's personal skills to shine."
Student attendee Dana Liuzzi '17 (undeclared) left the summit with a number of takeaways. She noted that being professional, confident and assertive are essential qualities to have as when embarking on a future career.
"It was inspiring and empowering," said Liuzzi. "It was great to see how many women from SUNY New Paltz have been successful in so many different fields."
Following the summit, panelist Regina Calcaterra '88 (Political Science) delivered the Distinguished Speaker Series talk at SUNY New Paltz. An attorney, advocate, and New York Times best-selling author of the memoir "Etched in Sand," Calcaterra spoke about "The Power of Resilience," detailing her personal story of optimism, self-determination and how small acts of kindness for a child living on the fringe of society can have ever-lasting impacts.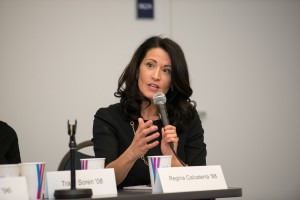 "I'm honored and humbled to have been asked to be the Distinguished Speaker at SUNY New Paltz," Calcaterra said. "I have been speaking nationwide at colleges and other forums, but nothing has meant more to me than being asked to come back here, to come back home, and share my story, because a lot of my story happened here at SUNY New Paltz."
Click here for more information on Regina Calcaterra '88 and a full list of speaker profiles.