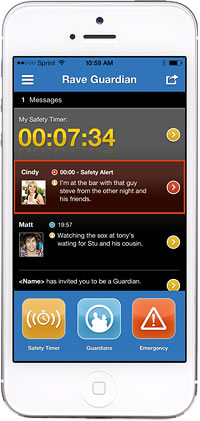 SUNY New Paltz is helping to empower campus community members and put personal safety into their hands thanks to a new mobile app called Rave Guardian.
The app, free for both iPhone and Android devices, enhances safety on campus through a virtual network to help users stay in touch with friends, family and co-workers, as well as the College's University Police Department (UPD).
"This new campus safety app utilizes technology to its fullest," said University Police Chief David Dugatkin. " At the push of a button, a person in distress can call us, text us and even send us a photo of a suspicious package.The app goes as far to even allow us to find a person in distress utilizing GPS mapping technology," Dugatkin added.
According to Dugatkin, UPD will monitor the app 24 hours a day, 7 days a week.
"The safety of students, faculty and staff will always be our top concern," Dugatkin said. "This technology is another level of campus safety we've added to help connect users in times of emergency."
To learn more about the new app, visit http://www.newpaltz.edu/police/safetyapp.html or call University Police at (845) 257-2222 with any questions.