CELEBRATION OF WRITING DAY
The 2022 COW is scheduled for Friday, May 6, 3:30-4:30pm (Library Lobby)
Submissions are due Friday, April 10th. Please see the application like below.

This annual event will celebrate student writing across the disciplines. The Writing Board wishes to recognize the effort students have put into course assignments and other writing endeavors. This event is held each spring. Students are asked to submit writing samples and read an excerpt of their writing at the event. Click here for the 2022 COW application and instructions: Celebration-of-Writing-Application-2022.

Submit applications to the COW OneDrive folder Please submit the application for, along with an electronic copy of your work (.pdf or .doc). See the FAQs below.
The 2019 Celebration of Writing Program: Celebration of Writing Program2019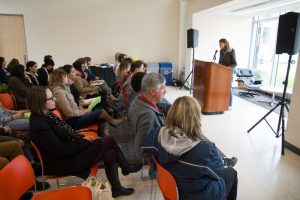 Please encourage your students to submit works to the Writing Board for review. We encourage submissions from students in all disciplines, including science, technology, social science, art, history, education,or other disciplines where writing provides a necessary analysis tool. We welcome critical reviews of arts and cultural activity, social and political analyses, news stories, book reviews, and science reports. Of course, we welcome creative fiction, drama and verse.
For additional information, contact Maureen Morrow X3776.
COW FAQs
How many pieces may I submit?
You may submit once for any given category (with the exception of poetry).
How many pages of poetry may I submit?
10 pages.
How will the submissions be judged?
The criteria for judging the papers includes: Style, content, and originality.
Can graduate students participate?
Yes.
Can alumni participate?
No.