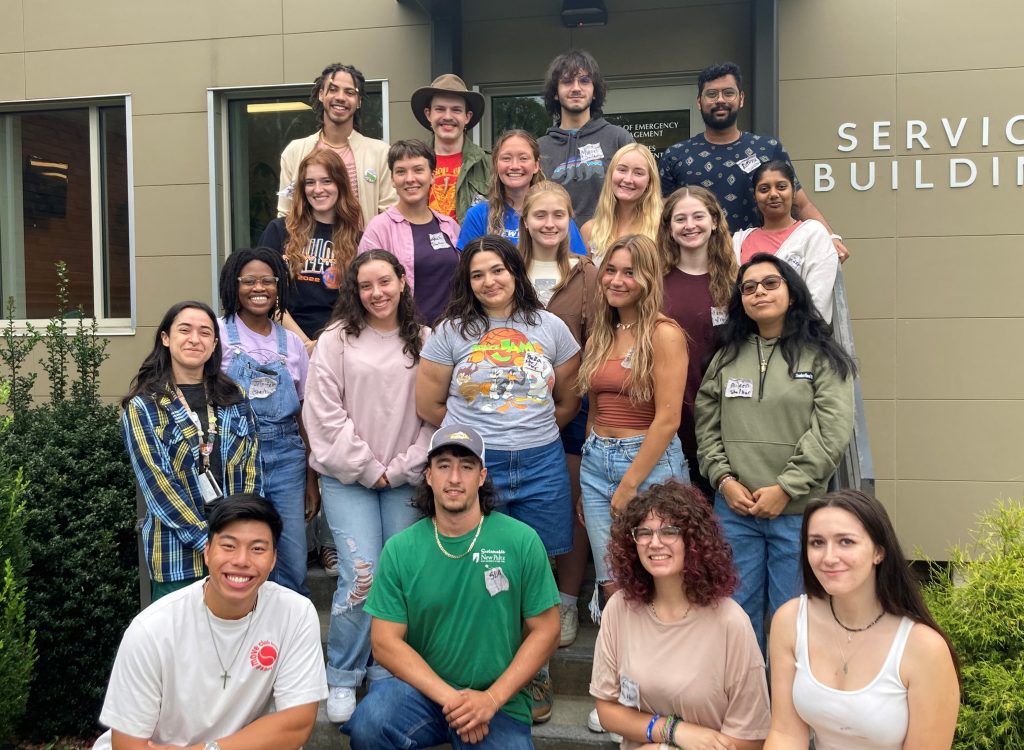 The Office of Campus Sustainability kicked off the fall 2023 semester by welcoming a record 36–12 returning and 24 new student–Sustainability Ambassadors in the eighth year of this student leadership program. 
Each ambassador will advance campus sustainability goals by participating on five different thematic groups: the Beyond Plastics Team, Bike Friendly University Team, Biodiversity Team, Climate Action Team, and the new Environmental Justice Team, as part of a directive under Governor Kathy Hochul's Executive Order 22, directing state agencies to advance sustainability, decarbonization & environmental justice. 
Also new this year, each team has a member focused on communication and engagement, several of whom are studying disciplines such as digital media, journalism, communication, and film and video studies.  
The Sustainability Ambassadors held a two-day orientation for new and returning members in August, where they were introduced to Governor Hochul's Executive Order 22 and past campus sustainability and biodiversity achievements, along with future initiatives pertaining to state directives. The orientation included a panel discussion led by Campus Auxiliary Services Executive Director Steve Deutsch on sustainability progress in CAS and Dining Services.  
The Sustainability Ambassador program begins the new academic year following a banner year last year, hosting multiple events involving collaboration between students and campus stakeholders to "be the change," while creating a balance of social and economic values such as affordability and access, environmental justice and equity, climate action, responsible consumption and production, and just equitable and circular economics. 
To learn more about the Sustainability Ambassadors program, visit this website and consider applying in April 2024 to join this program during the fall 2024 semester.