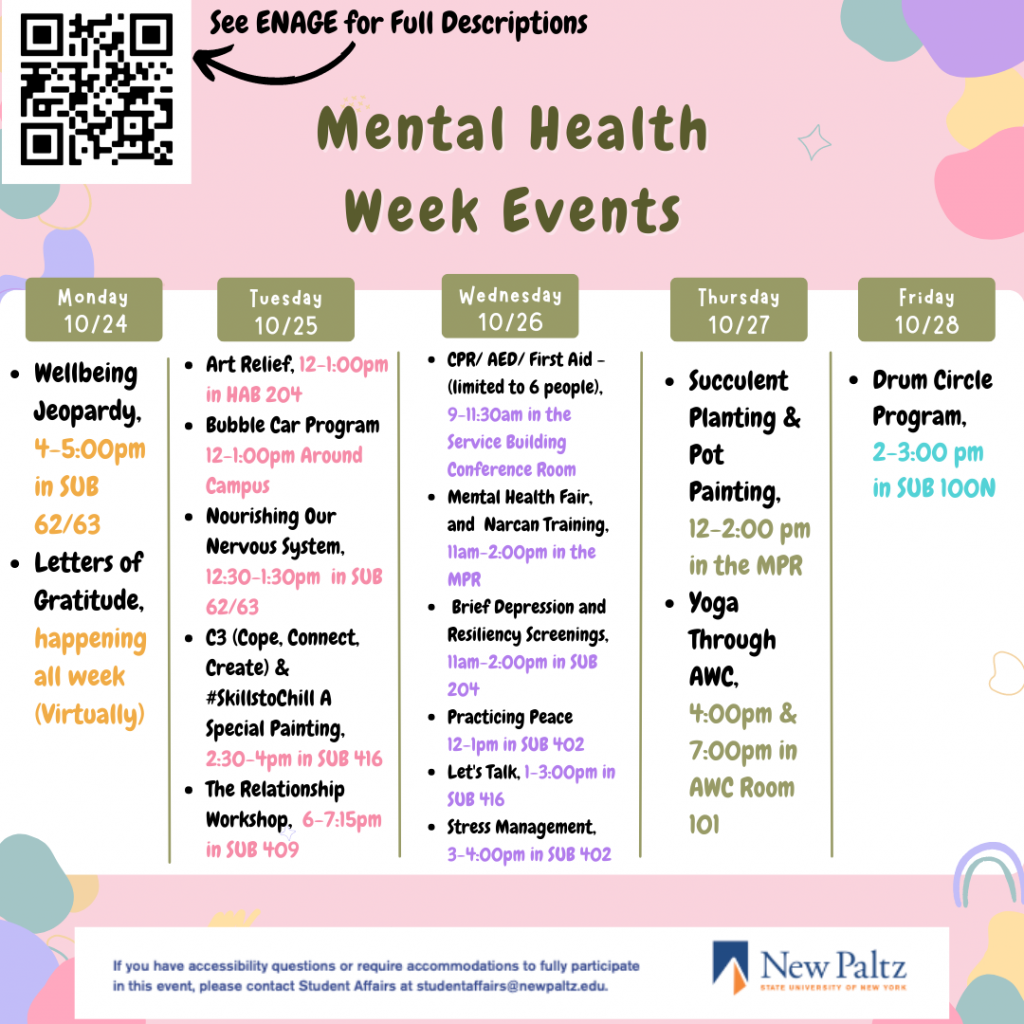 Mental Health Week returns to SUNY New Paltz for fall 2022 with a full schedule of events from Oct. 24-28 to help students build resilience and balance in all aspects of their lives and experiences: physical, intellectual, emotional, social, spiritual, career and financial.
The main event is our campus Mental Health Fair on Wednesday, Oct. 26, from 11 a.m. – 2 p.m. in the Student Union MPR. It's a truly wonderful event, gathering a wide variety of resources for students together in one place, and helping students connect with one another and with expert professional staff.
Above all else, the mission of the Fair is to make sure our entire campus community understands that help is available for those who may be struggling or want to learn ways to become more resilient. There will be resiliency and depression screenings for those who want one, offered privately by Psychological Counseling Center clinicians. Community partners will offer Narcan training with instruction and a kit so an individual who witnesses someone experiencing an opioid overdose can provide the life-saving treatment. On campus peer mental health groups and off campus agencies will share materials, healthy brain food, giveaways for destressing and raffles, too!
Beyond the Mental Health Fair, there are many other events planned for the week. The full schedule can be accessed here, but here are some highlights:
Our SUNY award-winning Bubble Car Brain Busters (trivia) – Tuesday, 12-1 p.m. (Around campus)
Nourishing our Nervous System – Dr. Lori Wynters, Tuesday, 12:30-1:30 p.m. (SUB 62-63)
C3 (Cope, Connect, Create) & Skills2Chill – (for First Year and Transfer students to de-stress and create art), Tuesday, 2:30-4 p.m. (SUB 416)
The Relationship Workshop – Professor Lisa Phillips, Tuesday, 6-7:15 p.m. (SUB 409)
Stress Management – Student Psychological Resilience Advocates, Wednesday, 3-4 p.m. (SUB 402)
Succulent Planting and Pot Painting – Thursday, 12-2 p.m. (SUB MPR)
Drum Circle Program – Music Therapy Graduate Program (no experience necessary, instruments provided), Friday, 2-3 p.m. (SUB 100N)
About Mental Health Week
Mental Health Week is sponsored by the Holistic Hawks Committee, dedicated to well-being and holistic student support. The Mental Health Fair is co-sponsored by our campus chapter of Active Minds, a national nonprofit organization dedicated to raising mental health awareness among college students via peer-to-peer dialogue, and is supported by Student Affairs, the Psychological Counseling Center, OASIS/Haven, the Psychological Resilience Project, the Center for Student Engagement, and many other campus clubs, organizations and on- and off-campus service providers.
For more information, contact Jaclyn Cirello, coordinator of wellbeing initiatives & outreach, at cirelloj@newpaltz.edu.