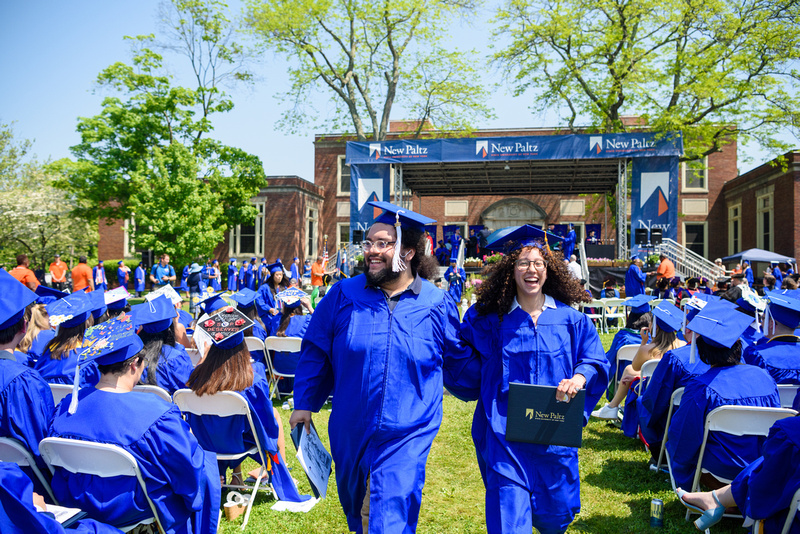 SUNY New Paltz hosted three in-person Commencement ceremonies on May 20, 21 and 22, a joyful weekend and a well-deserved celebration for students who have overcome unprecedented adversity in earning their bachelor's and master's degrees.
The College returned to fully in-person Commencement exercises on the Old Main Quad. There was an evening Graduate Ceremony held on Friday, May 20, and Undergraduate Ceremonies on the mornings of Saturday and Sunday, May 21 & 22.
More than 2,400 undergraduate degrees and nearly 600 graduate degrees and advanced certificates were conferred in total. Thousands of those degree recipients walked the stage this weekend, and thousands more faculty, staff and family members were in attendance to cheer them on.
Among them was New Paltz President Donald P. Christian, who presided over our Commencement exercises for the 12th and final time before his retirement in July 2022.
"It has been my pleasure and honor to lead this College through good and challenging times," President Christian said. "I have especially enjoyed and valued Commencement ceremonies where we recognize and celebrate student achievement. This takes on special meaning during these last two years that included remote learning and a very different kind of academic experience. We applaud your ability to overcome the adversity that coronavirus caused in your educational and personal lives. I know that your willingness and success in adapting quickly to a changing environment will serve you well in your life and livelihood."
Honorees included four-year and transfer students who are candidates for degree completion in May and August 2022, and students who completed their degrees in January 2022, August 2021 and December 2021.
Two distinguished members of the campus community – Ed Carroll '85 and Everton H. Henriques '78 '83g – returned to New Paltz to present Commencement addresses and receive Honorary Doctorate of Humane Letters degrees at our ceremonies.
"It is a great honor to be addressing this graduating class because you have overcome so many obstacles to get here," said Ed Carroll '85, former AMC Networks executive and long-time friend of the College. "And that has caused you to develop qualities you may not even be aware of: flexibility, resourcefulness, maturity, empathy. As you go forward, may you keep that resiliency, keep your sense of humor, find ways to work with people, listen, compromise, and make the world a slightly better place."
"Do not be afraid of adversity, because its bitterness helps to sweeten the taste of success," said Everton H. Henriques '78 '83g, an entrepreneur and philanthropist who is among the most dedicated and engaged alumni of SUNY New Paltz. "Be thoughtful, considerate and kind, because you never know the positive impact a simple act of kindness may have. Find yourself a mentor, and while you're at it, become a mentor as well. And be grateful: Don't hesitate to thank your parents, loved ones, and others who touched your lives."
Two outstanding New Paltz seniors also addressed their fellow graduates at the Saturday and Sunday undergraduate ceremonies.
"The next few months are sure to hold a whole new set of obstacles to overcome, people to meet, and places to go," said Martin Benesh '22 (Theatre Arts), Valedictorian of the Class of 2022. "But today, we have an amazing opportunity to sit in the weight of our accomplishments. I urge you to take a moment to feel the wind blow, give your mom a hug, enjoy the incredible view of the Catskills, and just be present."
"If you're a first-generation student, if you've broken barriers and defied the odds against you, if you've made countless sacrifices to earn your respective degree, I'm extra proud of you," said Mackenzy McMorris '22 (Black Studies; Finance). "The spirit of our Orange and Blue has prepared you to advance forward. Cherish your memories, as there will be millions more to make!"
As they concluded their time at New Paltz and celebrated their undeniable resilience, new graduates reflected on their experiences at the College, and what comes next.
"I learned that nothing is permanent, especially because of the pandemic. You must take care of yourself first before anything else," said Lesley McCarthy '22 (International Relations) of Saugerties, New York. Being at New Paltz has been a growing experience for me and I loved my time here."
"Being in a new environment that exposes you to so many different people that have different experiences than you do was so eye-opening for me, especially being from the city," said Jenny Huang '22 (Early Childhood Education) of Brooklyn, New York. "I felt a big culture shock coming here. I've never really been around nature, and meeting so many people from different places was amazing. Being able to hear about their experiences and hang out with them all the time is something that can never be replaced.
Complete coverage of SUNY New Paltz Commencement 2022 is available here.
Visit us on Instagram @sunynewpaltz for more happy scenes from our weekend ceremonies!