A number of beloved spring semester traditions are back this year at SUNY New Paltz, with a full schedule of events on Friday, May 6, giving soon-to-be graduates a chance to showcase outstanding research and creative activity all across campus.
Many of these events are taking place in person for the first time since 2019. All community members are invited to come out and show support to students who have been working for years to arrive at this moment. More info below. Hope you can make it!
Student Research Symposium: Sojourner Truth Library, 4 – 6:30 p.m.

A celebration of faculty-mentored research, this event is a showcase for undergraduate and graduate students to present original projects from across scholarly disciplines. These can be laboratory studies, fieldwork, creative pieces or other forms.
A complementary event, the annual Celebration of Writing, will take place in the Library Lobby from 3:30 – 4:30 p.m., and feature students reading original work in poetry and prose, fiction and non-fiction.
Click here for more info about the 2022 Student Research Symposium.
Engineering Design EXPO: Science Hall, 3 – 5 p.m.
As part of the Division of Engineering Programs curriculum at New Paltz, teams of mechanical, electrical and computer engineering students are challenged to develop an original design project during their senior year. This capstone experience takes students (with guidance from faculty) from ideation and iteration, to prototyping and production. The College welcomes engineering professionals and prospective employers from around the Hudson Valley to evaluate student projects at this annual event.
Click here for more info about the 2022 Engineering Design EXPO.
Visual Art BFA Exhibition Opening: The Dorsky Museum, 5 – 7 p.m.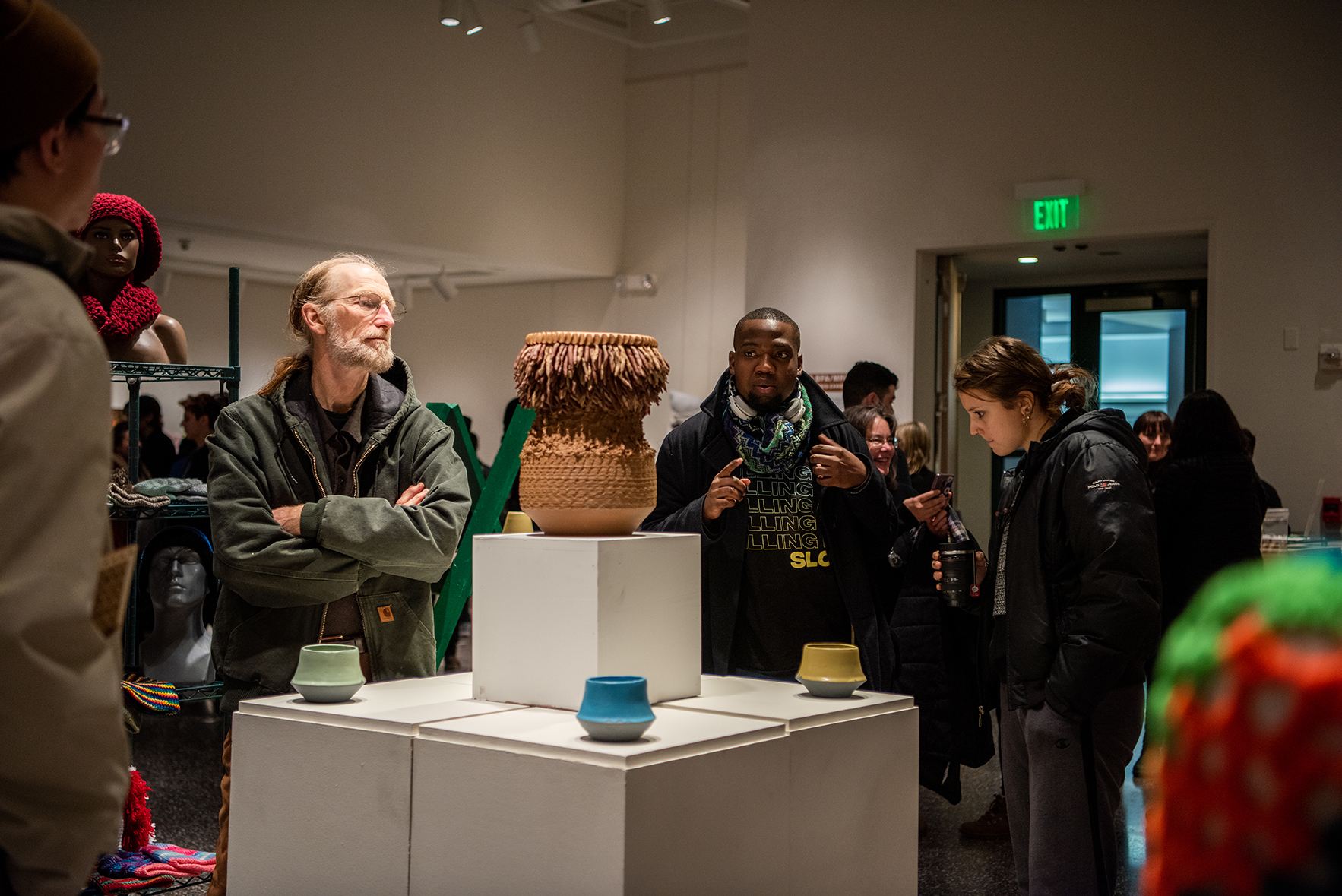 Graduating seniors in visual arts programs have an opportunity to participate in a professional museum exhibition right here on campus. The Dorsky provides a beautiful space and curation expertise to help students display their creative works in a refined atmosphere. Students design and install their own work, which remains on view in a series of week-long cycles.
Click here for more info about the spring 2022 BFA/MFA Exhibitions at The Dorsky Museum.
Graphic Design BFA Thesis showcase: Fine Arts Building, 4 – 7 p.m.
The capstone experience for Graphic Design students at New Paltz invites them to conceptualize expansive, multimedia projects that use conventional and contemporary design practices and visual communication to inform and engage a defined audience. Beyond tapping into their creativity and artistic skill, the thesis cycle calls on students to think like researchers, content experts and entrepreneurs. In 2022, the exhibition theme is "Nostos": A concept from Greek literature referring to the return home after an epic journey.
Click here for more info about the spring 2022 Graphic Design BFA Thesis Showcase.