For many members of the SUNY New Paltz class of 2022, the "college experience" has been a fractured thing: two years of relatively normal, traditional times on campus, followed by two years of change, adaptation, new challenges and personal resilience.
These feelings will be familiar to most everyone who has endured two years of pandemic, whether at a college or elsewhere, but the before-and-after comparison is especially resonant for those who have spent the last four years on campus, living under two very different sets of circumstances.
This spring, we spoke with three New Paltz students, all of whom were active on campus helping peers cope during the pandemic about their experiences since March 2020; ways they and their peers have tried to support one another; and lessons they're carrying with them into their next phases of life.
The initial shock, and what stayed with us 
"It was a moment of holding your breath," said Johnathan Fratus '22 (International Business/Asian Studies) of Florham Park, New York, "but that moment got longer and longer, and we weren't sure when to exhale."
A common refrain in these conversations was that, even if the specific details of the early pandemic have faded, the feelings of uncertainty, fear, and a sense that "normal" wasn't coming back, have stayed with people over the years.
"I was just shocked because I think we all had to realize how serious this was," said Zoe Perles '23 (Spanish) of Northport, New York.
The students we talked to reacted to these feelings with an emotional openness, using social media and other communication tools to share things that they might otherwise have kept under wraps.
"I think that people felt more comfortable sharing things about themselves that they were struggling with," Perles said, "and I think that as we started to come back into more in-person activities, people could have honest conversations about how the pandemic personally impacted them."
Building a resilience network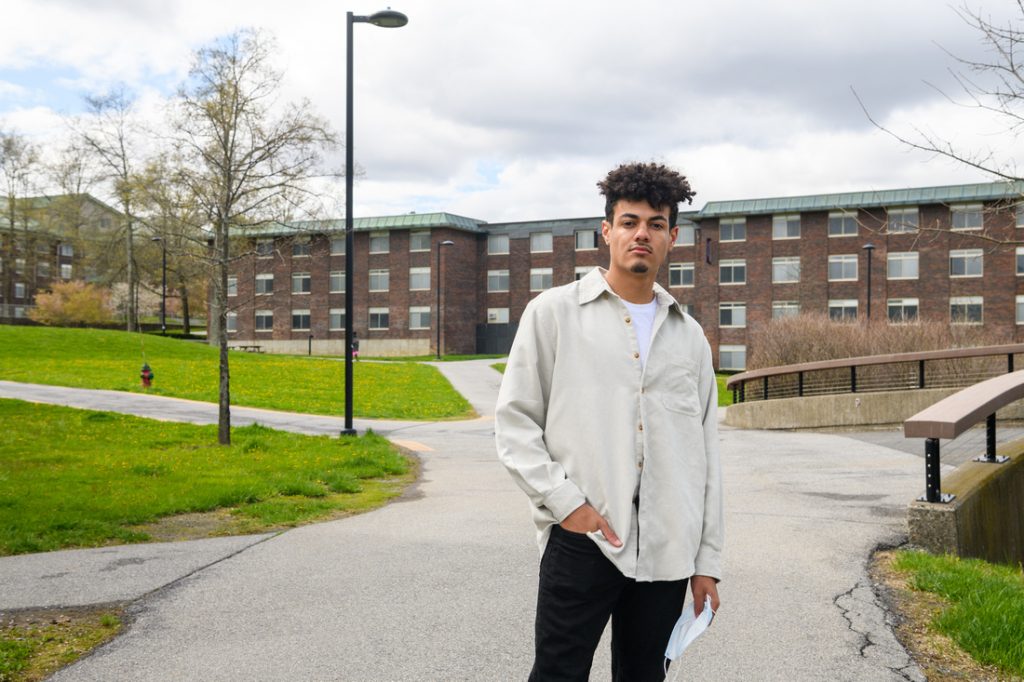 It helped that there were support structures on campus to facilitate these connections. Both Fautus and Perles got involved with the Student Psychological Resilience Project after it launched in fall 2020.
The program, made possible thanks to support from alumnus Ira Schreck '74 and his wife, Barbara S. Ginsberg, is designed as a peer-to-peer network, with guidance from experts in the Institute for Disaster Mental Health at SUNY New Paltz, working to prepare students with the coping skills necessary to build a stable foundation for their personal, academic and professional success.
"I was able to meet this group of people who are all connected to that shared passion of wanting to normalize mental health and make it easier for people who are struggling," Perles said.
Of course, the work of supporting others can be taxing during times of high stress. The Student Resilience Advocates program was designed so that these students, who freely volunteer their time to help their peers, also have one another to lean on when needed.
"As somebody that is always there for other people, it's not always easy to get that same support, because you're always the one putting yourself out there for other people," said Advocate Seth Davis '23 (Psychology) of Glens Falls, New York. "It's nice to be heard while also being the listener."
Coming out of it, ready for life
The last two years have been an endurance test, but all three students we spoke with also expressed hope and optimism that better days are ahead.
This fall, Perles will realize a long-deferred dream, taking advantage of the return of Study Abroad to visit Spain in the fall.
"It was something that I knew I didn't want to graduate without doing," she said. "It was hard to see it constantly get canceled, but I'm hopeful now about being able to do it next year."
For Fratus, the good vibes come not from big post-pandemic plans, but more from a realization of all the ways he's become a stronger person than he was in early 2020.
"Now that we're coming on outside of it, I feel a lot healthier and a lot more clear-minded of who I am as a person with confidence in my own abilities," he said. "I'll say that even though it was very challenging and stressful to take on the challenges that came with a pandemic, I am glad that I took them on because that struggle ultimately made me stronger."