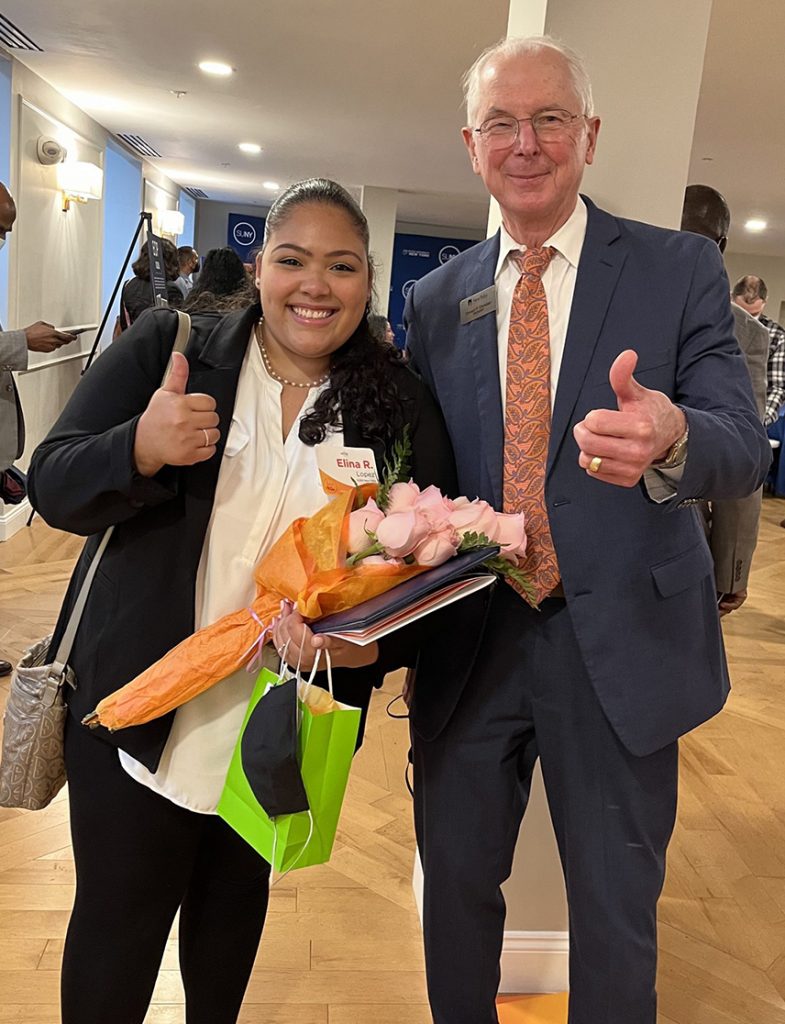 Elina Lopez '22 (Psychology) of Tarrytown, New York, knew she wanted to spend the next four years at SUNY New Paltz the minute she first encountered the College's Educational Opportunity Program (EOP). 
"I definitely felt that it was going to be a program where they really cared about their students," she said. 
Flash forward to today, and Lopez's New Paltz career has culminated in her winning a 2022 led her to win SUNY's Norman R. McConney, Jr. Award for EOP Student Excellence, which recognizes outstanding EOP students for their academic merit and strength in overcoming significant personal obstacles.
Lopez certainly meets those criteria. Like many EOP students, she arrived at college with some feelings of uncertainty about whether she would succeed. And also like many EOP students, the program was there for her with infrastructure to help build up her confidence.  
"When I came in, I had doubts about whether or not college was for me. I was extremely nervous, like, is the biggest mistake I'm making?'" she said. "Then, we had Key Issues, which was a class that we're required to take as part of the program. Having a class where it was just EOP students was a great way to just make connections off the bat."  
Whether it was academics or social engagement, Lopez benefited from the EOP support network, a peer-to-peer resource on campus tailored to the unique needs of EOP students. 
"I asked for help all the time," she said "I leaned on the people around me." 
She returned the favor by becoming a peer mentor herself. 
"It's become my main group of friends," she said. "We all have a lot of the same things in common; we've gone through similar experiences."  
As one of just 46 McConney awardees from across SUNY this year, Lopez got to celebrate and reflect on her achievements at a banquet held on April 14.
"Elina Lopez is an outstanding student and EOP is very proud of her accomplishments," said EOP Director Antonio Bonilla '87 (Spanish) '05g (Professional Studies). "She will always be a part of the EOP family, and we're thrilled that she's been recognized with this award."
Among those recognizing Lopez's outstanding performance was New Paltz President Donald P. Christian, who attended the awards ceremony along with other campus leaders. 
"It was it was such an honor to represent New Paltz, to have New Paltz on my badge, and to have the President stand up when I got my award and shake my hand," she said. "It was an incredible experience."  
More information about the Educational Opportunity Program at SUNY New Paltz is available online.