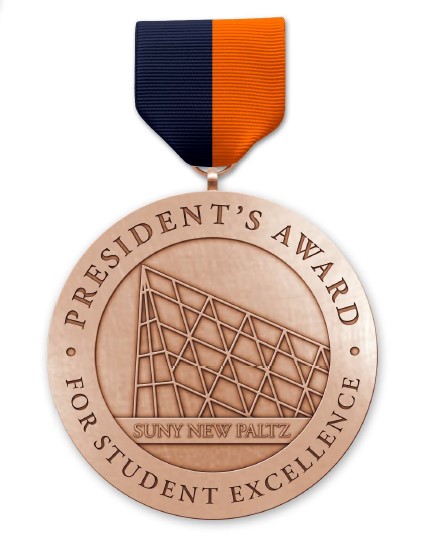 SUNY New Paltz is pleased to announce the creation of the new President's Award for Student Excellence, a campus-level honor that will be bestowed upon students for the first time during the spring 2022 semester.
The President's Award for Student Excellence will immediately become the highest recognition bestowed upon students at the campus level. It was designed to pay tribute to New Paltz students who have demonstrated outstanding achievement in academics and in other areas of their collegiate careers.
"One thing that has remained consistent throughout my tenure at New Paltz is our students' ability to excel in their academic coursework and as leaders, athletes, artists, volunteers and advocates, on campus and in the surrounding community," said President Donald P. Christian. "I want to thank colleagues in Student Affairs for creating this new way for the College to honor outstanding New Paltz students, and for affording me the opportunity of presenting the first-ever President's Awards during the final year of my presidency."
The first class of President's Awardees will be recognized at the end of the spring 2022 semester.
To qualify, students must:
Plan to graduate in the next year (December 2021 – August 2022)
Maintain a GPA of 3.7 or higher
Show distinction in at least three areas of co-curricular activity
Nominations will open in November 2021. More information about the nomination process will be shared soon.