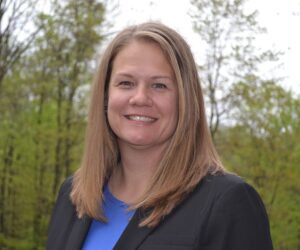 SUNY New Paltz is pleased to announce the appointment of Emily Bazinet '08g (Humanistic/Multicultural Education) as director of the Center for Student Engagement, effective May 13, 2021.
Bazinet rises to lead the newly formed Center for Student Engagement, where she has served as associate director since it was established in July 2020, and as the senior staff member assuming director-level duties since January 2021.
The Center oversees Orientation and new student programs, student leadership and activities, community and civic engagement, fraternity and sorority life, and Student Union operations, among other campus services and programs.
Bazinet brings extensive experience and expertise with all aspects of student affairs to the new role. She has been a member of the campus community since 2004, when she joined the College as a residence hall complex director, and served as assistant director of Student Activities & Union Services for more than a decade prior to the creation of the Center for Student Engagement and her promotion to the associate director position.
As assistant and then associate director, Bazinet managed day-to-day operations of the Student Union, helped lead Orientation and new student programs, directed student employment, supported campus events and programs (including student organization activities), provided oversight of the College's fraternity and sorority community, and coordinated student leadership offerings including the Emerging Leaders program.
Bazinet has also provided valuable service and leadership as a member of the College's Title IX Working Group, the Campus Hearing Committee and the Transfer Initiative Task Force, among many other affiliations on campus and more broadly in the student affairs profession.
She will continue to manage many of these duties as director of the Center for Student Engagement, and will also oversee departmental strategic planning and assessment; support programs like new student Orientation, parent and family weekend and the Senior Toast; direct the Center's support and outreach to historically underrepresented communities, and to off-campus, commuter, transfer and graduate students; oversee the review and approval process for all student clubs and organizations; and lead the long-term planning and operation of the Student Union facility, among other responsibilities.
Bazinet is a SUNY New Paltz alumna who earned a master of professional studies degree from the Humanistic/Multicultural Education program in 2008. She will assume a director position that has stood vacant since Jan. 1, 2021, when Michael Patterson, formally the director of the Center for Student Engagement, became assistant vice president for student affairs.
Please visit the Center for Student Engagement online to learn more about their offerings and resources for students.