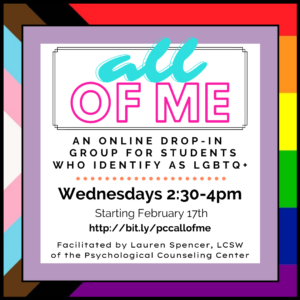 The Psychological Counseling Center at SUNY New Paltz is launching a weekly, online, drop-in support group to provide LGBTQ+ identified students with a trusting space to process life and campus issues, build skills to manage challenges, and explore various aspects of identity.
All of Me group sessions will take place on Wednesdays from 2:30 – 4 p.m., beginning Feb. 17 and continuing through the spring 2021 semester.
Use this link to join via Zoom.
Drop-ins are encouraged and no prior RSVP or paperwork is needed for these sessions. We do ask attendees to arrive on time, as no one will be admitted more than 10 minutes after start time.
Conversation topics will be based on the needs and interests of participants, and may include themes like increasing self-esteem and resilience, coming out, managing difficult relationships, and creating peer support networks.
Sessions will be facilitated by Senior Counselor Lauren Spencer. Feel free to get in touch with Lauren at spencerl@newpaltz.edu with questions about All of Me or other programs.
**Please note: All of Me is not intended as a crisis support space. If you require support with anything related to safety concerns, Title IX violations or other urgent issues, you can contact the Counseling Center at 845-257-2920 to request an individual crisis session.**