More than 10,700 COVID-19 tests were administered on the SUNY New Paltz campus during the fall 2020 semester, as the campus community came together to implement mandatory testing policies for students and employees in our on-campus population.
"This testing effort was so successful because of the volunteer time and effort of employees and students from across the campus," said President Donald P. Christian. "I saw the upbeat and can-do attitude of all those who stepped outside of their normal roles to serve the health and welfare of our campus community on the front lines. We are grateful for their key contributions to a successful fall semester."
Since testing began in August 2020, 37 individuals who were tested on-campus have returned positive results, for a positivity rate of 0.35%. An additional 45 students and employees in our on-campus population tested positive at off-campus facilities.
The College's testing and contact tracing protocols were designed and implemented by a task force including:
Stephanie Blaisdell, vice president for student affairs (chair)
Shelly Wright, chief of staff and vice president for communication
Jack Ordway, director of the Student Health Service
Jeni Mokren, dean of the School of Fine & Performing Arts
Scott Schulte, director of emergency management
Bryan Lurie, head athletic trainer
Allison Lindsay, associate athletic trainer
Keith Kenney, assistant director of athletics, wellness & recreation
Shannon Moysey, coordinator of living/learning communities
Matt Skillman, director of digital media
Gary Buckman, director of facilities operations
Sabikun Khan, Awosting Hall complex director
Analysia Arroyo, Mohonk Hall complex director
Carole Levy, school/university partnership liaison, School of Education
Richard Winters, director of community and government relations
Andrew Bruso, assistant director of communication
Staff in the Department of Athletics, Wellness & Recreation made especially noteworthy contributions to the on-campus testing initiative.
Keith Kenney oversaw operations at the testing site throughout the semester, and Bryan Lurie and Allison Lindsay led the College's contact tracing process, helping to ensure that people who were directed to quarantine or isolate had the support they needed, and that those who had been exposed to positive cases were notified in a timely manner.
Many additional staff from athletics, wellness & recreation volunteered significant time at the College's pool testing site in Awosting Hall.
Special shout-outs are in order for Associate Director Brian Williams, who volunteered for 40 shifts, and for Lurie, who was right behind Williams at 39.
Other top volunteers included:
Matthew Alfultis, emergency preparedness specialist (17 shifts)
Kevin Makarewicz, assistant director of wellness & recreation (17 shifts)
Kyle Mungavin, assistant director of environmental health & safety (11 shifts)
Ashton Beckett '24 (Undecided) (11 shifts)
Michele Halstead, vice president for administration & finance (10 shifts)
Mike Patterson, director of the Center for Student Engagement (10 shifts)
Shanna Szablinski, head field hockey coach (9 shifts)
Krysti Maronski, head softball coach (8 shifts)
Barbara Caldwell, director of donor engagement (8 shifts)
Christina Signoretti '20 (Biochemistry) (7 shifts)
Michael Waldron, administrative assistant, student affairs (6 shifts)
Jeannette Trainor, office assistant, emergency management (6 shifts)
Scott Schulte, director of emergency management (6 shifts)
Thomas Seay, head baseball coach (6 shifts)
Shana Circe, director of alumni relations (5 shifts)
Lucy Walker, assistant vice president for institutional research (5 shifts)
Mike Malloy, director of environmental health & safety (5 shifts)
Jamie Seward, head women's basketball coach (5 shifts)
Tara Dates, staff accountant for development (5 shifts)
Dershanel Jno lewis '21 (Psychology) (5 shifts)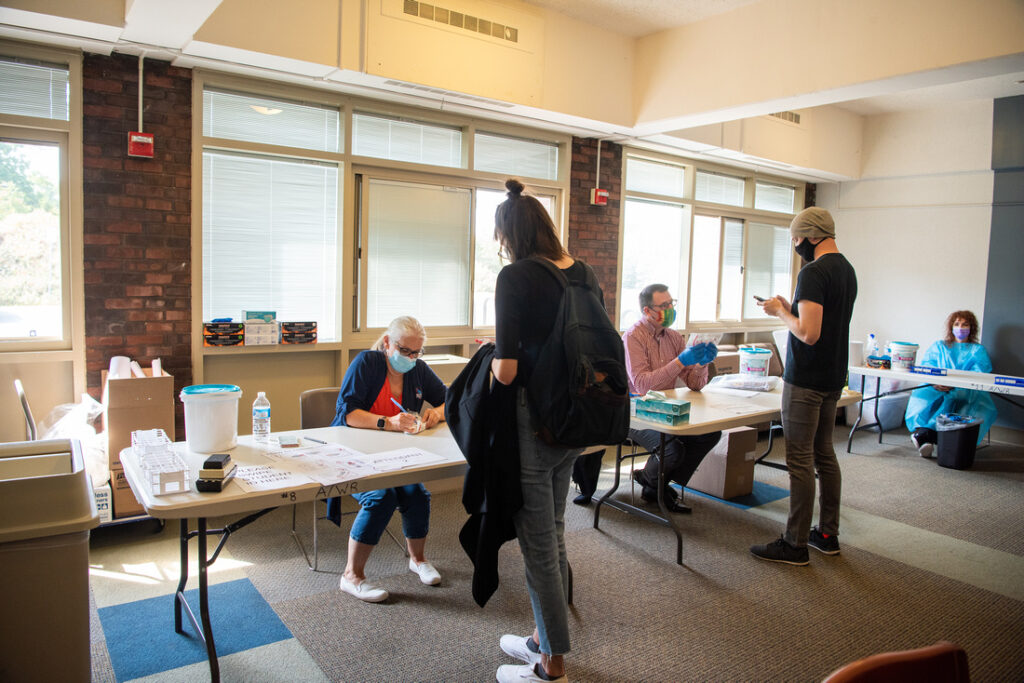 Information Technology Services staff – including John Reina, assistant vice president for information technology and chief information officer; Marcelo Bajana, lead programmer and analyst; and Tim Roberson, senior web application programmer – were instrumental in finding solutions for identifying and tracking those who were tested.
Shannon Moysey coordinated Residence Life logistics and was central to the successful effort to provide a safe and comfortable on-campus quarantine/isolation space for students.
Matt Skillman led the efforts to communicate with students, faculty and staff both before and after their COVID-19 tests, notifying those who were subject to mandatory testing protocols and providing results to those who were tested. Many other Communication & Marketing staff made contributions as well, crafting emails, text messages, news updates, social media posts, posters, fliers, and other communication materials to raise awareness about testing and clarify policies and expectations.
Mail Services Coordinator Cherie Rizza, Wellness & Recreation Associate Director Christina Cordier, and members of the moving and trucking team, also made important contributions by transporting the samples to Kingston and Newburgh to get them to the courier for expedited shipment.
Last, but certainly not least, the Health Center staff went well beyond their regular duties to support testing and provide care and well-being to quarantining and isolating students. Multiple staff nurses including Niki King, Michelle Valiente and Karen Millman worked at the testing facility to ensure efficient and accurate pooling of samples. Dr. Jack Ordway has earned the title "King of COVID-19," which we are certain he will want to relinquish as soon as possible.
The College extends a big thank you to these "all-star" volunteers and the many more students, faculty and staff from units across campus – including multiple academic departments and dean's offices, Athletics, Wellness & Recreation, Student Engagement, Residence Life, Communication & Marketing, the Sojourner Truth Library, Campus Auxiliary Services, Facilities Management & Operations, Career Resource Center, Campus Sustainability, Human Resources, Diversity & Inclusion, Information Technology Services, University Police, Center for International Programs and Development & Alumni Relations – for donating their time during a busy semester to help make our on-campus testing successful.