Nate Duran '18 (Management) talks about basketball like other people talk about volunteering, mindfulness practice or even religion.
"It's something I've always been passionate about," he said. "It's done so much for me, helping me grow up, build character, discipline and responsibility."
Even at a young age, Duran saw basketball as a way to build inner strength. The developmental work always came before the competition, and for that reason, he was drawn to coaching.
"Starting a non-profit basketball organization had been a dream of mine," he said. "I felt like my worth was going to be in working with the youth: Giving them some insight and wisdom, and mentoring them about what I've learned, in the same way my mentors did for me."
This dream mostly stayed in the background while Duran was at New Paltz. He studied in the School of Business, worked as a Resident Assistant and enjoyed what he says were "four of the best years of my life."
Duran was hired for an executive position at Target immediately after graduating, but stayed close to basketball by doing some coaching on the side.
While working as an assistant coach at Transit Tech High School in the East New York neighborhood of Brooklyn, Duran developed a partnership with Donald Rodriguez, a fellow coach who shared his vision of basketball as a tool for character development.
The two saw an opportunity to create an extracurricular youth program, and Elite Fundamentals Basketball was born.
"We saw the need in East New York for an outlet where kids could work out, learn the game and make friends," Duran said. "It just kind of took off from there."
They primarily work with younger kids, ages 4-11. Getting away from the more competitive upper levels of high school and college sports gives them freedom to teach holistically.
"For a kid at that age to learn the game is a beautiful experience in its own right, but it's also a way to build character, accountability and respect, and help them make friends," Duran said. "When they make a mistake, we instantly correct; when they fall down, we help them get right back up. Those are things we want to instill in them at a young age, so that later in life, when they go to school or are working a job, they have the discipline and self-respect not to quit when they face adversity."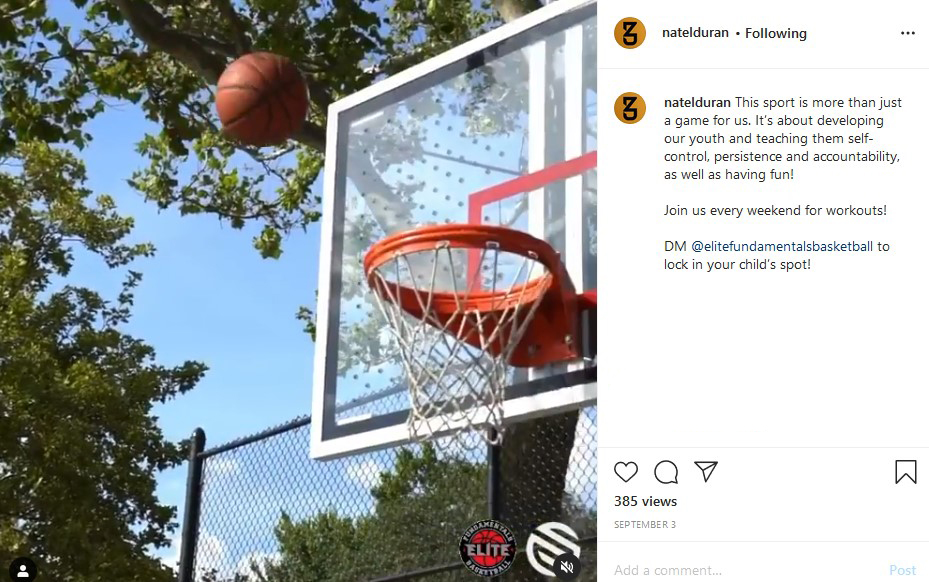 That kind of perseverance starts from the top. The COVID-19 era has been hard on athletics programs, but Elite Fundamentals pivoted quickly with new policies like attendance limits and frequent temperature checks, to continue serving their communities.
For Duran, the experience has combined the best of two worlds: He gets to use his education as a leader of his own organization, while sharing the sport he loves with children who can really benefit from the lessons it teaches.
"The feedback has been amazing," he said. "The parents come and see their children, who may have been a little timid at first, are the ones leading and encouraging their teammates after just a few weeks. It's the most fulfilling thing I've done in my entire life. I come home and sometimes I'm exhausted, but I'm just so happy. It's hard to describe."
Follow Nate Duran and Elite Fundamentals Basketball on Instagram to see more.