SUNY New Paltz has completed a project to renovate Student Union Building rooms 035-043 and relocate the Scholar's Mentorship Program (SMP) into a centralized, modern space for the many students it serves.
View more photos of the new SMP space. 
The new SMP office – across from the campus bookstore, and right next door to the Educational Opportunity Program – includes a large lounge and reception area, a meeting center outfitted with state-of-the-art digital displays for interactive learning, a student computer center, dedicated offices for the program director and coordinator, new furniture and more.
"To have this new space means the world," said SMP Director Mark Rumnit. "I think that our students will be very pleased. It truly feels like a place that they can call home."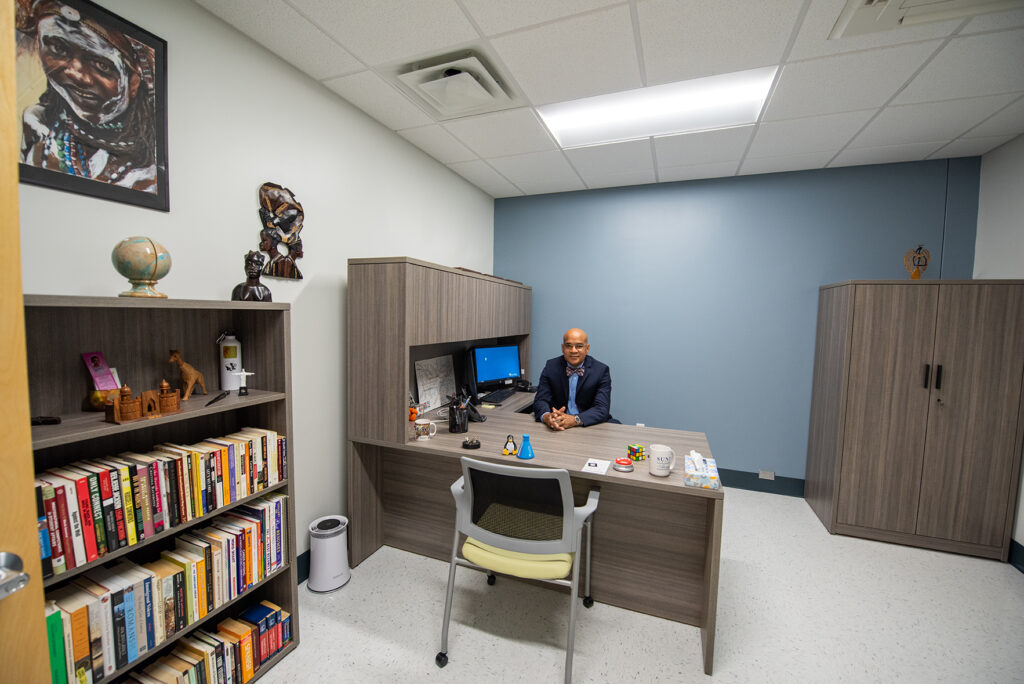 The renovation was designed to provide a large and comfortable gathering space for the hundreds of students and dozens of faculty and staff partners and mentors who make up the SMP community.
Founded by the Department of Black Studies more than 30 years ago, SMP is among the most vital and beloved multicultural programs at SUNY New Paltz. It provides students from historically underrepresented groups with specialized courses, personalized academic advising and tutoring, job opportunities, cultural programs and events, and a compassionate network of friends, mentors and successful SMP alumni.
"Each student that enters this program will definitely learn something more about themselves," said Mackenzy McMorris '21 (Finance; Accounting). "They'll develop more communication skills and teamwork skills, and awaken a social conscience that is not constructed through the transition between high school and college."
"This program has taught me to network professionally and personally," said Thalyana Charles '22 (Sociology). "It's also given me the opportunity to share spaces with students that understand me beyond just the means of getting a degree. And, it has helped me to discover my passions and stuff that I really enjoy doing."
In addition to providing a larger, more modern space, the new location on the ground floor of the Student Union makes SMP much more accessible to the many students it serves.
"We're really excited to be here," Rumnit said. "It's a very good, centralized location, a high student-traffic area, and easy to get to when we have visitors coming to see us and work with us."
New and current students can visit the Scholar's Mentorship Program online to learn more about its history and how to apply.