SUNY New Paltz congratulates faculty and staff on their recent awards, honors and publications.
Do you have news to share with friends and colleagues? Please use this link to tell us about your accomplishments and be included in a future publication of faculty achievements!
---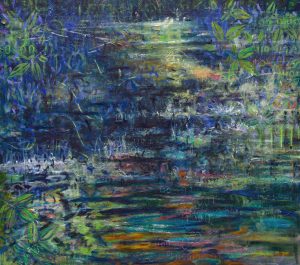 Robin Arnold (Art) was featured in the exhibition "Artists of the Mohawk Hudson Region 2019," on view at The Hyde Collection in Glens Falls, New York, from Oct. 11 – Dec. 4, 2019.
The exhibition is one of the longest standing juried exhibitions in the country, with a history of over 80 years. Artists within a 100-mile radius of the Capital Region are invited each year to submit their work. This year's installment was curated by guest juror and artist Victoria Palermo, and emphasized themes of climate change and the environment.
Pictured at right: "Runoff," oil on canvas, 2019, by Robin Arnold.
Visit the Hyde Collection to learn more.
---
Dante Cantú (Center for Student Success and Office of Academic Advising) represented the College at a SUNY Strong Start to Finish Holistic Student Supports Workshop, on Nov. 7 and 8, 2019.
More than 100 participants two- and four-year SUNY institutions attended the workshop, which aimed to assist and guide teams in developing and implementing holistic student supports plans with equity in mind.
Cantú served as one of three SUNY peer coaches for the workshop, working with representatives from the Achieving the Dream network for student success in community colleges.
The SUNY Strong Start to Finish initiative is a grant-funded efforts to scale up first-year student success strategies and help more students complete their degrees. Learn more at SUNY.edu.
---
Sarah Elia (Teaching & Learning) is cited in a new exploration of the life of Augusta Savage, the influential artist and founder of the Harlem Artists' Guild.
The article cited in the book, "Far from the Harlem Crowd," was co-authored by Elia and Eric Fitzsimmons, and published in the American Historical Association blog "AHA Today."
---
Kathleen Hunt (Communication) was awarded the Christine L. Oravec Article Award in Environmental Communication at the National Communication Association's annual convention, held on Nov. 16, 2019 in Baltimore, Maryland.
Hunt was recognized as the co-author, with Constance Gordon of San Francisco State University, of "Reform, Justice, and Sovereignty: A Food Systems Agenda for Environmental Communication," a systematic review of food-related communication scholarship. The article bridges disciplines including sociology, geography and political ecology to chart new pathways on critical issues related to food access, organizing and social justice.
Hunt serves as the president-elect of the National Communication Association's Environmental Communication Division.
Hunt is also co-editor of a new book from SUNY Press titled "Breaking Boundaries: Innovative Practices in Environmental Communication and Public Participation." The volume, co-edited with Gregg Walker of Oregon State University and Stephen Depoe of the University of Cincinnati, collects essays and case studies that evaluate the innovative new tactics communities around the globe are using to make their voices heard.
---
Lisa Lewis (English as a Second Language) received the Outstanding Teacher Award at the 49th annual conference of New York State TESOL, the leading statewide organization for educators and professionals working with speakers of other languages.
NYS TESOL is the largest affiliate in the International TESOL organization, a worldwide leader for teachers of English to non-native speakers.
Lewis is the third SUNY New Paltz faculty member to win this prestigious award in recent years; James Phillips and Aiko Pletch preceded her as the 2016 and 2018 awardees, respectively.
---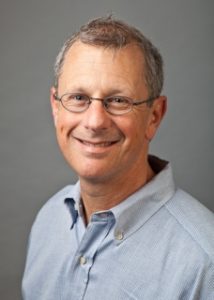 Tom Meyer (Teaching & Learning), director of the Hudson Valley Writing Project (HVWP_, has received a $100,000 grant from the Irving Harris Foundation to support the HVWP's Early Childhood Initiative for 2020 through 2022.
The Irving Harris Foundation is a private family foundation supporting the development of very young children, arts and culture, and social change. Its mission is to enhance the quality of life for children, families and communities by advancing human potential, social justice and equity, and creative experience and expression.
Visit the Hudson Valley Writing Project online to learn more.
---
Kathleen Murphy (Music Therapy) is the author of a new review of the book "Therapeutic Songwriting: Developments in Theory, Methods, and Practice," by Felicity A. Baker.
"The danger in writing a book about any music therapy method is that it could become a cookbook for selecting music experiences without giving much thought to their applicability to a given client or client group," Murphy writes.
"However, Baker brilliantly moves away from that approach and discusses therapeutic songwriting in terms of impetus for change (Bruscia, 2014) and theoretical influences. This approach will hopefully encourage clinicians to give serious thought to the use of songwriting as a method to achieve clinical outcomes rather than an activity."
Murphy's review can be read in full on the Journal of Music Therapy website, and will be published in hard copy later this year.
---
Bruce Sillner (International Programs) received a Special Award at the 49th annual conference of New York State TESOL, the leading statewide organization for educators and professionals working with speakers of other languages.
Sillner was honored for a lifetime of outstanding contributions to the field of English language instruction, and for his support for TESOL educators of New York State and for international education more broadly.
As Dean of International Programs at SUNY New Paltz, Sillner lent his expertise to NYS TESOL as a conference presenter, and consistently used Center for International Programs resources to help TESOL faculty at New Paltz participate in NYS TESOL and other professional development organizations.
---
Mathew Swerdloff (Teaching & Learning) delivered a presentation at Mahatma Gandhi University in Motihari, India, as part of that institution's effort to integrate a blended learning model combining electronic and online media with traditional, face-to-face instruction.
Swerdloff discussed his experiences using blended learning, and laid the foundation for further partnerships between the SUNY New Paltz School of Education and Mahatma Gandhi University.
---
Reva Wolf (Art History) is co-editor, with Alisa Luxenberg of the University of Georgia, of a new book, "Freemasonry and the Visual Arts from the Eighteenth Century Forward: Historical and Global Perspectives."
The collection features critical essays and case studies reconsidering the Masons' involvement and influence on world art history, and their significance for the history of modern social life, politics, and spiritual practices.
In addition to co-editing, Wolf co-authored the introduction and contributed the essay "Goya and Freemasonry: Travels, Letters, Friends," which provides evidence that Francisco de Goya (1746-1828) moved in masonic circles.