SUNY New Paltz presents annual awards during Alumni Reunion to recognize dedicated alumni and faculty.
This fall, honorees will receive their award at the All-Class Heritage Dinner and Lantern Ceremony on Saturday, Oct. 19, 2019. The dinner begins at 6 p.m. and is part of the Alumni Reunion schedule of events. Follow this link to learn more.
Heritage Awards – Awarded to those whose devotion to the ideals of the College serve as extraordinary examples to the entire New Paltz community
Honoree Harry K. Bonsu '90 (Political Science) has a keen mind for business and a passion for service. He has built a 25-year career driving results through collaboration, partnerships, relationship building and community service.
Bonsu is currently the Senior Vice President for Administration and Member Services at Independence Care System, a managed long-term care program in New York City, which assists more than 6,000 adults with physical disabilities and seniors with chronic illness. In this role, Bonsu manages eight departments and more than 100 people.
Bonsu serves on several not-for-profit boards that focus on youth, seniors, disabled and underserved populations. He is the trustee for Beyond the Dreams Foundation, and the Co-Founder and Treasurer for Dream Builders Foundation.  He was the alumni keynote speaker for the Educational Opportunity Program (EOP) 17th Annual Chi Alpha Epsilon Honor Society Induction Ceremony and is a proud member of the SUNY New Paltz Campaign Cabinet.
For the past 20 years, Bonsu has provided scholarship opportunities for students at New Paltz, who have demonstrated leadership qualities and passion for community service.
——————————————–
Honorees L. David Eaton, vice president of enrollment management, and Linda Eaton, associate vice president for student affairs, have shown unwavering loyalty and commitment to SUNY New Paltz and its community members. Both David and Linda, who met while working at the College and were married in 2004, announced their intentions to retire at the end of June 2020.
David has served as a member of the President's Cabinet since 1998 and has made significant contributions to the Divisions of Student Affairs and Enrollment Management and to the campus during what will be a 39-year career at the College. He has provided exemplary leadership of the Enrollment Management Division, which includes employees in the departments of Freshman Undergraduate Admissions, Transfer Admissions, Financial Aid, Records and Registration, Student Accounts and the Office of Veteran and Military Services, the Center for Student Success and the Scholars Mentorship Program.
David joined the New Paltz campus community in 1981 and has been responsible for all aspects of the enrollment process from recruitment and enrollment to revenue collection and certification for degree conferral. He developed a marketing and public awareness campaign that has contributed to the growth in popularity and selectivity of New Paltz's undergraduate programs and was involved in the development of overseas programs and exchange agreements with universities that have increased the number of study abroad opportunities available at New Paltz. David also served as the chair of the Alumni Task force appointed by the President in 2013 which later became the Alumni Council. 
Linda Eaton joined SUNY New Paltz as Associate Dean of Students in 1994 and served as Dean of Students from 1997 until 2014, when she was promoted to her current role at the College.
As Associate Vice President, Linda oversees Residence Life, Student Development, Student Activities and Union Services, the Career Resource Center, the Campus Media Center, the Dean of Students, the Disability Resource Center, and administrative support for the Student Association.
During her tenure she has spearheaded several major college initiatives and served as the Title IX Coordinator and Affirmative Action Officer. She has worked on the Strategic Planning and Assessment Committee, the Administrative Assessment Committee and has volunteered as a Commencement marshal for the last 25 years.
"I am both extraordinarily pleased for her and sad that we are losing her institutional knowledge, content expertise, exceptional judgment and passion for students and higher education," said Stephanie Blaisdell, vice president for student affairs. "Her leadership in Student Affairs over the past 25 years is a remarkable legacy."
——————————————–
Professional Achievement Award – Recognizes alumni who have achieved distinction in a chosen profession or outstanding lifetime achievement
Honoree Kevin Zraly '74 (Elementary Education) is an internationally acclaimed wine educator, best-selling author and a James Beard Lifetime Achievement Award recipient. His passion for wine and food and his engaging teaching style help demystify the evolving world of wine.
After graduating from SUNY New Paltz, Kevin had a chance meeting with legendary restaurateur Joe Baum, which led to his being hired as the first Cellar Master and wine director of the renowned Windows on the World Restaurant atop One World Trade Center. There, he established his Windows on the World Wine School, which lasted 40 years and graduated more than 20,000 students ranging from wine novices and aficionados to top chefs and culinary professionals.
He is a member of the Board of Trustees of the Culinary Institute of America and director of the Sherry-Lehmann/Kevin Zraly Master and Advanced Wine Classes in New York City. He serves on the SUNY New Paltz Campaign Cabinet.
Kevin is the author of eight books, including the bestselling "Windows on the World Complete Wine Course," now in its 32nd edition with more than four million copies sold.
——————————————–
Alumni Distinguished Service Award – Recognizes alumni volunteers who have made exceptional contributions in support of activities of the SUNY New Paltz Alumni Association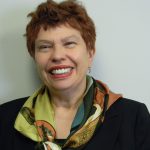 Honoree Mary Elizabeth Bannon '81 (Theatre Arts) has led a successful 25-year career with the Federal Deposit Insurance Corporation (FDIC), an independent agency of the federal government. Her positions in various divisions with the FDIC have allowed her to work in Washington D.C.; Dallas, Texas, and Kansas City, Missouri. She retired in 2014.
Now back in New Paltz, she has been a longtime supporter of the SUNY New Paltz Alumni Association and alumni activities that stimulate the engagement of alumni with the College. Recently, Bannon has served a two-year term as an Alumni Council member where she attended and supported several alumni events in New Paltz, New York City, and Washington, D.C.  She also serves as an alumni advisor on the New Paltz Career and Mentorship Network where she speaks with current students and recent graduates about her experience.
Bannon was as a panelist at the SUNY New Paltz Women's Leadership Summit and she has volunteered for the 100 Days to Commencement Senior Celebration and the Finals Fuel event at the Sojourner Truth Library on campus. Bannon was appointed to the Business Advisory Council with the School of Business and participates in the local chapter of the Toastmasters. Her contributions of both time and talent provide important perspective for current students and the campus community.