SUNY New Paltz students in mechanical, electrical and computer engineering showcased projects years in the making at the annual Engineering Design EXPO on May 3.
The judged competition is the culmination of the Division of Engineering Programs' Senior Design curriculum, a capstone experience that challenges undergraduate engineering students to innovate, solve problems and iterate from concept, to blueprint, to prototype, to final product.
For the first time this year, the EXPO also featured work by graduate students in the College's MS in Electrical Engineering program.
"I look forward to this day each year, when our students' creativity is on full display," said Julio Gonzalez, chair of the Division of Engineering Programs. "Engineers perform tasks such as management and testing, but creating a system is undoubtedly the most gratifying intellectual experience. To see the process of students translating ideas from paper into systems that perform a function useful to society is truly rewarding."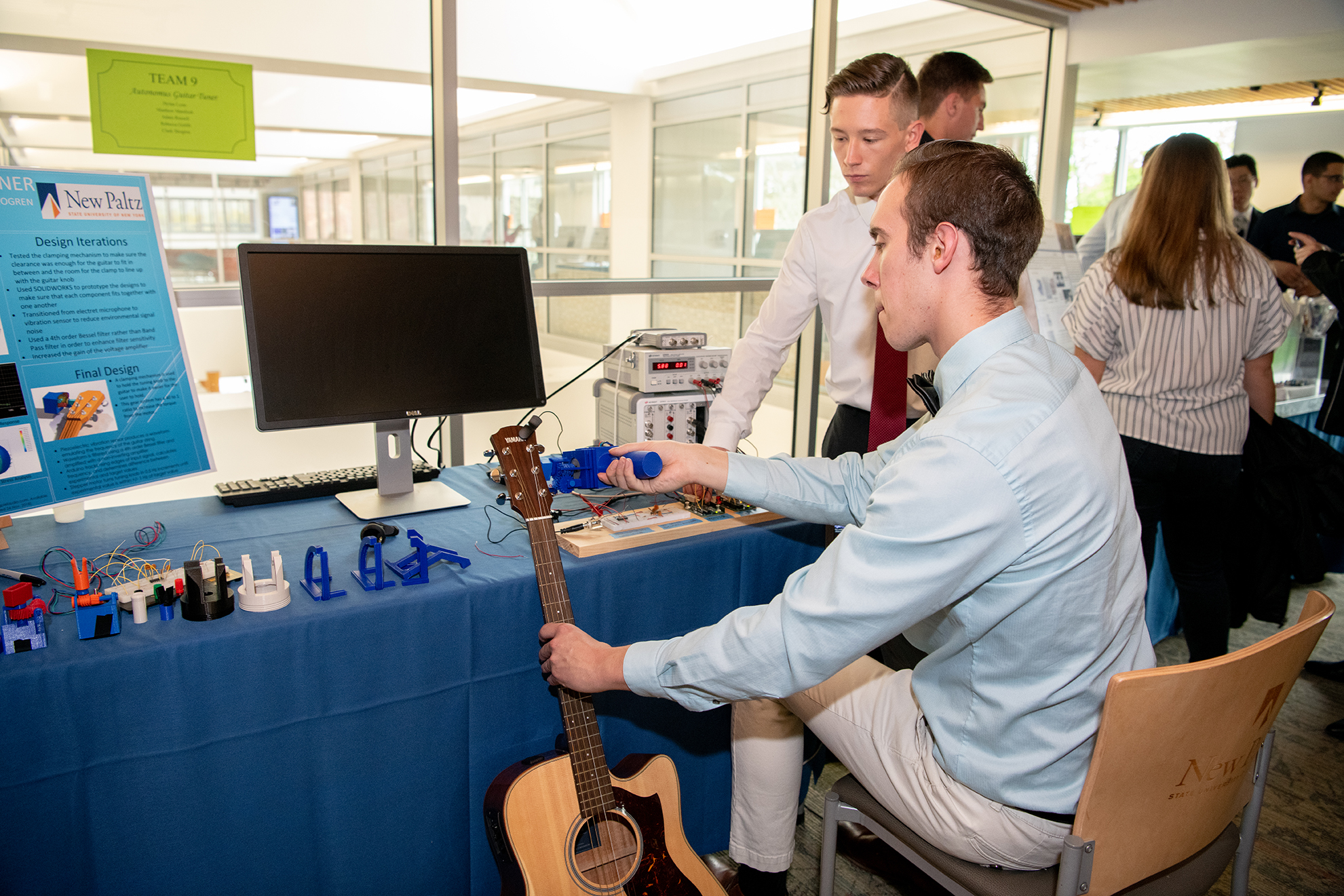 This year, 17 senior design teams submitted original engineering designs for evaluation by more than 30 judges, including many New Paltz alumni, who volunteered their time as representatives of regional manufacturing and technologies with jobs to fill.
"As a judge, I'm looking for innovation – willingness to put the time and effort in to research the subject and create something that hasn't been created before," said Nicholas Crimmins '15 (Computer Engineering), z/OS Systems Programmer at IBM who participated in an earlier, much smaller version of the event when he was a student at New Paltz.
"When I did the expo four years ago, it was nothing like this – just one conference room over in Resnick, a handful of students and professors. IBM is hiring, so it's good to see what students now are working on as they're about to go out into the industry."
Student designers work alongside peers that often bring different specializations in mechanical, electrical and computer engineering to the table, enabling teams to aim high and practice real-world collaborative processes.
"We are three electrical and one mechanical," said Nicholas Piaquadio '19 (Electrical Engineering; Physics), whose group developed a pH sensor for gastric disorder analysis. "I was able to work on the high-frequency devices in the powering system, but I would have had no idea how to do injection molding for the silicone stomach. Each one of us made contributions that only that person was capable of."
The EXPO challenges students to rely not only on their engineering know-how, but also on the problem solving and communication skills they develop studying at an institution where the curriculum is rooted in the liberal arts & sciences.
"As graduates of engineering programs at SUNY New Paltz, our students have been prepared for the technical and scientific challenges of engineering, but they also have the skills they will need to communicate about complex ideas, think carefully and critically about problems, and provide leadership," said Provost Lorin Basden Arnold.
The Division of Engineering Programs Class of 2019 will be the largest in SUNY New Paltz history for the fourth year in a row.
"While New Paltz has been graduating high-quality engineering students for decades, the impact on the regional economy scales with the number of graduates," said Dan Freedman, dean of the School of Science & Engineering. "We've already seen New Paltz engineers getting hired at many more companies in the area, and contributing to a growing portion of the Mid-Hudson economy."
The judges awarded three prizes and two honorable mentions to this year's designers:
First Place: "Fluid-Current Demonstrator" by Noah Bauer (Electrical Engineering), Sean Cerven (Mechanical Enginering), Matthew Gottstine (Mechanical Enginering) and Steven Sullivan (Computer Engineering), with advisors Kevin Shanley, assistant professor, and Reena Dahle, assistant professor
Second Place: "Automated Keg Sanitizing Machine" by Yorman Escobar (Mechanical Enginering), Bradley Evans (Mechanical Enginering), Brendan McGaley (Mechanical Enginering) and Scott Grable (Electrical Engineering), with advisors Jared Nelson, assistant professor, and Jake Meglio '14 (Biology; Economics), co-owner of Arrowood Farms brewery in Accord, New York.
Third Place: "Pedaling Fatigue Testing of Racing Bicycle Frames" by Nigel Caprotti (Mechanical Enginering), William Hluchan (Electrical Engineering), Ryan O'Connell (Mechanical Engineering) and Adeleke Ojudun (Electrical Engineering), with advisors Jared Nelson, assistant professor, and Ken Bird, lecturer
The Division of Engineering Programs thanks the following sponsors for their support of the spring 2019 Engineering Design EXPO: ELNA Magnetics, MPI Systems, Spectra Vista Corporation, Central Hudson®, JBT Corporation® and GeoSync Microwave, Inc.