The State University of New York has announced the recipients of the 2018-19 Chancellor's Awards for Excellence, presented annually to employees who demonstrate exceptional teaching, scholarship and service to the campus community.
Five SUNY New Paltz academic and professional faculty members were honored with SUNY Chancellor's Awards this year. They will receive a medallion and certificate at the College's first fall faculty meeting and classified staff gathering, as well as a permanent stipend.
This year's awardees are:
---
Nancy Kassop (Excellence in Scholarship and Creative Activities)
Kassop, professor of political science and international relations, has established a national reputation as a public intellectual through her outstanding record of publication and application of political science.
Her research focuses on constitutional law and the federal government, especially separation-of-powers disputes involving the American presidency. Kassop's peers recognize her as a leading scholar in presidential studies, constitutional law and judicial politics.
Through her contributing role in two prestigious oral history projects (the White House Transition Project and the Oral History Project of the Miller Center), Kassop has interviewed virtually all White House Counsels who have served since the 1970s, creating publically available documents that hold value for scholars and the general public alike. Distinguished Professor George Edwards III of Texas A&M University has said that Kassop is "perhaps the leading expert on the Office of the White House Counsel."
---
Simin Mozayeni (Excellence in Faculty Service)
Since joining the New Paltz faculty in 1990, Assistant Professor Mozayeni has been an active member of the Department of Economics, building a record of teaching, scholarship and service marked by thoughtful leadership and tireless advocacy for faculty advancement.
Mozayeni has participated enthusiastically in curriculum development, faculty searches and assessment efforts, and served as chair of her department for seven years. She is highly respected among colleagues for her active and extensive involvement in faculty governance, which includes five years of service as Presiding Officer of the Faculty.
Mozayeni has also been a driving force supporting one-of-a-kind learning experiences for students. Of particular note is her role in helping build the College's Dual-Degree Program with Istanbul Technical University, an innovative program that creates a coherent undergraduate education for students who study at and earn degrees from institutions in both Turkey and the United States.
---
Ruthanne Schempf (Excellence in Adjunct Teaching)
Schempf has taught music theory, music history and piano performance at New Paltz since 1995, introducing a generation of students to the fundamentals of her field and laying essential foundation for faculty colleagues to build upon.
Schempf is also recognized as one of the most talented classical musicians and performers in the Hudson Valley. Her work has garnered plaudits from national organizations including the Music Teachers National Association and the American College of Musicians. She generously shares her talents as an accompanist for student and faculty recitals and performances on campus.
Students and alumni regularly count Schempf's classes among their favorites. She is described as a model educator who imparts extensive knowledge with good humor and enthusiasm. She has been highly effective helping young musicians network with professionals in their field, supporting their placement in top graduate programs and auditions with major orchestras.
---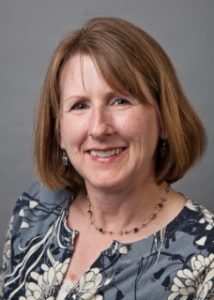 Joanna Schroer (Excellence in Professional Service)
Schroer was appointed academic advisor for education programs in 2011. She has led an effort to create a completely student-centered office with a reputation for providing exceptional advising and holistic students support.
As the primary point of contact for incoming first-year and transfer students enrolled in the Early Childhood & Childhood Education program, Schroer advises more than 300 students each semester. Each of these advises depends on her extensive knowledge of the program, campus policies and state education regulations and standards, and she delivers her expertise with unfailing patience and empathy.
Schroer's commitment to student support is particularly evident in her compassionate advisement of students who are struggling academically. She has helped transform the process of identifying and communicating with at-risk students, adopting a proactive approach and offering counseling and individualized assistance.
---
Matt Skillman (Excellence in Professional Service)
Skillman joined the College's web team in 2006 and currently serves as director of digital media in the Office of Communication & Marketing. He has continuously pushed the campus website and digital media assets to new heights, in the process bolstering the College's reputation as an innovative institution of higher education.
Skillman is also a key player in the College's emergency management and crisis communication procedures. He makes himself available seven days a week, at all hours of the day, in the event it is necessary to share critical information with the campus community.
His knack for creative problem-solving, ability to juggle competing priorities, and talent for forging strong relationships across departments and units have cemented his reputation as a team player and dedicated campus citizen.