The School of Business at SUNY New Paltz hosted the 16th annual Business Plan Competition on Nov. 28, giving current students an opportunity to make connections with regional business leaders and secure seed funding for their original startup concepts.
"This is as real-life as you can get for our student entrepreneurs," said Tony DiMarco, who directs the competition as teacher of the Entrepreneurship and Business Planning.
DiMarco, who in addition to teaching this course is the founding manager of the Hudson Valley Startup Fund and entrepreneur in residence at the Hudson Valley Venture Hub at SUNY New Paltz, has led a School of Business-wide effort to connect students with local business owners and venture funds, to help give them a feel for what investors are looking for when they make decisions about which projects to support.
"The students in this competition are following the same exact pitch structure as entrepreneurs pitching to the Hudson Valley Startup Fund members, which can result in seed round investments of up to $250,000," DiMarco said.
The emphasis on real-world entrepreneurship has extended beyond the Business Plan Competition, to include bringing start-up founders and executives to campus throughout the semester, to talk with students about what it takes to build a successful business from the ground up.
Highlights from this fall included:
A campus visit from Matthew Stinchcomb, executive director of the Good Work Institute and a longtime vice president at Etsy.com;
An in-class conversation with alumnus Mike Smith '12 (Management) '13g (Business Administration), the chief operating officer of brand-building services provider Volume 8 and co-founder of Poeia, a literary publishing startup that harnesses blockchain technology;
A site visit to the Manhattan headquarters of Indeed.com, which was led by New Paltz alumnus Sean Haberkorn '11 (Public Relations), who works as manager of client success at Indeed.com.
Smith's advice for aspiring entrepreneurs? No matter how hard it is, or how many times you fail, keep going.
"Your plan is always going to go wrong, but it gets better and better with every iteration, so you just need to keep trucking through it," he said during his visit. "It's like falling – it's better to sustain your momentum and roll into a fall, than stopping short and hitting your face. The more you go through that, the easier it is to find opportunities, and even though every opportunity comes with sleepless nights and grueling days, it's worth it in the end."
All four teams that participated in the Business Plan Competition had clearly taken that message to heart. Their projects were deeply researched, collaborative and creative, offering solutions for providing food to inner city youth, improving the efficiency of home composting and recycling, and ride sharing on college campuses.
In the end, the judges awarded top prize to "Coact Furniture," a collaboration between Michael Brennan and Eugene Stivale built around a new prototype for classroom furniture designed to accommodate a variety of functions.
Brennan and Stivale intend to reinvest the $3,000 cash prize that comes with winning the Business Plan Competition to continue working to get their business up off the ground.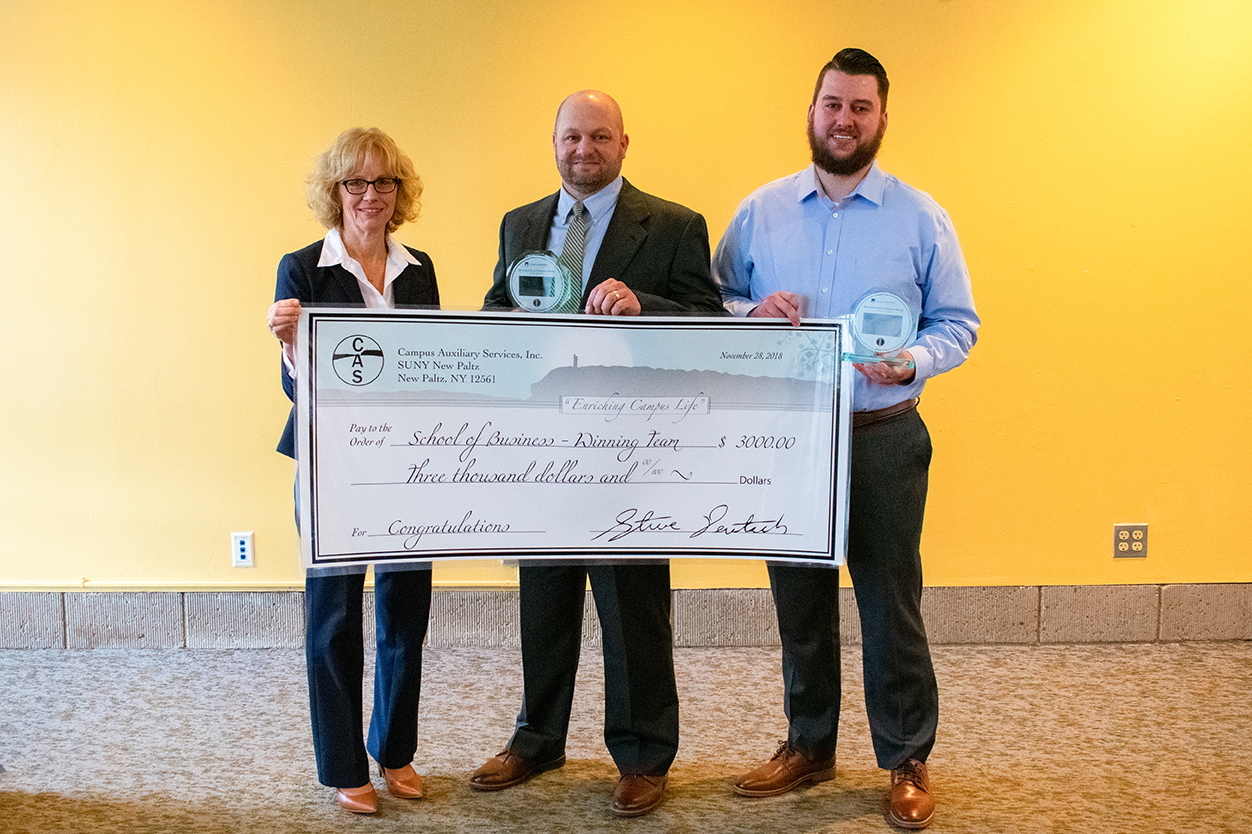 This year's Business Plan Competition judges were Mike Caslin of the Global Center for Social Entrepreneurship Network, Cathy Terrizzi of the NYS Small Business Development Center, and Tony Fareed, of Bridge Global Capital Group. The event was sponsored by Campus Auxiliary Services.
Learn more online about entrepreneurship opportunities at the SUNY New Paltz School of Business.