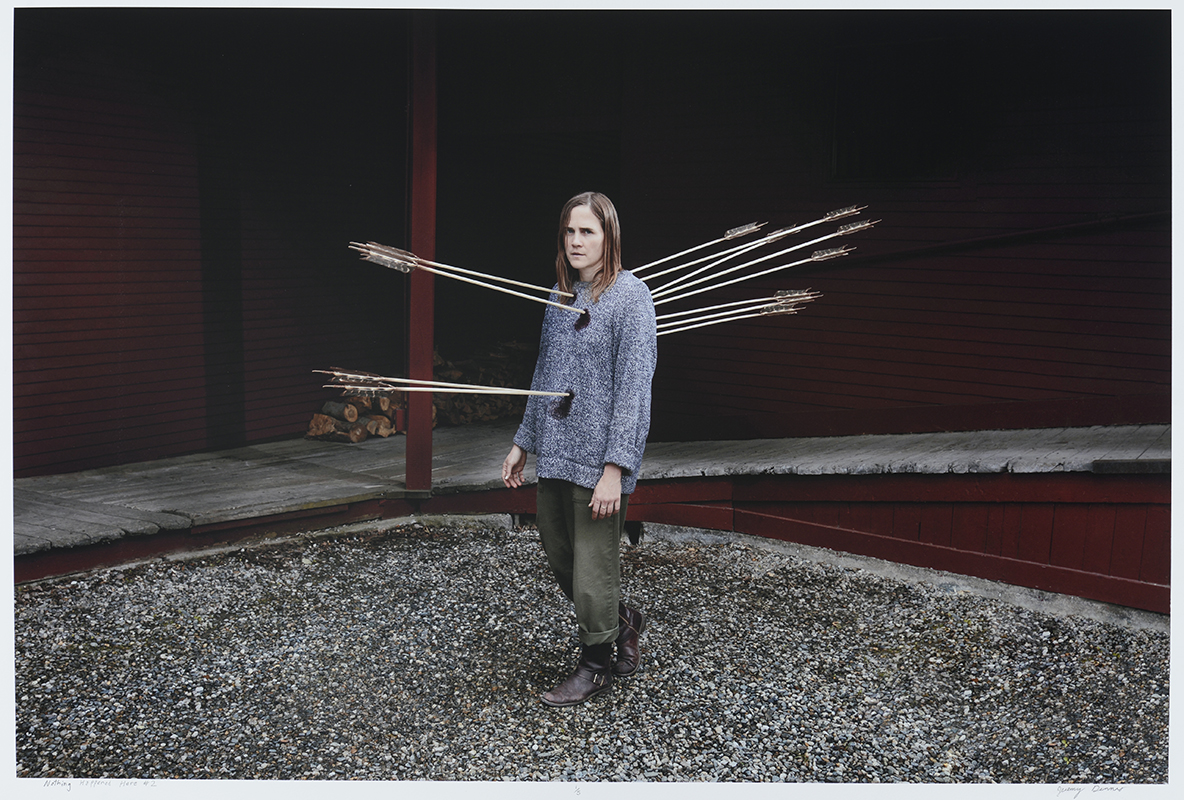 The Samuel Dorsky Museum of Art at SUNY New Paltz announces "Community and Continuity: Native American Art of New York," an exhibition featuring selections from the New York State Muesum's collections of contemporary Native American Art and archeological artifacts, and objects from Historic Huguenot Street.
The exhibition will be on display from Aug. 29 through Dec. 9, 2018, in The Dorsky's Sara Bedrick Gallery.
A public opening reception will be held on Saturday, Sept. 15, from 5–7 p.m.
"Community and Continuity" is the product of a partnership between the Dorsky Museum and the New York State Museum (NYSM) consisting of approximately 50 pieces of contemporary art, curated to showcase the diversity of Native American creative output and exemplify the state's thriving, vibrant and continuous Indigenous presence.
Many of these works have been collected as part of a NYSM initiative, launched in 1996, to collect art that reflects the rich traditions of creating that have been central to Native American communities in New York State for generations.
On view at The Dorsky will be contemporary art that incorporates subject matter based on the epic narrative of the Creation Story, Algonquian histories, and commentary on what it means to be Indigenous today, expressed through a variety of mediums including photography, painting, sculpture, beadwork, and basketry.
Complementing the contemporary artworks will be a selection of archaeological artifacts of fired clay, bone, and shell from the NYSM collection and from Historic Huguenot Street. These pieces are included to provide a glimpse into the prolific artistic traditions of Indigenous peoples from the 15th – 17th centuries, and deepen the exhibition's exploration of the theme of continuity.
"Community and Continuity: Native American Art of New York" is curated by Gwendolyn Saul, curator of ethnography at the New York State Museum, and John P. Hart, director of the NYSM's Research and Collections Division.
Contemporary artists featured in this exhibition include Shelley Niro, Dawn Dark Mountain, Tammy Tarbell-Boehning, Jeremy Dennis, Luanne Redeye, Bruce Boots, Carson Waterman, Towanna Miller, Peter Jones, Diane Schenandoah, Roger Perkins, William V. Wilson, Gail Tremblay, Salli Benedict, David Bunn Martine, Ronni-Leigh, Sue Ellen Herne, Brenda Hill, John Fadden, Carrie Hill, Rosemary Hill, Ann Mitchell, Sam Thomas, Jay Havens and Karen Ann Hoffman.
ABOUT THE DORSKY MUSEUM
Through its collections, exhibitions and public programs, the Samuel Dorsky Museum of Art at SUNY New Paltz supports and enriches the academic programs at the College, presents a broad range of world art for study and enjoyment and serves as a center for Hudson Valley arts and culture. The museum is widely recognized as the premier public showplace for exhibition, education and cultural scholarship about the Hudson Valley region's art and artists from yesterday and today. With more than 9,000 square feet of exhibition space distributed over six galleries, The Dorsky Museum is one of the largest museums in the SUNY system. Since its official dedication on Oct. 20, 2001, The Dorsky has presented more than 100 exhibitions, including commissions, collection-based projects and in-depth studies of contemporary artists including Robert Morris, Alice Neel, Judy Pfaff, Carolee Schneemann and Ushio Shinohara.
Museum Hours:
Wednesday–Sunday, 11 a.m. – 5 p.m.
Closed Mondays, Tuesdays, Holidays and Intersessions
For more information about The Dorsky Museum and its programs, visit http://www.newpaltz.edu/museum or call (845) 257-3844.