The College welcomed 25 women back to campus on April 11, 2018 for the fourth Annual Women's Leadership Summit, sponsored by the Office of Development and Alumni Relations.
The summit included panel discussions led by innovators, educators, investors, scientists, and leaders across a wide range of disciplines, most of whom were New Paltz alumnae. Each panel corresponded to one of the College's five schools: School of Business; School of Education; College of Liberal Arts & Sciences; School of Fine & Performing Arts; and School of Science & Engineering. More than 100 students attended the event.
"Whatever makes you special, don't stop doing it because that's what people want to see, that's how you'll meet people to do business with," said First Vice President at Morgan Stanley Nancy Glassman '86 (Business).
Glassman is a founding partner of The Parkhenge Group at Morgan Stanley, where her practice focuses on wealthy individuals and family offices, as well as closely held businesses. She approaches her clients as a counselor and confidant, seeking to build meaningful relationships. Nancy moved to Morgan Stanley from UBS after 24 years in the industry. She works with multiple generations of families, providing continuity of service and deep knowledge of their financial histories.
"I came back for this event because I want to help raise the brand of New Paltz," said Glassman. "I want these students to go out and let people know that this is the place to go to get ahead and find success."
Glassman was joined by business professionals Carol Bassin '69 (Business), Clarissa Goins '94 (Business), Victoria McLaren and Jil Galloway for the event's most well-attended breakout session. Students in attendance at all five sessions received practical advice on how to transition from college to career, stand out among competitive job candidates and successfully balance work and life demands. Each session included time for students to ask questions of their own. All were also invited to attend an ice cream social following the event to further connect with the panelists.
"My biggest takeaway from the Women's Summit was the importance of mentorships," said Humanistic-Multicultural Education student Teresa Mandrin '17 (Women's, Gender and Sexuality Studies). "I had a really great conversation with Claudette Aldebot '06 (Spanish) '08g (Humanistic-Multicultural Education) who graduated from the same program I'm in now. She encouraged me to make connections and reach out to her when I'm stuck with too many ideas and need a push in the right direction. It made me take a step back and appreciate the amazing mentors that I've had in my life, whether they helped me for a semester or for years."
President Christian attended the event and provided remarks. The event's keynote address was delivered by the College's 2018 Ottaway Visiting Professor Ann Simmons, LA Times global development writer/editor. Simmons assumed a residency on campus this April during which she led seminars, met with journalism students, participated in a Q & A with President Christian, and gave a public lecture to members of the campus community.
Alumna Ilyasah Shabazz '85 (Biology) also met with 40 students from the College's Scholar's Mentorship program as part of the day's events. Shabazz is the author of the memoir "Growing up X," among other books.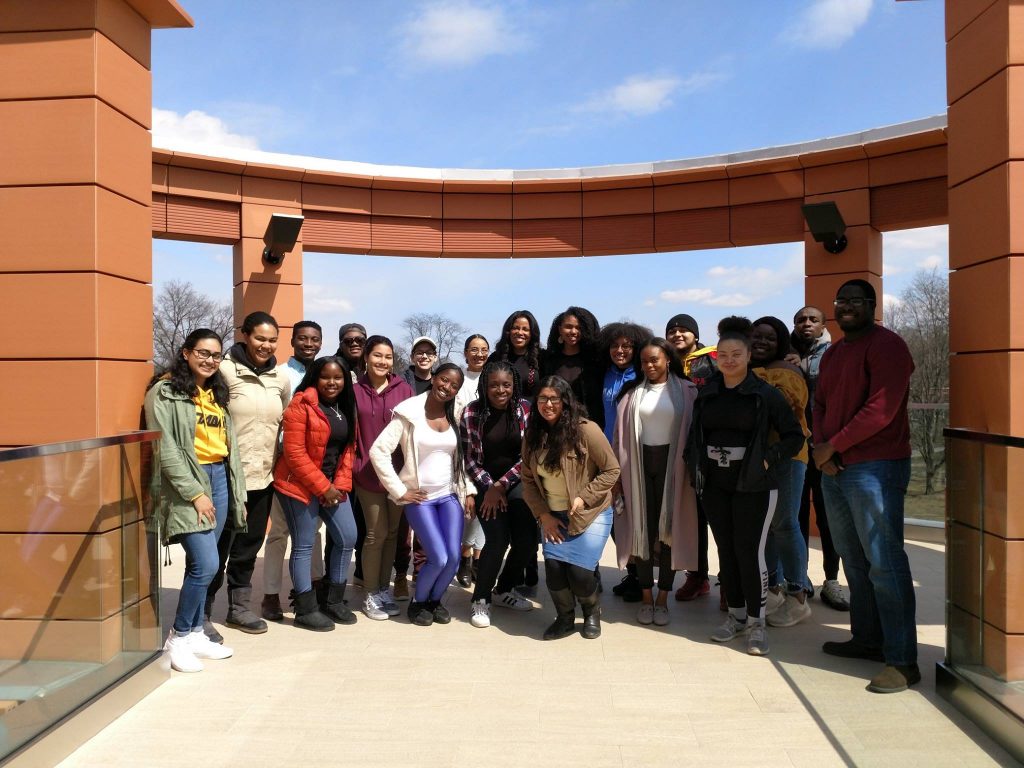 For more information on the Women's Summit panelists, visit www.newpaltz.edu/summit.