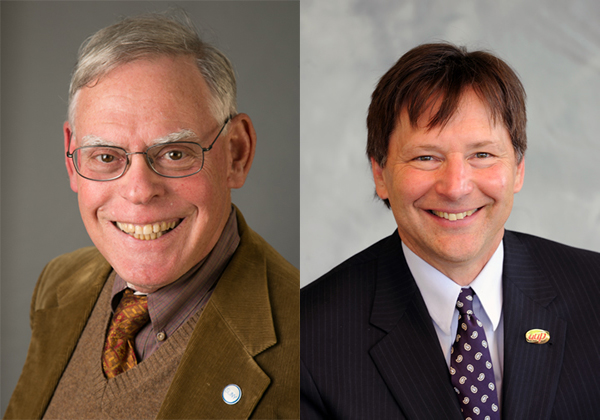 On Monday, Oct. 16, SUNY New Paltz will host a debate on the question of whether New York State should call a constitutional convention.
The debaters will be Gerald Benjamin, director of the The Benjamin Center for Public Policy Initiatives at SUNY New Paltz, and Fred Kowal, statewide president of the United University Professions (UUP).
This event, titled "Yes or No? A New York State Constitutional Convention?" will take place from 6–8 p.m. on Oct. 16, in the Coykendall Science Building Auditorium on the New Paltz campus. It is free and open to the public.
There will be a statewide referendum question on the ballot this fall – required every 20 years – asking New Yorkers to decide whether to call a constitutional convention.
Gerald Benjamin will argue in favor of the vote to call a convention.
"Our Jacksonian forbearers, the 19th century leaders who provided us with this regular opportunity to review the fundamentals of our governance, proceeded with a profound faith in democracy. Theirs was a very American – a very New York – belief in the possibility for progress and improvement," Benjamin said. "The pending vote on calling a convention may be the most important decision we can make for improving governance in our state in this century. If we truly want to reform New York government, a convention is our only path."
UUP has been outspoken in its opposition to a constitutional convention. Fred Kowal will represent their position that a convention would not benefit working families, and could even hurt them.
"If approved, a convention could bring about major changes to the state's constitution, which would risk many basic rights and protections, including public pensions, workers' compensation rights, collective bargaining rights, social welfare and 'Forever Wild' protections," Kowal said. "It is important for all New Yorkers to be informed before they decide on a statewide Election Day referendum on whether or not a constitutional convention should be held. This forum will help accomplish that."
About the Benjamin Center            
The Benjamin Center (formerly CRREO) was established in 2007 to further engage SUNY New Paltz with communities, governments, not-for-profits and businesses across our region. The center conducts and publicizes research on regional topics; creates and directs select institutes focusing on specific areas of regional interest; connects and partners with local governments, not-for-profits and businesses to initiate reforms and advocate for best practices; contracts to assess the performance of public and not-for-profit agencies and programs; and works to foster intergovernmental collaboration and community engagement.
If you are interested in being added to the mailing list for reports from The Benjamin Center, please send an email with your address to wilkinsc@newpaltz.edu. More information about the Benjamin Center is available online.
About UUP
United University Professions (UUP) is the nation's largest higher education union, with more than 42,000 academic and professional faculty and retirees. UUP members work at 29 State University of New York campuses, plus System Administration, Empire State College, and SUNY's public teaching hospitals and health science centers in Brooklyn, Long Island and Syracuse. UUP is affiliated with New York State United Teachers and the American Federation of Teachers, the National Education Association and the AFL-CIO.