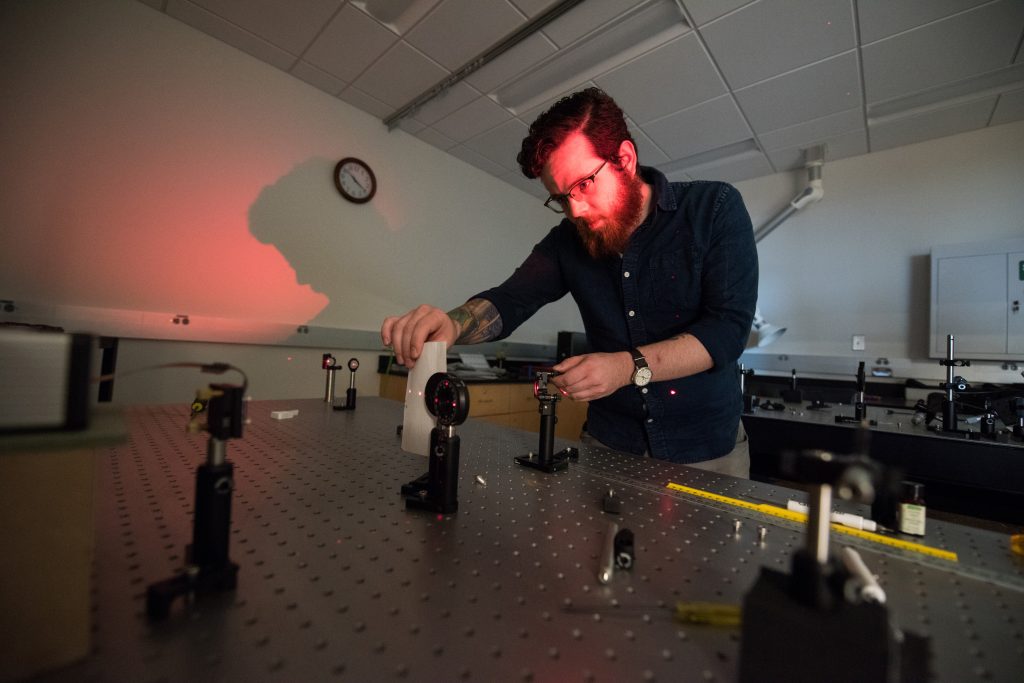 After his discharge from the U.S. Coast Guard, it took Lucas Tracy '19 (Physics) a few tries before he found his next path. But since spending the last year working with physics faculty at SUNY New Paltz, he's gone all in on research.
Tracy came to New Paltz in fall of 2016. He had worked as a cook with the Coast Guard, and spent most of his service either stationed in Virginia on the USCGC Northland or deployed on the Caribbean Sea.
He immediately found support and community at the College's Office of Veteran & Military Services, where he worked with Jason Gilliland, veteran & military services coordinator, to chart a course for what he wanted to accomplish in his post-military career.
"Jason is a veteran himself, so he understands the system, and understands how things work," Tracy said. "As a veteran on the GI Bill®, the relationship with that office is really important, because they make sure your tuition gets paid, they help get your housing allowance, and they are the go-to if you have any issues. It's also just a good place to go where you can talk to somebody who you identify with and share life experiences with. They help bring together the veteran students at New Paltz."
Tracy also connected with Assistant Professor Catherine Herne, a member of the physics faculty specializing in optics, who invited him to get involved with research she had been doing using optical tweezers – highly focused laser beams able to isolate and manipulate very, very small particles.
"I knew when I started in physics that doing research as an undergraduate is one of the most important things you can do to improve your chances of getting into a good grad program," Tracy said.
Tracy has taken on a number of roles in the optics lab: operating equipment, capturing data, and even writing new software to help the team manage and process that data.
"That part of the project has been really beneficial," Herne said. "We've made a huge leap in our lab capabilities by doing all of this software implementation. Lucas has done really good, consistent work, and I feel really good about where we're at and our ability to move forward."
This research could ultimately lead to the discovery of new applications for different kinds of lasers, in industries ranging from manufacturing to medicine. Those developments may still be a ways off, but Tracy is already enjoying the benefits to his academic career.
"I've been learning about the research process in general: how to answer open-ended questions and think on your own," he said. "In classes you're asked questions where you know that there's definitely an answer. But when we're doing research we're searching for the answer for the first time. It's a different process, and it's an incredibly valuable experience in that sense. When I start applying to graduate schools next year, I'll be able to show them that I understand what it means to work in a lab."
Tracy presented findings and spoke about his experience alongside other Academic Year and Summer Undergraduate Research Experience researchers on campus on Sept. 14, and went on to present at the Frontiers in Optics/Laser Science conference in Washington, D.C. on Sept. 17.
Use this link to learn more about undergraduate research opportunities at SUNY New Paltz.