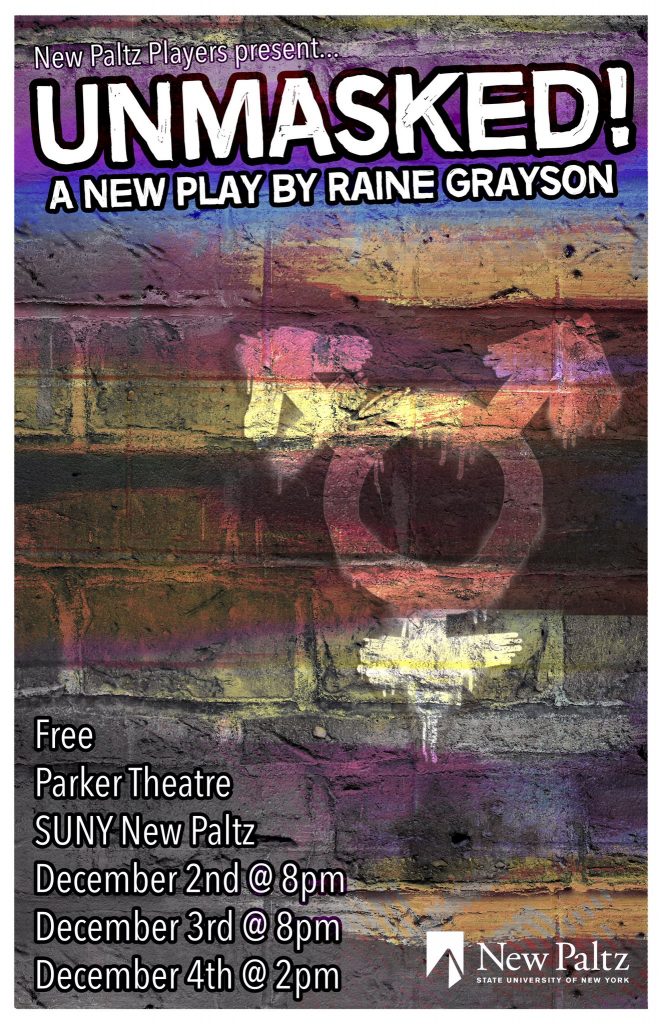 The New Paltz Players and the SUNY New Paltz Theatre Department present Raine Grayson's new play Unmasked!, with performances Dec. 2-4 at Parker Theatre.
Unmasked! follows a female-to-male transition story, exploring the complex timeline of coming out and the ripple effect it can have on others.
Equally rife with laughter and scenes that will jar the audience to thought, Unmasked! is at once an enlightening examination of the trans experience and a cathartic expression of perils endured by members of the LGBTQ community.
"This is a project two years in the making," Grayson said. "As a director and a writer, Unmasked! is serving me both as an educational process and a way to shine the right kinds of lights on new queer stories."
Grayson's cast and crews feature local theatre alumni, presenting a breath of social activism in harmony with our shared sense of home and community.
Unmasked! will be performed Dec. 2 and 3 at 8 p.m., and Dec. 4 at 2 p.m., at Parker Theatre on the New Paltz campus. General Admission seating is free on a first come, first serve basis. For additional information call (845) 489-5159.
About the Director
Raine Grayson is a local playwright and LGBTQ rights activist currently studying with the SUNY New Paltz Theatre Department. His work has been featured at many local venues in the past: a performance of his one-man autobiographical show Trainwreck at SUNY Ulster; a reading of his inaugural Four Voices at Shadowland Stages; and at the Rosendale Theatre, La Douleur Exquise, a vignette reading met with a standing ovation.