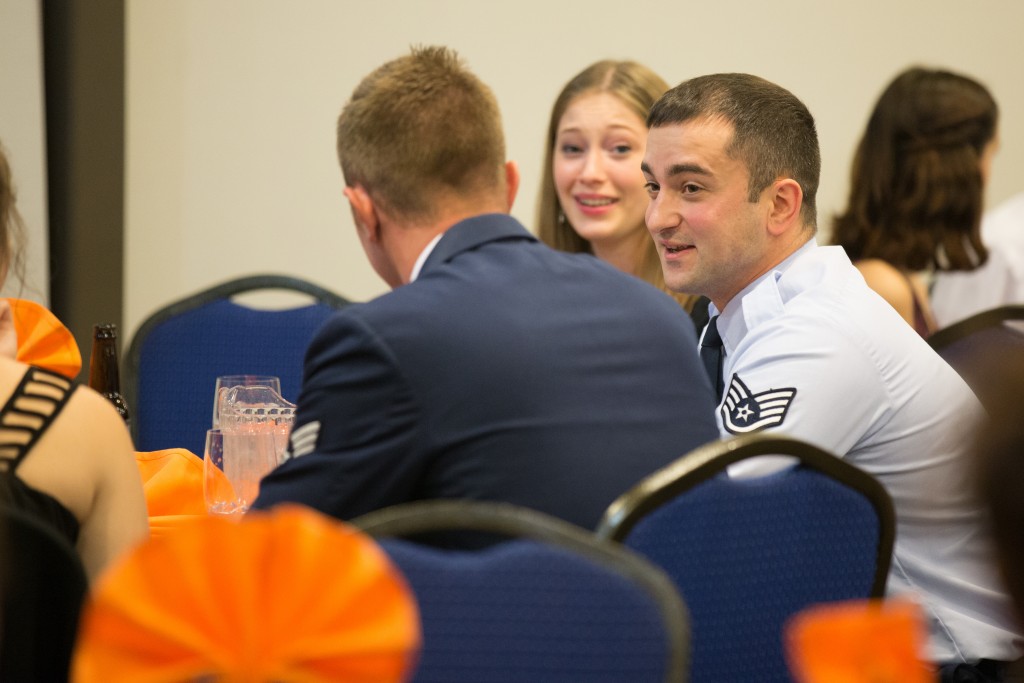 SUNY New Paltz invited members of its veteran, military service and dependent community to its second annual Veterans Day Dining In this month at the College Terrace. The event, sponsored by the Office of Veteran and Military Services and the Office of Student Accounts, saw a turnout of 86 students, faculty, staff, alumni and relatives, all of whom took this opportunity to connect with friends and remember the many sacrifices made in defense of the American way of life throughout the nation's history.
[Click here to view full gallery and download photos]
"Tonight, we honor our Air Force, Army, Navy, Marines and Coast Guard veterans on campus, both past and present, for their service to this great country," said Jason Gilliland, coordinator of veteran and military services. "Events such as this dinner put faces to our student veterans and service members, our faculty and staff who are serving and have served and those who are not veterans, service members or dependents, but supporters who play an important role, and let us all come together as a campus family."
Gilliland also used his remarks to share news of the College's recent designation as a Military Friendly® school by Victory Media, publisher of GI Jobs and many other periodicals.
The evening's keynote speaker was Colonel Joseph D. Davidson '90 (Political Science). Col. Davidson is a Cavalry officer who has served in a variety of command and staff positions in combat brigades throughout the US and overseas, including multiple combat deployments to Iraq, and currently serves as Cavalry Garrison Commander of Fort Hamilton, the last active military post in New York City.
"Things have changed quite a bit since I attended school here, but most importantly I've noticed a difference in who's attending school here," Col. Davidson said. "SUNY New Paltz has made meaningful efforts to support veterans and service members, and when I look at the people in this room tonight I can see the impact those efforts are having. I am eternally grateful for all that you do and all you have done. That's what Veterans Day is all about."
The Veterans Day Dining-In event also included a traditional POW-MIA dinner table ceremony. A single-seat table was positioned at the front and center of the room, with an empty chair symbolizing the missing servicemen and servicewomen who were not able to join in the dinner. The presence of the table illustrates the fact that those imprisoned or missing are never far from the thoughts of their fellow veterans and military personnel.
More information about Veterans & Military Services at SUNY New Paltz is available online.