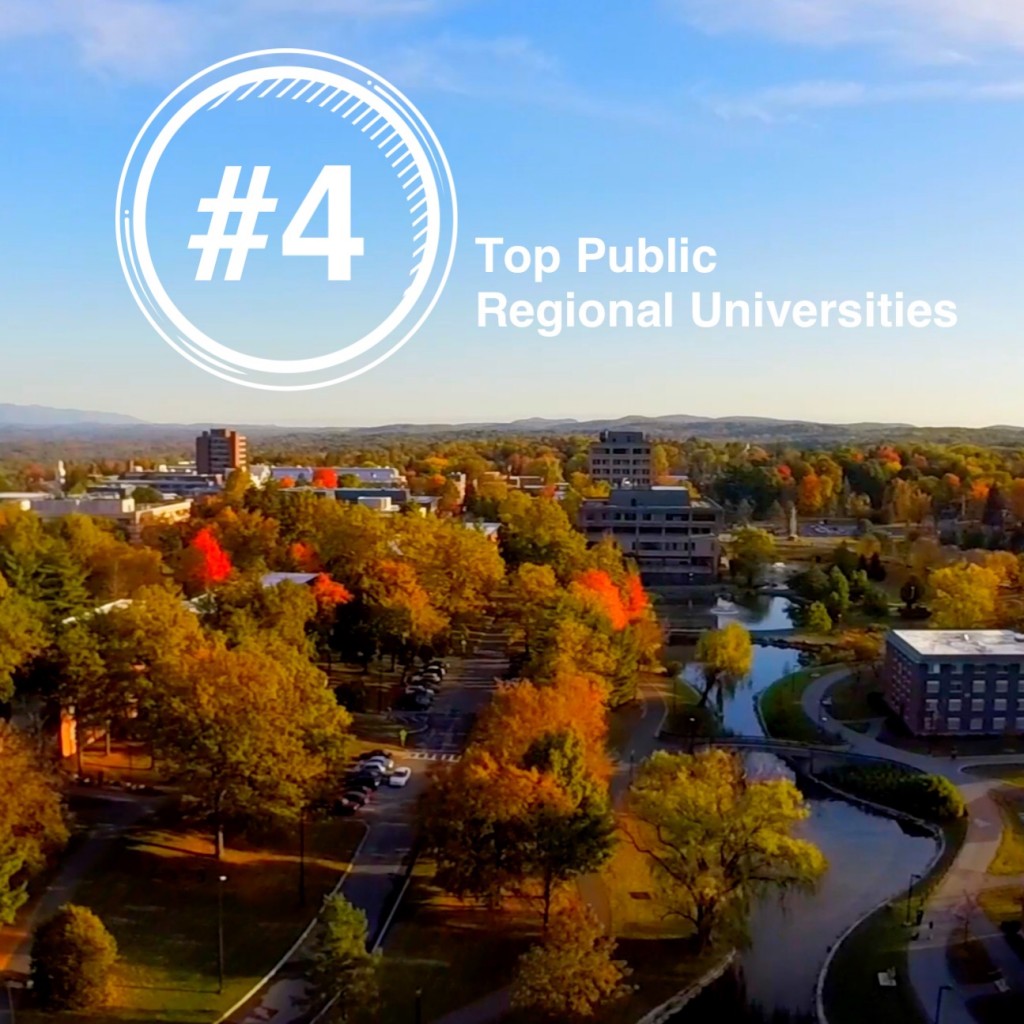 SUNY New Paltz has again been named No. 4 among public regional universities in the North offering both bachelor's and master's degree programs by the U.S. News & World Report, in the 2016 installment of its Best Colleges rankings.
The College is listed No. 24 overall among best public and private regional universities in the North with bachelor's and master's degree programs, up from No. 25 last year.
New Paltz has also been ranked No. 18 on the U.S. News & World Report's "Best Colleges for Veterans" among North Regional Universities. This marks the first time SUNY New Paltz has been recognized with this distinction, and it holds the highest ranking on this list among SUNY peers.
"The College's sustained placement near the top of the U.S. News college rankings is a testament to our excellent performance in key measures of admissions selectivity and student success, as well as the dedication of our faculty and staff," said L. David Eaton, vice president of enrollment management. "I am proud of our high marks for serving veteran, military and dependent students. The College established the Office of Veteran and Military Services just one year ago and it has rapidly transformed our military service community into a vibrant part of the New Paltz campus."
Additionally, New Paltz was recognized on the North Regional list of "A+ Schools for B Students," a collection of colleges and universities identified by the U.S. News & World Report as offering opportunities for acceptance and academic excellence to students with B-level high school GPAs. The College is one of only four SUNY schools to be included on this list.
"We are proud of the high-quality educational opportunities that we provide our students, and of the student successes that these rankings reflect," said SUNY New Paltz President Donald P. Christian. "Our continued recognition as an A+ school for B students reinforces our values as a top regional public university. We hope that these collective rankings will lead more of the best and brightest students to consider New Paltz."
The annual rankings, in which U.S. News & World Report categorizes schools based on criteria created by the Carnegie Foundation for the Advancement of Teaching, provide a resource for parents and students contemplating entering the competitive world of higher education. The guidebook looks at how schools stack up based on widely accepted indicators of excellence, including quality of the incoming class, acceptance rate, SAT/ACT scores, retention rates, graduation rates and student/faculty ratio.
A significant 22.5% of the ranking formula is derived from a peer assessment survey, in which regional college and university presidents, provosts and deans of admissions are asked to account for intangibles such as faculty dedication to teaching. The College's sustained high ranking indicates not only success in traditional quantitative metrics but is a demonstration of our growing nationwide reputation among other higher education leaders.
"I'm really proud of my alma mater," said Ed Carroll '85 (Communication Studies), chief operating officer of AMC Networks. "New Paltz was a great school when I attended and it continues to impress me as it strives to be even better."
For the 26th consecutive year, New Paltz has led all SUNY university colleges in total freshmen applications and total transfer applications received. With an acceptance rate of 44 percent, New Paltz remains one of the most selective public universities in the Northeast.
"The State University of New York has historically offered students an affordable, accessible higher education that is second to none," said SUNY Chancellor Nancy L. Zimpher.  "As we work to bring the benefits of a SUNY education to even more students through our Completion Agenda, we are proud to see so many of our colleges and universities recognized by U.S. News & World Report again this year."
Rankings
New Paltz is nationally ranked among the nation's top public colleges by a variety of highly regarded publications. In 2015, Princeton Review named the College to its 2016 list of "Best Colleges: Region by Region;" Business Journals ranked New Paltz among the top 75 public colleges in the country; Kiplinger's Best Values in Public Higher Education ranked the College 49th nationally, and listed New Paltz among its lists of "30 Best College Values in the Mid-Atlantic," and "Best College Values Under $30,000." In addition, the College ranks as one of the top 104 smartest public colleges in the nation by Business Insider.