Governor Andrew Cuomo came to the State University of New York at New Paltz today to announce a $10 million NYSUNY 2020 Challenge Grant, to help establish an Engineering Innovation Hub at the College.
"We're grateful to Governor Cuomo for his support of our efforts at SUNY New Paltz to educate more engineering students, support workforce development and enhance economic development in the Hudson Valley," said SUNY New Paltz President Donald P. Christian. "We're excited about this opportunity to strengthen our role in SUNY's mission to be an economic driver in New York."
The award will provide the resources necessary to support and diversify the College's engineering program—addressing a critical shortage of engineers needed to serve manufacturing interests in the Mid-Hudson Valley—while providing much needed instructional and research space.
In addition to providing a home for expanded engineering offerings, the Hub will include a 20,000-square-foot building located in close proximity to the Resnick Engineering Hall. The facility will house state-of-the-art equipment to support the engineering program and the work of companies partnering with SUNY New Paltz through the 3D printing program and the START-UP NY initiative.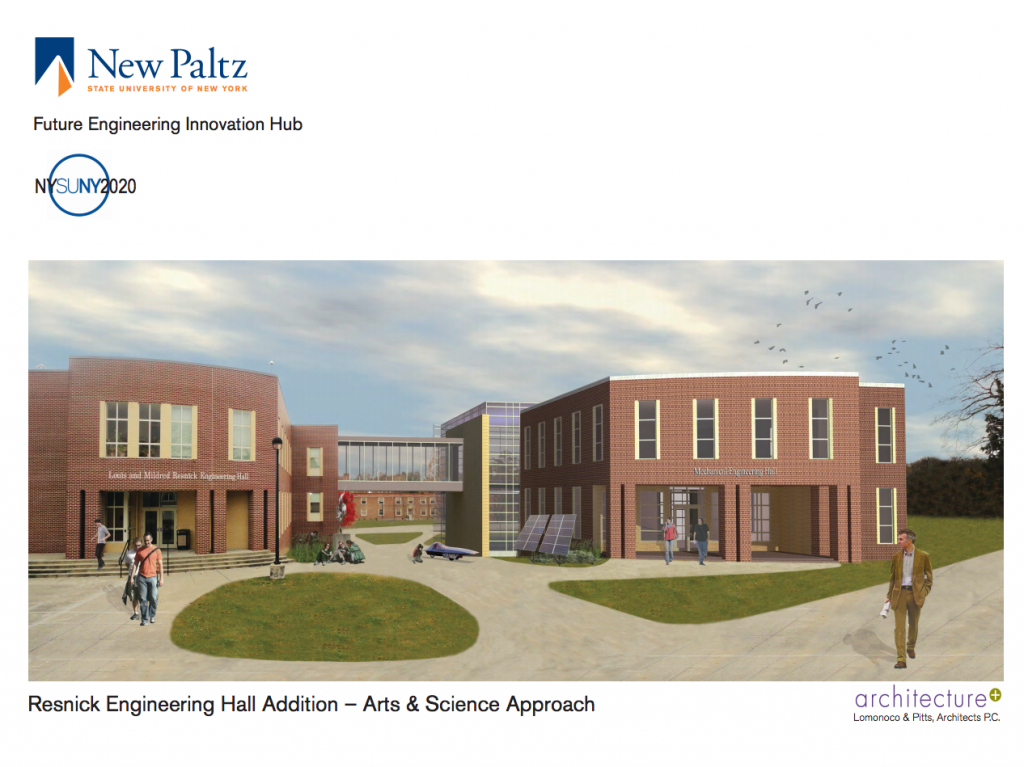 The project promises to generate $75 million in new economic impact, create more than 195 full-time jobs, and graduate 300 much needed engineers over a 10-year period in the Mid-Hudson region alone.
"In today's world, colleges and universities are more than just classrooms – they're economic engines that are creating jobs and training the workforce of tomorrow," Governor Cuomo said in a press release. "We launched the SUNY 2020 program to support advanced research opportunities and tap into this potential for growth, and the five projects receiving funding today are an example of how this strategy is creating new opportunities across the State. Today's SUNY 2020 awards are an investment in our State's future, and I look forward to seeing each of these innovative projects grow the economy for years to come."
"I know that SUNY New Paltz is the gem of the SUNY system, for what they do here,"said New York State Senator John Bonacic."I know the enrollment, or the people that want to come to this university, is very high. And it's tough to get in here because of the tough academic standards. And that's a tribute to this president, to our professors, and everybody that works here."
He added, "I want to thank him (Cuomo) for coming here today and investing $10 million in this university, because we know it will provide educational opportunities for students for years to come."
Ulster County Executive Mike Hein said, "SUNY New Paltz has once again set an example for the entire state on how a college can innovate into the 21st Century, and the nearly 200 jobs and $75 million investment that will result from the State's $10 million investment will do absolute wonders for Ulster County. When government works as it should, the people get results – and that is what we are seeingtoday, thanks to Governor Cuomo, the State Legislature and Chancellor Nancy Zimpher."
Offerings in the School of Science and Engineering include the only baccalaureate and masters engineering program between Albany and New York City, including computer science, comprehensive natural science and mathematics programs. This fact, in addition to the recent hiring of new faculty across the School, has created an active and exciting atmosphere in the STEM disciplines.
"The number of students majoring in most STEM fields at SUNY New Paltz has more than doubled in the past five years, with the largest increases seen in the engineering program," said Dan Freedman, dean of the School of Science and Engineering and director of the Hudson Valley Advanced Manufacturing Center at SUNY New Paltz. "This investment in our engineering program will help nourish and complement the College's existing electrical and computing engineering majors, as well as its rapidly evolving 3D printing program."
According to Freedman, many students entering STEM majors at the College are from the region, often transferring from local community colleges such as SUNY Ulster, SUNY Orange and Dutchess Community College. These students are more likely to stay in the area after graduation, he said, providing regional manufacturing firms with qualified candidates for employment.
"These developments make it an ideal time to further strengthen and enhance the ability of SUNY New Paltz to support industry so that companies can stay, hire and grow in the Mid-Hudson Valley," Freedman said. "By providing the essential infrastructure and engineering expertise necessary, the College, and its SUNY partners, will be able to significantly improve assistance to private sector growth in important technological areas."
"New Paltz has established itself as a national leader in 3D printing technology and education, and this NY SUNY 2020 award will expand these and other successful programs and drive economic activity in the Hudson Valley," said SUNY Chancellor Nancy L. Zimpher. "SUNY 2020 awards and START UP NY are building SUNY's research infrastructure, improving the business climate, and producing unparalleled educational and career opportunities for our students."
The budget for this project includes capital and operating costs for diversifying the College's engineering program and the construction of the Hub, thanks to both public and private funding—including the $10 million NYSUNY 2020 Challenge Grant award.