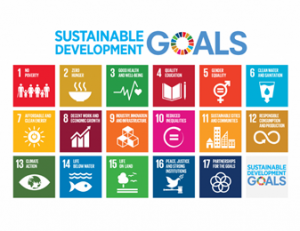 The Strategic Planning & Assessment Council is working to connect planning with sustainability. Expanding beyond New Paltz's commitment to environmental sustainability to include economic and social aspects, the Council is exploring how to develop a framework for ongoing planning using the 17 UN Sustainable Development Goals (SDGs).
New Paltz's mission already reflects the definition of sustainable development: shared responsibility for improving the quality of life for all, economically, socially, and environmentally, now and for future generations.
More specifically, through the College's vision, mission, goals, and outcomes, the College strives to create a sustainable environment in which:
students develop the knowledge, values, and skills to participate in creating a sustainable society;
administrative structures are created using themes in the SDGs and are used to create a sustainable living and working environment for our faculty, staff, and students;
our institution frames its planning using the development goals.
As the Council begins to engage the campus community in discussions about the goals, it will be using the display space in Sojourner Truth Library beginning April 25th as a way to explore how New Paltz already connects to the Sustainability Goals, so please stop by!